August 10, 2015
Reporting the Riverina
Four journalism graduates take up post in regional NSW with WIN News Riverina
Rural and regional newsrooms are the deep end. They're a mainstay in their community, a source of local knowledge and news. but also a challenging (and rewarding) environment for young journalists wanting to report the issues facing regional Australia.
Since its launch in 2007, dozens of graduates from UOW's journalism program have migrated to newsrooms in regional areas. In the Riverina area, in south-western News South Wales, locals currently get their nightly television news from four UOW graduates -- Jared Constable, Tanya Dendrinos, Sarah Navin, Samara Gardner (pictured left to right above. Photo: Michael Patterson).
While some journalism students are prepared to discover their preferred medium along the way, Tanya Dendrinos, from Campbelltown, had a career in television in her sights from day one.
"If I was going to be a journalist, I was going to be in broadcast journalism and more specifically, television," Tanya said.
"I assessed the array of journalism courses on offer at universities across the state and the UOW course stood out as the one that would best prepare me for the career I wanted. It was intensive, had television-specific subjects as well as an on-campus television station."
Newcomers to the Bachelor of Journalism are quickly introduced to UOWTV Multimedia and are promptly prepared to begin contributing to the platform.
"Working on a nightly news bulletin is very different to putting together a UOWTV update but the skills I learnt were invaluable," Tanya said.
"UOWTV taught me the basics of putting together a news story: lining up talent, conducting an interview, shooting vision, writing, voicing, editing and working to deadlines. I have no doubt these skills got me my first job. When it came time to do an internship with WIN News, I already knew the basics, I understood the work it took to get a story together and I was able to prove myself as a young journalist and potential employee."
Tanya started with WIN News Riverina as a journalist in April 2013. She was made Chief of Staff a year later.
"Regional news is the best start a journalist can have … you'll never get a better opportunity to learn your craft.
"You have limited resources, a big area to cover and tough deadlines but you get an opportunity to write about everything, to learn about a wide variety of topics and tell stories that really matter to the community in which you live."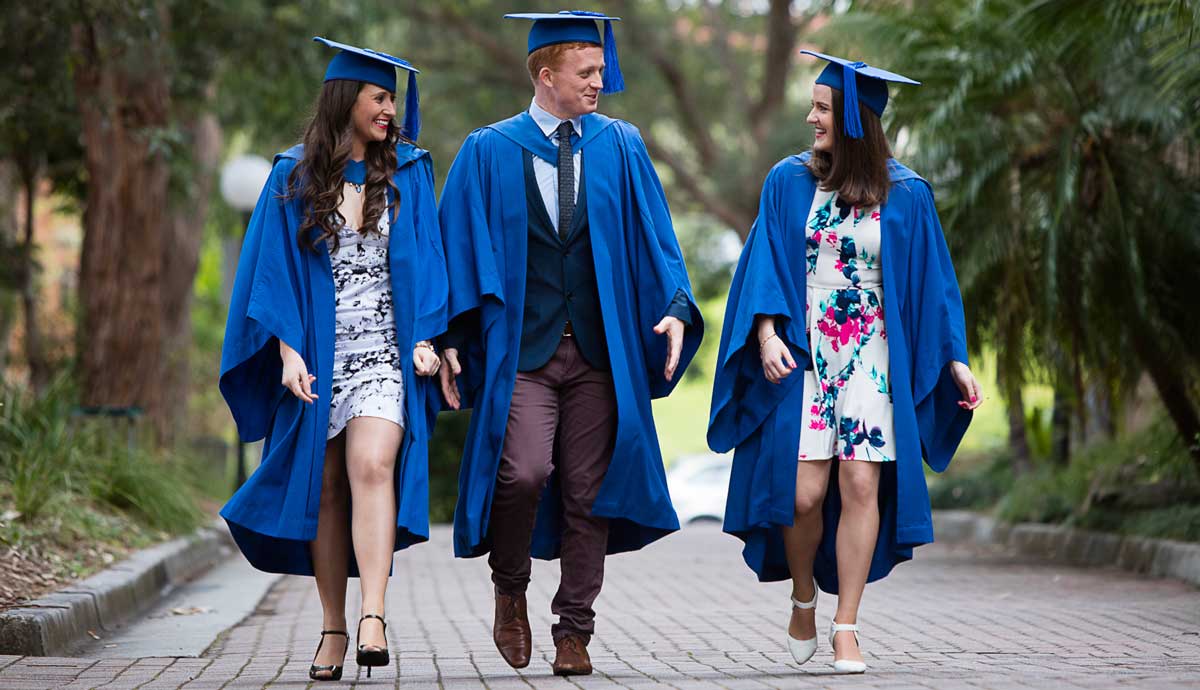 Reporters take time out to graduate
Riverina news reporters Samara Gardner, Jared Constable and Sarah Navin (pictured left to right above) took time out from their on-air duties to collect their degrees, paying tribute to the grounding they received on campus and setting their sights firmly on the careers ahead.

WIN Television's NSW Director of News Stella Lauri said the trio are valued members of the network team, having flourished in their new roles and settling quickly into the Riverina/MIA community.

"We have a strong tradition at WIN of giving the next generation of journalists their start in the industry and it makes us proud to see them develop into resourceful news gatherers who are invested in the world around them," she said.

"Jared, Samara and Sarah have already shown they have a keen sense of what makes a good news story and love getting out and meeting people in the region. Their studies have given them a good grounding in news, now we have the opportunity to help them grow and develop those skills. This is one of the things we do best throughout our network."
In the six months that Sarah Navin has been a part of the team, she's reported on a wide variety of topics.
"Some of my favourite stories so far have been a local man who stays up all night in the kitchen making nutbars to raise money for the Cancer Council, or a Charles Sturt University (CSU) researcher who has linked the enzymes in olives to preventing the onset of Alzheimer's disease," the Wagga Wagga local said.
"I'm loving immersing myself in the Riverina, chasing the local stories where I grew up … [and I'm learning a lot], getting the opportunity to cover everything from agriculture to medicine to politics. It's a steep learning curve, but that's the best way to do it."
Sarah, 23, says Studio 20 Live, a show broadcast live via YouTube created by students with the help of Shawn Burns, was a valuable part of her education.
"We had everything from a cooking segment to game show challenges, to interviews with locals on the couch. We also designed the set and had a crew filming and producing. One day we took the show outside during lunch time which was a blast. It was just a great time experimenting with different ideas, bouncing off each other and watching the show grow, plus it was 'live' so that brings with it more unpredictability, which is always fun."
A stint overseas at University of Sheffield in the UK where she had her own radio show broadcasting in the university's cafes and medical centre, and internships with Channel 9 News and the Today Show, further provided Sarah with an insight into what a career in television involves.
"The dream has always been [to work on the travel show] 'Getaway', but we'll see how that goes. I am just really passionate about television since getting a taste of it and would love to see where it takes me."
The Riverina community is throwing its support behind local resident, Brad Fewson, who's been accepted into an American treatment program for a traumatic brain injury.

Posted by WIN News Riverina on Friday, 7 August 2015
Samara Gardner joined WIN in May 2014. The 24-year-old studied a double degree -- Journalism and a Bachelor of Creative Arts (Theatre).
"I was really interested in doing a double degree with theatre and found that UOW was one of the few universities with the flexibility to combine such two very different degrees," she said.
While a metro newsroom and an opportunity to present the news appeals to Samara, she agrees with her colleagues that a regional newsroom provides the best opportunities to learn.
"We source, interview, write and voice our own stories – an opportunity that wouldn't be afforded to an entry level journalist in metro news … we are constantly offered the opportunity to learn, grow and expand our skill base."
Like Tanya, Samara credits UOWTV with preparing her for the newsroom.
"UOWTV equipped me with so many essential skills that I still use daily. My favourite experience would have to be hosting our live coverage of the 2013 federal election. It was a full day and a team effort, but the experience really compounded my love of news and how exhilarating it can be to be a journalist during an event like that."
Jared Constable, 22, from Wollongong, has dreams of being a sports reporter, breaking national and international news on a major news network such as FOX.
He's not "wishing away his" time in regional NSW as a news and sports reporter though.
"I'm really still honing my skills and learning the trade. These communities are so alive and often go unnoticed by giant news corporation's fixed in big cities. I want to continue telling regional stories to the wider community."
Another former UOWTV reporter, Jared is energised by today's fast-paced news cycle.
"Journalism is a front-row ticket to the news and you get to share with people what you see as you see it. What more could you want in a profession?"
"I constantly refer to the tools I learned while out on the job as a UOWTV reporter, whether it be the questions I ask, or the manner in which I deal with interviewees, and it underpins my moral compass when assessing every story I follow," he said.
Yesterday marked 70 years since the Japanese city of Hiroshima was decimated by the first atomic bomb dropped by allied forces.More than 100,000 people died in the months following the attack, while the memory of the tragedy still lingers with those who survived.

Posted by WIN News Riverina on Thursday, 6 August 2015