July 23, 2015
Graduation highlights: 22 July
Ceremonies for the Faculty of Business, the Faculty of Science, Medicine and Health and Faculty of Social Sciences were held on 22 July.
Former Wollongong Hawks basketball captain, Oscar Forman (below), who recently signed with the re-named Illawarra Hawks basketball team, received a Bachelor of Business degree at the Wednesday morning 22 July graduation ceremony. Oscar came through the Graduates of League Program which has attracted other elite athletes such as St George Illawarra Dragons captain, Ben Creagh. The program was established to increase university entry, retention and completion rates of elite athletes and professional sports people.
Read more: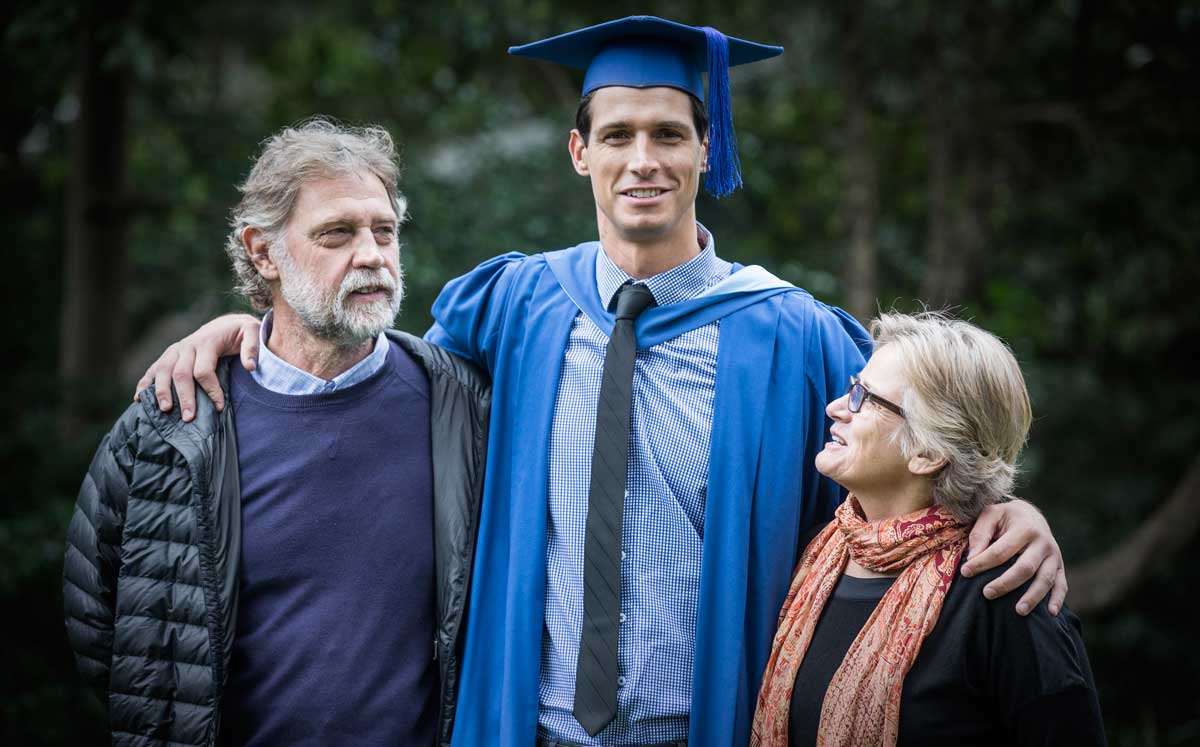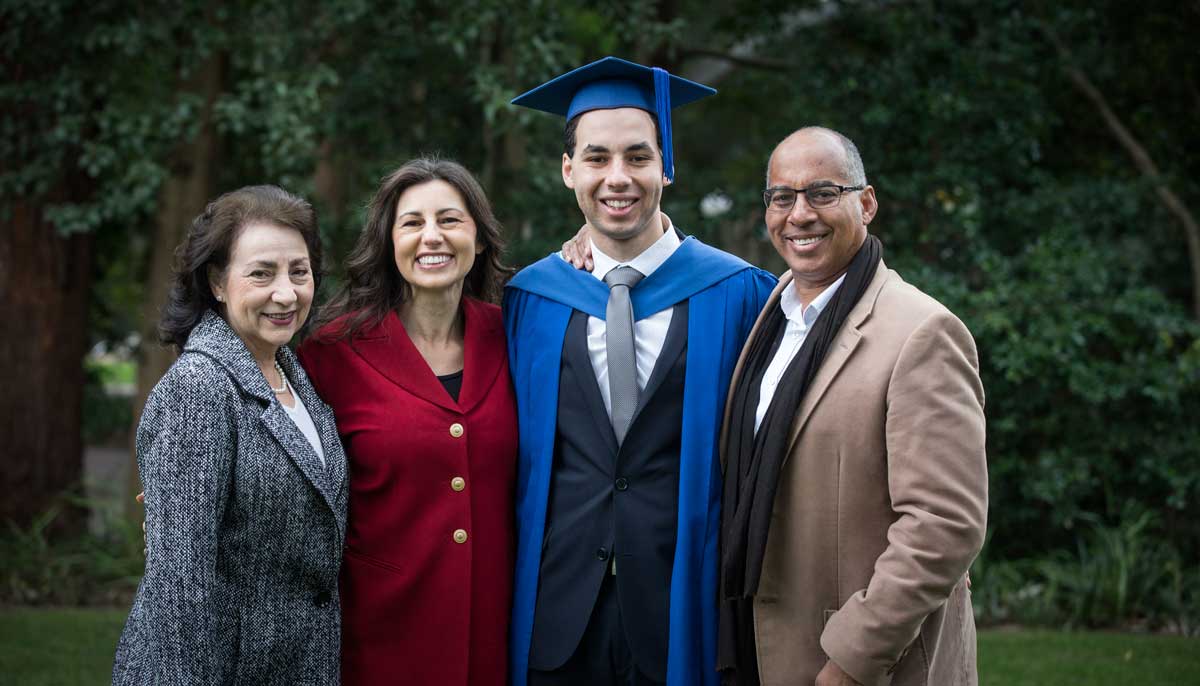 Matthew Kusi-Appauh, who works in the Business Development Unit at UOW, received a Bachelor of Commerce degree.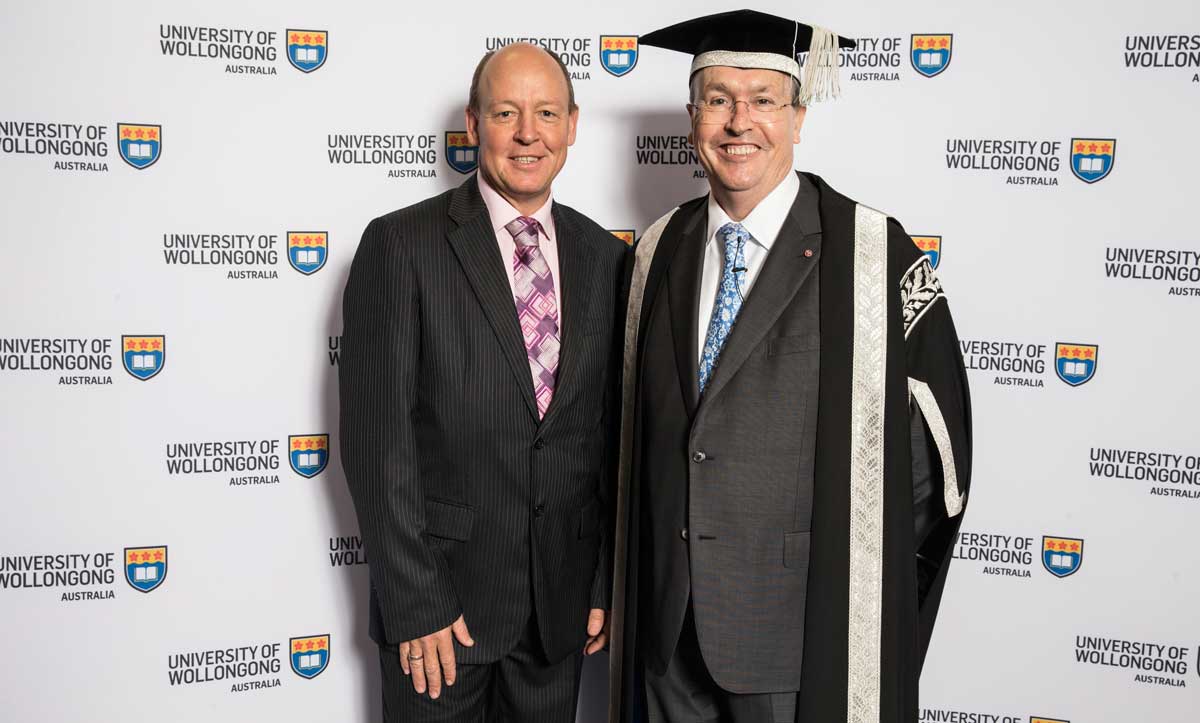 Mr Bill Delves, National Director of Markets and Growth, Private Enterprises at KPMG, delivered the Occasional Address at the Faculty of Business ceremony.
Clifford Lewis (below), is currently broadening his skill set by working as a researcher at market research consultancy Ruby Cha Cha in Sydney, undertook his PhD jointly between the University of Wollongong and the University of Wollongong in Dubai. His research focused on Australian destinations due to time and resources but Clifford believes his findings could be applied to any destination.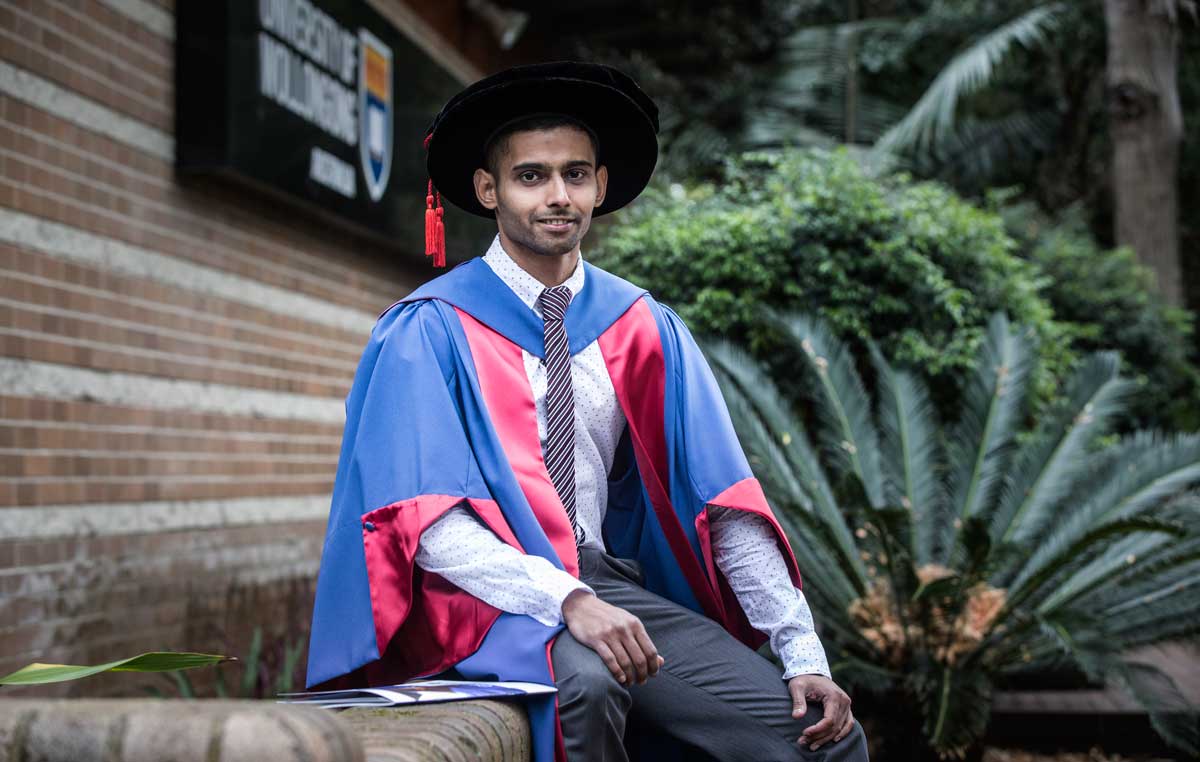 The University conferred an Emeritus Professorship on Edward (Ted Wolfers), AM, who is an Honorary Professorial Fellow of the Faculty of Law, Humanities and the Arts. It was a double celebration for Emeritus Professor Wolfers who was on hand to see his son, Jared, graduate with a Bachelor of Business degree.
Professor Wolfers joined the UOW in 1987 as the Foundation Professor of Politics, serving this University for 27 years in roles spanning research, teaching and curriculum development. His fields of research cover comparative politics, government and public policy, international relations, constitution making and constitutional development, national sovereignty and the role of women in these spheres. During his career, Professor Wolfers has published more than 300 professional publications and major keynote addresses, has authored, co-authored and edited nine books and served on the editorial boards of a number of journals. He has also supervised many postgraduate students.
Read more: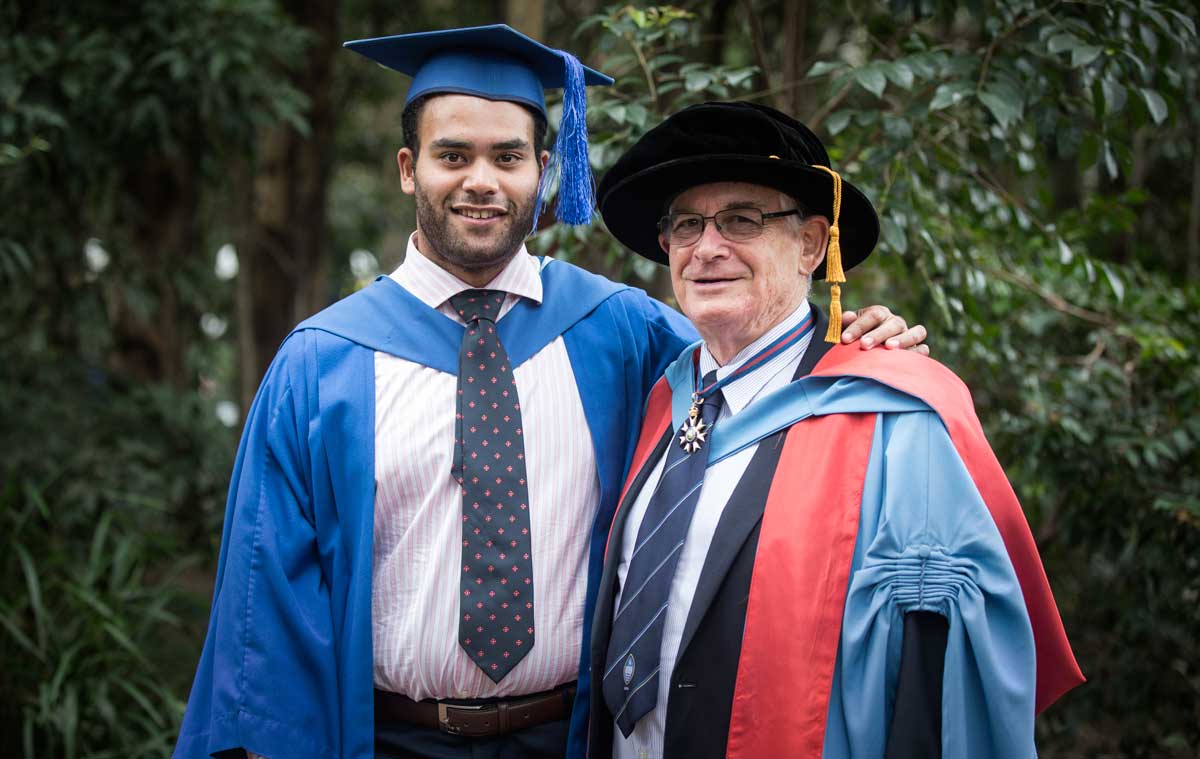 Emeritus Professor Edward (Ted Wolfers), AM, and Jared Wolfers.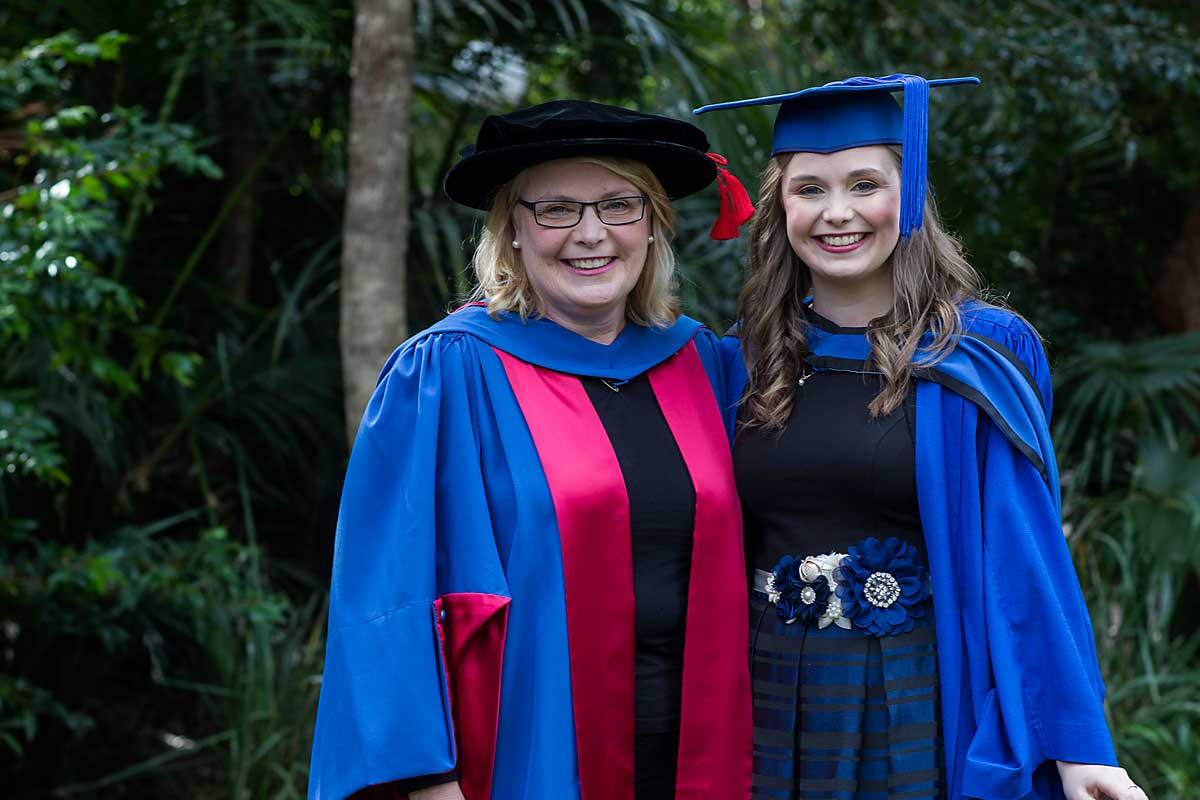 Mother and daughter Ann and Claire Rogerson (above) shared the graduation stage at the 22 July Faculty of Science, Medicine and Health and Faculty of Social Sciences graduation ceremony. Ann Rogerson received her PhD from the Faculty of Business for her examination into how managers use linguistic tactics to accommodate demographic differences in workplace conversations. Claire was awarded a Bachelor of Primary Education (Honours) degree.
Dr Thang Thi Xuan Nguyen (below) received her PhD at the afternoon ceremony for her study into coastal vulnerability assessment to climate change, particularly sea-level rise in the Mekong River Delta. Thang gave high praise to her supervisor Professor Colin Woodroffe for her success. Thang participated in the Blue Carbon Futures Project granted by UOW's Global Challenges Program. The project examines the opportunities for mangrove regeneration in Vietnam and the impact on the nation's ecosystem and livelihood.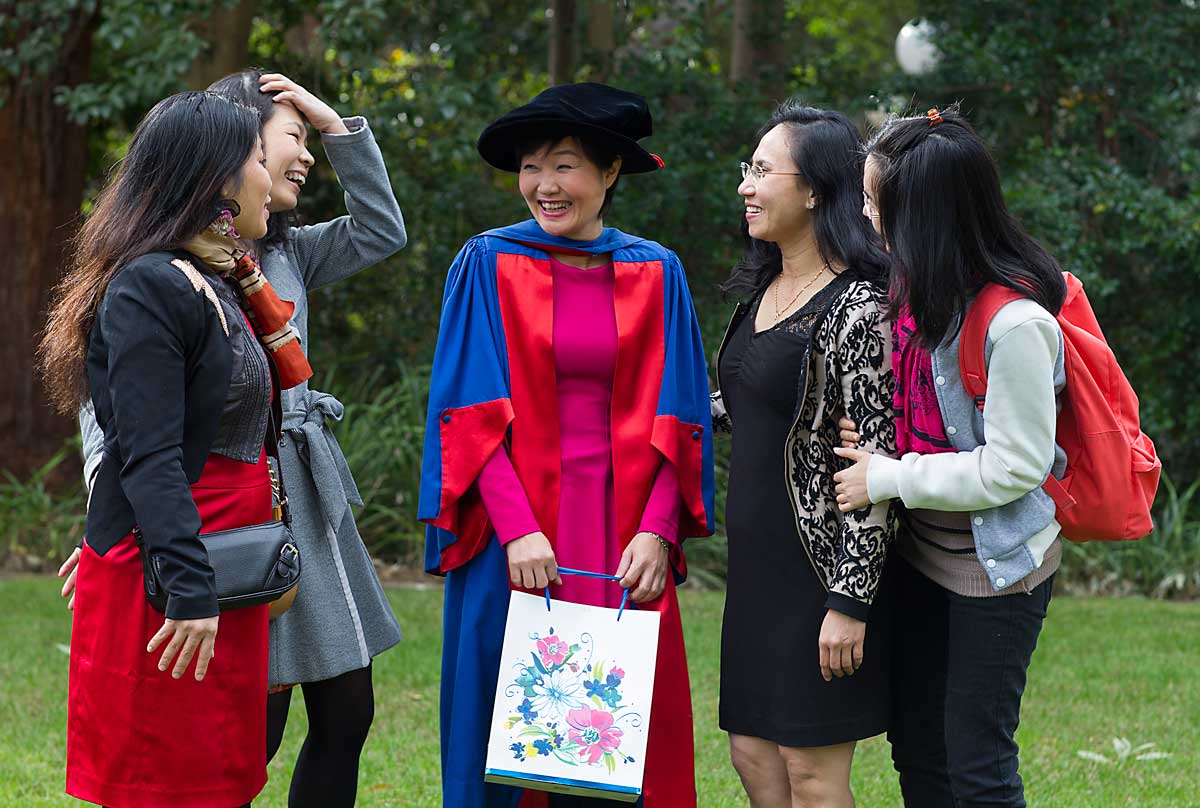 Dr Nguyen with her Vietnamese friends who are all doing their PhDs at UOW with scholarships from the Vietnamese Government.
The Chairman and CEO of Laureate Education Inc, Mr Doug Becker, was awarded an Honorary Doctor of Laws at the Faculty of Science, Medicine and Health and Faculty of Social Sciences ceremony.
Douglas Becker received a Doctor of Laws (honoris causa) for his contribution to education.
His organisation, Laureate Education Inc., encompasses undergraduate, masters and doctoral degree programs spanning engineering, education, commerce, medicine, law, health sciences, hospitality and IT. Doug Becker is also the Board Chairman of the International Youth Foundation (IYF), which prepares young people to be productive and engaged citizens globally. Through a decade-long partnership with Laureate, the Foundation's YouthActionNet initiative has supported more than 1300 young social entrepreneurs who are impacting millions of lives. The YouthActionNet institute model has been adapted in 21 locations around the world, including 14 institutes led by members of the Laureate network. YouthActionNet has great parallels with UOW's iAccelerate program, as both support and nurture budding agents of change.
"His global network of universities, including a partnership with UOW in Malaysia, delivers education to more than a million students worldwide," Professor Joe Chicharo, Deputy Vice-Chancellor (Global Strategy), said.
"Ultimately, Mr Becker is helping empower the communities his organisation operates in by creating social mobility."
Mr Becker also delivered the Occasional Address.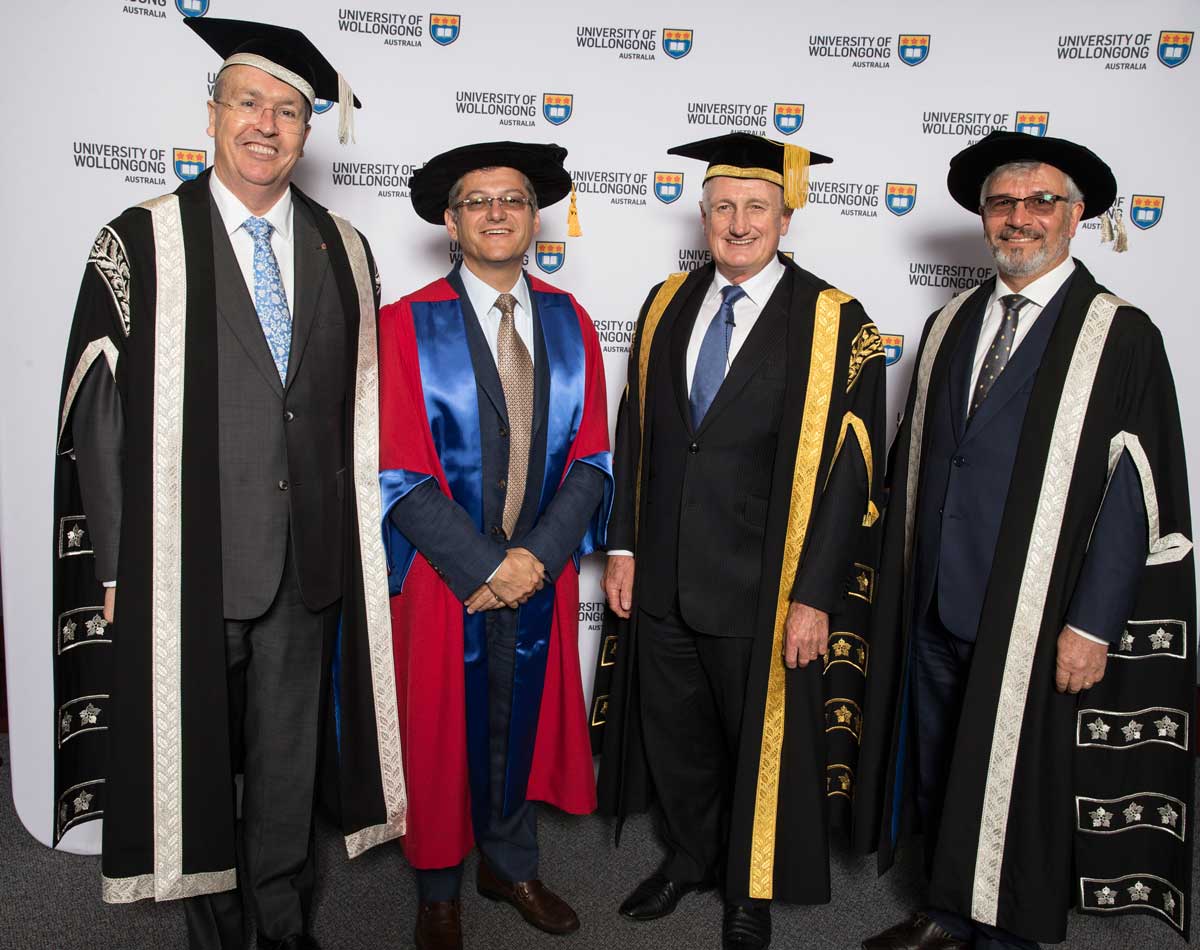 From left: Vice-Chancellor Professor Paul Wellings CBE; Mr Doug Becker; Deputy Chancellor Mr Noel Cornish; Professor Joe Chicharo, Deputy Vice-Chancellor (Global Strategy);