Crime drama, celebrity and persona up for discussion at Postgraduate Week
The School of the Arts, English and Media hosted its annual Postgraduate Week from 7 to 9 September 2015.
---
Postgraduate Week explores both individual and collaborative research ideas and projects and includes presentations by Higher Degree by Research (HDR) candidates, academics, artists, scholars and creatives from Australia and overseas.
"Postgraduate Week is an important opportunity for increasingly busy academics, HDR candidates and students to come together to discuss ideas across disciplines and art form boundaries. It also celebrates new possibilities and achievements in both scholarly and creative research," Professor Sarah Miller, Head of the School of the Arts, English and Media, said.
This year's program included presentations about current research into television crime drama, celebrity and persona studies.
Crime fiction reviewer and academic Professor Sue Turnbull (above) launched her most recent book, The TV Crime Drama, which maps the development of television crime drama as a genre.
"As a genre, television crime drama has long been a constant of the television landscape since it first migrated from film and radio onto the small screen in the 1950s. Since then, from Dixon of Dock Green to The Wire, from Minder to The Sopranos or Cracker to Dexter and The Killing, it has continued to attract large audiences even as the depiction of the crime, the perpetrators and the investigators may have changed." 
Dr Chris Moore (pictured above), a Lecturer in Digital Media and Communication at UOW, spoke about the media chameleon that is David Bowie. Specifically, Dr Moore discussed his contribution to a collections of essays, Enchanting David Bowie, published by Bloomsbury.
"Enchanting David Bowie explores David Bowie as an anti-temporal figure and argues that we need to understand him across the many media platforms and art spaces he intersects with including theatre, film, television, the web, exhibition, installation, music, lyrics, video, and fashion. This exciting collection is organised according to the key themes of space, time, body, and memory - themes that literally and metaphorically address the key questions and intensities of his output." - Read more from the book's publisher, Bloomsbury.
Dr Kate Bowles (pictured below), a Senior Lecturer in Communication and Media Studies at UOW, introduced her audience to 'global academic twitter' and its relevance as a tool for research students.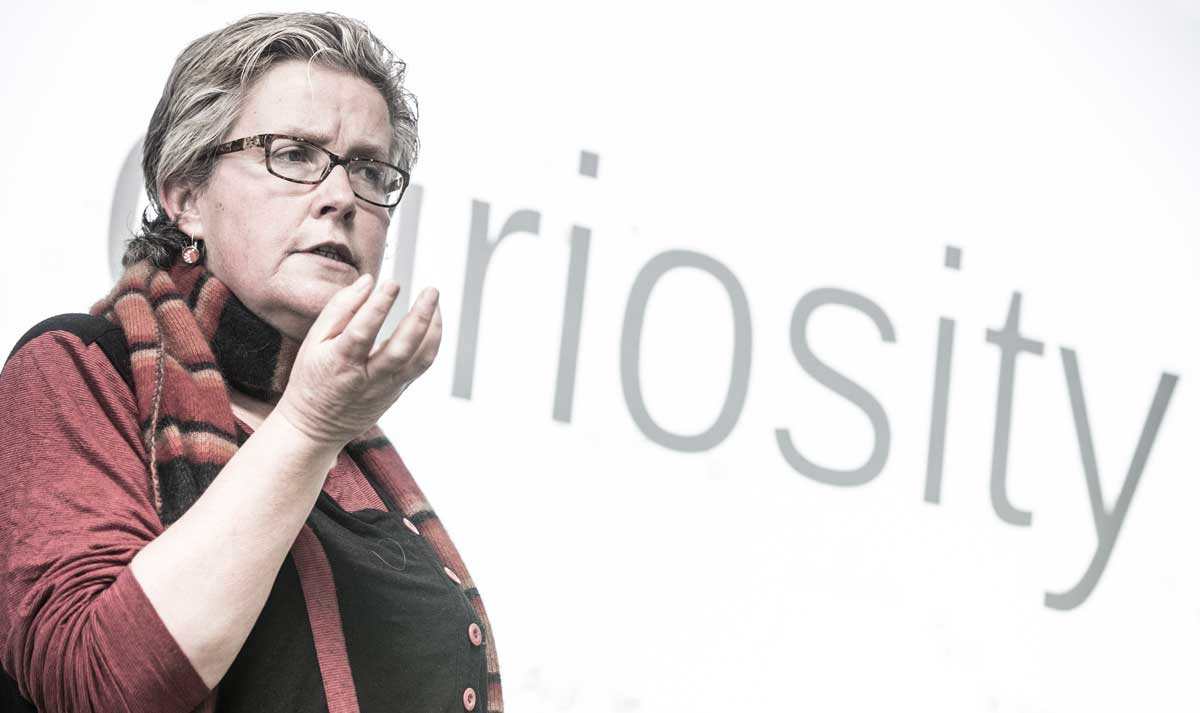 Dr Terumi Narushima, a composer, performer and sound designer who specialises in alternative tuning systems, will present on her current research into microtonal tunings using 3D printing to create new musical instruments, which is receiving international attention.
Postgraduate Week also included sessions on publishing, funding, mentoring and the opportunities and risks of online networks for research.