September 24, 2015
Arts graduates recognised as women of influence
Two alumni have been named in the Australian Financial Review and Westpac 100 Women of influence Awards.
Van Badham, a writer at the Guardian, and Kathleen Roma Greer, artistic director and founder of Micro Galleries, are both listed under the list's inaugural Culture category.
Kathleen Roma Greer is currently based between Hong Kong and Australia and works as a performance maker and curator and is driven to facilitate social change and change the world in "small and creative ways".
In January 2013, Kathleen founded Micro Galleries, which reclaims disused and forgotten spaces and reactivates them as tiny galleries that are free and accessible to the local community.
Micro Galleries brings art to communities to have a positive impact. Photo by Teresa Schebiella. 
Bringing together international and local artists, Micro Galleries features work that challenges ingrained ideas, blurs the line between street art and fine art, and demonstrates that art is for everyone and it can have a positive impact on a community. Importantly, the project aims to show people that art does not have to only be presented in galleries and theatres, but can break out of these spaces and ingrain itself into a community.
Since 2013, Micro Galleries has come together in Hong Kong, South Africa, Bali, Indonesia and Australia.
"It's quite humbling to be selected along with 99 other sensational women doing the most extraordinary things. I am particularly proud of Van Badham and I both being selected as graduates from the Creative Arts programs at UOW."
"Growing up in a low-socioeconomic area in the Illawarra, it was pretty tough to imagine art being my way of life - but I saw how it brought so much beauty, magic, hope, possibility, change and inquiry to people who chose to or could engage with it. I wanted to be someone who could bring that to others, to those who might not normally have access to it.
"I have been fortunate enough to have an opportunity do that: working with my amazing team Teresa Schebiella, Bonnie Greene and Zena Churchill to bring Micro Galleries to communities."
"I am so grateful to have been selected - and I really hope the outcome of it is that it inspires another kid in regional housing commission to read, look, enquire and create their own positive change somewhere in the world."
Van Badham, based in Melbourne, is a writer, a columnist at Guardian Australia, and one of Australia's most passionate and prolific Tweeters (@vanbadham has sent 125 thousand tweets since joining the microblogging service in April 2009 and currently has 27 thousand followers). Naturally, Van is known for being opinionated and a woman of strong principles. Her words inspire some and infuriate others, but are always entertaining.
"It's an extraordinary, intimidating and very humbling achievement to be included on the list of the 100 women of influence," Van said.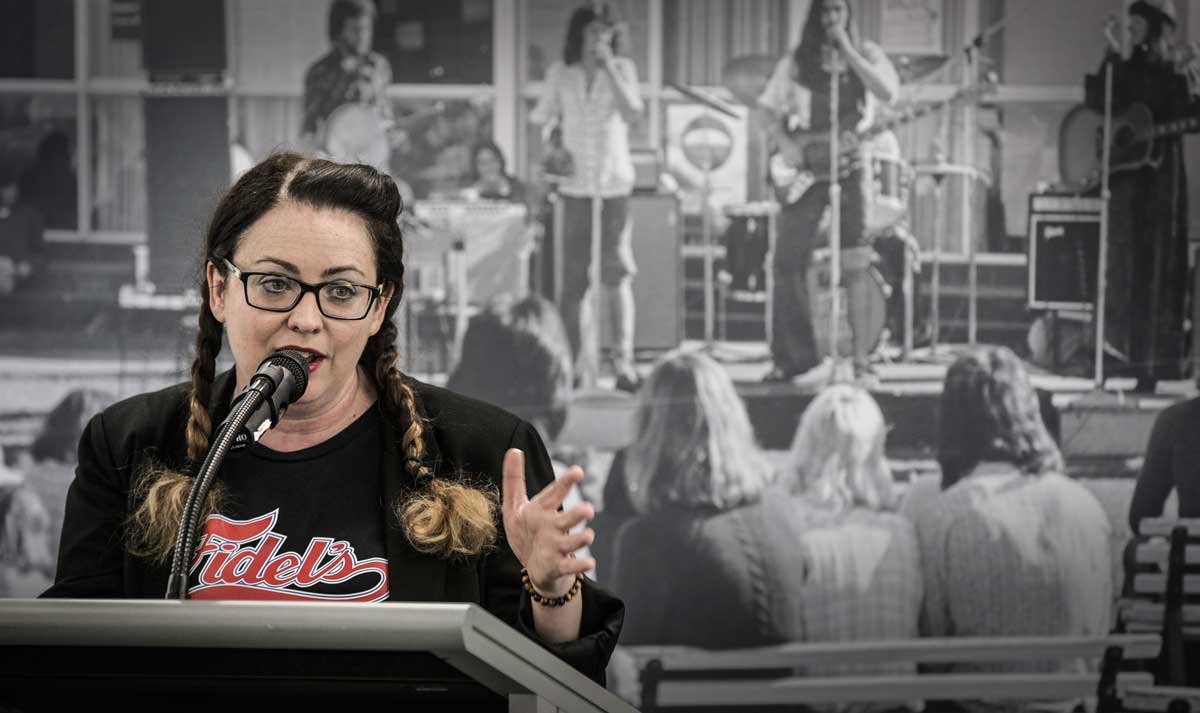 Van Badham speaking at UOW Library in August about the changing face of student activism. 
"Looking through the profiles of women showing leadership and innovation, from engineering and science and public policy, to medicine, community development, business and culture, is inspiring. For me, it's a vindication of everything feminists have fought for - the right of women to define themselves by their own character and chosen vocation, rather than to play out their lives in some arbitrary and nonsensical, restrictive gender role. It isn't so long ago when careers - personally chosen careers - weren't an actual life option for the vast majority of women.
"My mother was never provided the opportunity to pursue her vocational calling - but it's thanks to women like my mother who fought so hard for things to be fairer for their daughters and young women who came after them that these opportunities are growing. One thing common to women on the list is a commitment to mentoring other women, because for all the new opportunity we still live in a society that obstructs and impedes women's access to influence and leadership experience - and those of us who have been able to claim a space in public life are aware, I think, of the support we received from other women to get there, and the support we have an important obligation to provide to the women who come after us."
Whoohoo! #100WOI is trending. Honoured (& overwhelmed!) to be amongst the AMAZING WOMEN on this list. Hooray! #feminism #auspol

— Van Badham (@vanbadham) September 23, 2015
The most influential in each category, and the most influential overall, will be announced at an awards evening at the Sydney Town Hall on 15 October.