December 10, 2014
The HSC students who surprised themselves
Year 12 students who were unsure whether they would get into their preferred university course have had their dreams of being accepted realised by participating in the In2Uni University Preparation Program (UPP) at UOW.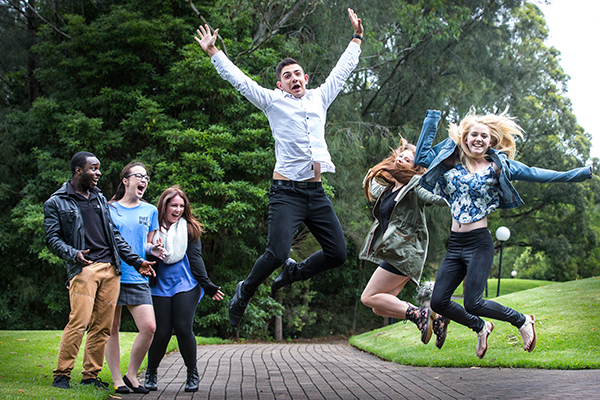 From Left: UOW mentors, Abdul Lawal, Melanie Charter-Brown, Amy Thompson with year 12 students Chris Mallows, Courtney Tansey and Tori Cox jumping for joy.
Outreach and Pathways Manager, Kylie Austin, said an impressive 92.9 per cent of students involved in the UPP who applied for Early Admission Program places into the University have now been made offers.
UOW's Director of Student Services, Megan Huisman, and the UPP Co-ordinator, Shannon Archer, presented certificates to the successful UPP students at a ceremony on Thursday 11 December.
Over two school terms, students participating in the UPP receive assistance with their HSC subjects through an on campus study centre and have access to UOW resources including the library. They also received advice on study skills and mentoring to discuss their options after they finish high school.
On successful completion of the UPP, students received an admissions interview to the UOW faculty of their choice. Applications for the 2015 UPP close at midnight on Friday 19 December 2014. Students have to be currently enrolled in Year 12 in a high school in the Illawarra/South East Region.
The UPP is fully sponsored by UOW so it is at no cost to participating students. The program also runs at UOW's other campuses including Shoalhaven, Batemans Bay, Bega and Southern Highlands. 
More information about the UPP. 
Media contact: Shannon Archer on +61 2 4221 5732 and mobile number +61 410 341 771.