China partnership a material exchange in innovation and development
UOW materials engineering students will from 2015 have the opportunity to spend part of their degree at one of China's leading materials engineering institutions, Beihang University (BUAA), following a credit transfer agreement.
---

UOW's Dr Yue Zhao and BUAA delegation leader Professor Yuan Deng chaired the second UOW-Beihang joint workshop on advanced materials and processing, held at UOW.
UOW this month hosted the UOW-Beihang Joint Workshop on Advanced Materials and Processing, the second joint workshop between the two institutions.
During the visit a credit transfer arrangement was signed for students enrolled in the Bachelor of Engineering (Materials) degree in the two universities who will spend up to two years abroad in the counterpart materials school.
Under the credit transfer agreement BUAA students enrolled in their Bachelor of Engineering (Materials) degree will be able to study at UOW in their third and fourth year and will qualify for degrees from both universities.
UOW materials engineering students can study at BUAA during their first and second year before returning to UOW to complete their degree. The exchange will provide students from both universities with experience and skills in working in a multicultural environment on global engineering challenges.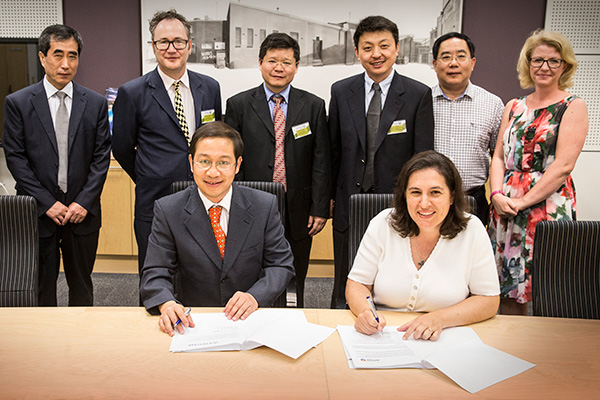 Pictured, back row, from left: Professor Shengkai Gong (BUAA), Associate Professor Brian Monaghan (UOW), Professor Yuan Deng (BUAA), Dr Yue Zhao (UOW), Associate Professor Huijun Li (UOW) and Ms Bona Merxhushi (UOW). Front row, from left: Professor Hongbo Guo (BUAA) and Associate Professor Katina Michael (UOW)
Beihang University (formerly Beijing University of Aeronautics and Astronautics) was built in 1952, and is known as a leading engineering research university, while UOW has 60 years of fundamental and industry-based materials research experience at the forefront of steel processing and product research.
It is one of the University's foundation disciplines and has become the Engineering Materials Research Strength, with the vision of making a significant contribution to the design and manufacturing of advanced materials for engineering applications and processing technologies.
The agreement strengthens the relationship between the two institutions, which began in 2012 as a result of a visit to BUAA by Associate Professor Huijun Li of the Welding Engineering Research Group, and has resulted in several ongoing research collaborations and student exchanges.
The first joint workshop was held in December 2013 at BUAA and Vice-Chancellor Professor Paul Wellings and senior delegates from UOW visited the President of BUAA in November this year for signing of an MOU and discussion on setting up a Joint Research Institute.
Dr Yue Zhao, Materials Engineering discipline leader and deputy director of the Engineering Materials Research Strength, said the joint workshop provided a platform for materials researchers from the two universities to exchange research ideas, lay the groundwork for sharing of research resources and to set up collaborative programs in materials research and education.

Associate Professor Huijun Li addresses attendees at the UOW-Beihang joint workshop on advanced materials and processing, hosted by UOW.
"Materials engineering is a very broad field, ranging from improving quality of metals to exploring functional nano-materials," Dr Zhao said. "Beihang has expertise in materials processing and state-of-the-art facilities that our students can now access.
"This partnership will also enable researchers to collaborate on challenges with the rapid transformation of global manufacturing and living standards through advances in environmentally friendly technologies and the development of frontier technologies."
Dr Zhao said China was one of Australia's largest economic partners and UOW materials engineering students were now in a position to actively engage with China and lead the way in collaboration and cooperation.
"By providing supervision and research leadership of high international repute to our research students, we believe that we will inject into Australia's corporate and manufacturing industries our main product – the people that can and will make a difference," he said.
BUAA delegation head Professor Yuan Deng said UOW was a leader in the field of materials engineering and the partnership would lead to broader and deeper cooperation.