Susie Alderman gives scraps that would normally go to waste a new life in funky and creative ways that people get to wear.
---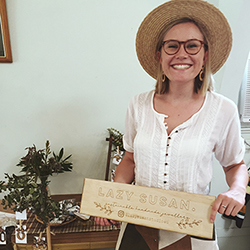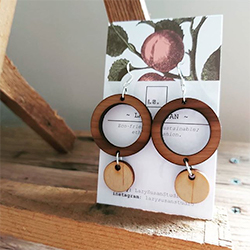 UOW Student and Makerspace team member Susie Alderman's passion for sustainability and environmental consciousness inspired her to create laser-cut jewellery at the UOW Makerspace.

Susie Alderman grew up in the small country town of Cootamundra, four hours southwest of Wollongong.

Susie is currently in her fifth and final year of a double degree of Communication and Media Studies and International Studies. She was introduced to the Makerspace through her media studies course and that was the first time she became involved in a space with machinery, equipment, and software.

Susie was drawn to Makerspace as it allowed anyone from any skill level to come in and be creative. Susie started her first project in the Makerspace in 2018, 'Lazy Susan Studio'.

"I decided to start making jewellery and gifts that were entirely made from scraps that come from the laser-cutter where all the material is recycled and repurposed.

Susie then decided to take her laser-cut jewellery to market stalls and sell them online.

"Business isn't really something that comes naturally to me but being able to make a tiny bit of money and see your hard work turn into a profit is super rewarding."

The Makerspace introduced Susie to different machinery that she had never heard of before and felt that it was a comfortable environment.
"It's not intimidating even though at first it may seem that way."


"Once you've come into the space and got to know the people in there I find it to be an incredibly supportive and welcoming environment."

The Makerspace has taught Susie creativity can come in different forms and every time she runs a workshop she loves to see the different ideas that others suggest that she had not thought of.
"One thing that I really love about the Makerspace is the community."

"I just love when I go into the Makerspace seeing familiar faces, just being able to have a coffee and catch up with mates and see what everyone else is working on."

"That for me is the most rewarding part." If you'd like to learn more about Susie's laser-cut jewellery then head on over to her Instagram page.