From seaweed to wind farms, the ocean presents exciting new opportunities. But how do we ensure that the concerns of coastal communities are heard?
---
It may have been Dr Michelle Voyer's time as a government employee working on controversial projects that sparked her interest in conflict.
Working to preserve habitats for grey nurse sharks and marine parks was not popular with some.
"I got yelled at a lot," she said.
"I kept hearing similar things from opponents and that got me interested to explore how people form their opinions."
Fast track a decade, and large-scale offshore wind farms featuring massive turbines floating off the coast are planned for the Illawarra.
For a researcher like Dr Voyer, with a foot in two camps – marine science and social research – the plan represents a big opportunity.
"We have two companies ready to go and keen to start feasibility processes," she said.
"We are keen to work with those businesses to understand the values that underpin perceptions and attitudes.
"We are trying to get below the surface level opinions.
"Where are there shared values? And where are the fundamental clashes of values?"
In order to begin to answer these questions, Dr Voyer has joined with other researchers from the Energy Futures Network, which the University created to provide a trusted voice on energy transition informed by data and evidence.
It's perfect timing for the welcome generosity of an anonymous donor – born and bred in the Illawarra – who wants to ensure that all communities are part of the transition process and are beneficiaries of new technologies and industries.
The endowment is worth $1.25 million, enabling the establishment of the Keira Chair in Energy Futures. This provides an opportunity for research and public advocacy for the development of the 'Blue Economy' which refers to the use of ocean resources for environmentally sustainable and socially equitable economic development from the ocean.
Dr Voyer is the inaugural Keira Chair in Energy Futures, a three-year leadership role for an outstanding researcher.
"The difference it makes with me is that it's a huge boost to my capacity," Dr Voyer said.
Dr Voyer was chosen for her experience in blue economy governance, environmental protection, and engagement with communities on the governance and use of oceans.
The Keira Chair provides a kickstart for the newly formed Blue Futures Translational Research Initiative, a collaboration within the Australian National Centre for Ocean Resources and Security (ANCORS) with Dr Voyer, Freya Croft, Dr Tillmann Boehme and Makrita Solitei, and other researchers and partners from across the Illawarra and South Coast.
The collaboration will focus on applied research working with businesses and the community to think about sustainable transitions in the Blue (or Ocean) Economy.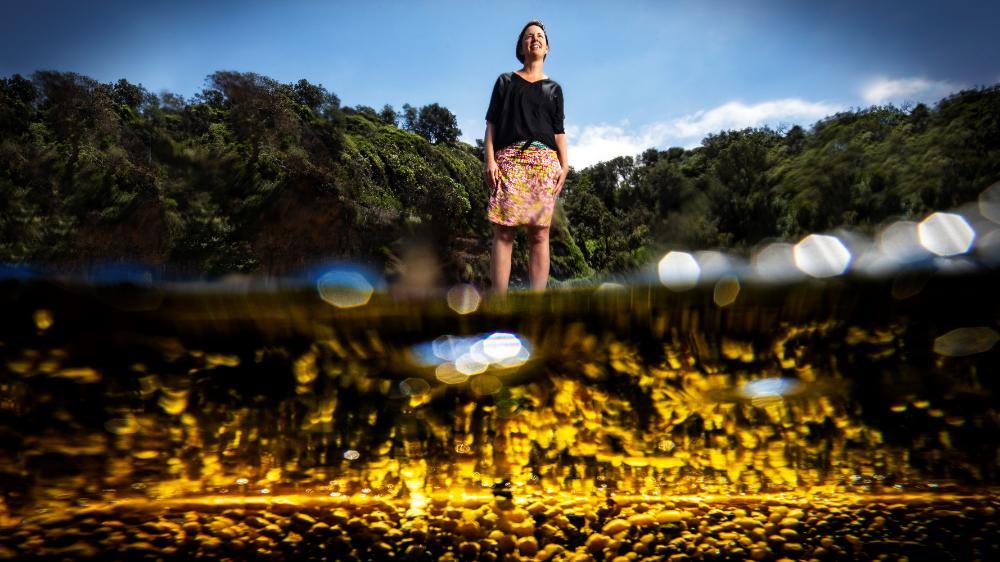 "We are interested in the communities, and how they respond to the new and emerging industries – what we call, 'the social licence to operate'," Dr Voyer said.
"We are trying to get a sense of how people will feel about that. We are also interested in the process of engagement and how can we be innovative in the way we partner with communities."
The interest goes back to her PhD topic which looked at the different reactions to the creation of two similar marine conservation areas, one in Port Stephens and the other in Batemans Bay.
She interviewed recreational, commercial and cultural (Aboriginal) fishing people and found a surprising mix of mutual distrust and opposition, coupled with a broad range of shared values and interests.
"Batemans Bay was so polarised where there was nuance in Port Stephens, so that led me to try to identify innovative ways of talking about difference," Dr Voyer said.
These lessons are now about to be applied to the likely establishment of offshore wind farms and the related industry of kelp farming that is about to take off on the South Coast.
Kelp is a new industry with a big future.
As well as acting as a carbon sink, kelp can be used for a dizzying array of uses from food to building material, fertiliser to beauty products.
If these industries are to become established and to thrive, it is critical that the coastal community becomes involved in decisions from the start.
"Consultation is vital because communities often make or break these ideas," Dr Voyer said.
"Things can fall over on the back of community opposition so it's important that issues are addressed before it's too late and opposition becomes entrenched.
"It's a legal requirement and also important for reasons of social equity. We need to make sure that we don't leave people behind and we don't entrench disadvantage."
To this end, Blue Futures Translational Research Initiative is already engaging with the Illawarra Aboriginal Land Council and the Joonga Land and Water Aboriginal Corporation based around Narooma to explore how Aboriginal communities can play a greater leadership role in the transition to a new, more sustainable future.
For Dr Voyer, this is a golden opportunity to apply research to a real-world scenario.
"Even a couple of years ago, no one was dreaming of offshore wind in the Illawarra," Dr Voyer said.
"We are keen to work with the communities and industry to explore how the changes we are seeing in how we manage and use our oceans become shared projects, rather than something that is imposed on communities."
Dr Voyer is hoping to use this as a study for how – and what – shifts opinion.
Through the use of techniques such as focus groups, interviews and other forms of social research, she is hoping to track trends through regular engagement as the process rolls out.
"Over the coming years we are going to see lots of opportunities for the public to have their say on these new industries emerging in our oceans," she said.
"We will be tracking how people respond to different types of information and whether concerns are addressed or heightened.
"There are not many opportunities to get in on at the beginning of a completely new industry like this and track them all the way through.
"The creation of the Keira Chair allows us to do this important work with the resources that we need."