December 3, 2021
Molecular gymnastics in DNA replication
DNA replication – the copying of DNA – is one of the key processes occurring in all living cells. The accurate replication of DNA requires the coordination of more than 30 proteins. Together, these proteins form the replication system called the replisome. Through decades of research, the individual roles of each of the proteins are quite well characterised. However, the dynamic behaviours of the proteins and their coordination within the replisome complex remain poorly understood.
In collaboration with Molecular Horizons researchers D/Prof Antoine van Oijen and Associate Research Fellow Dr Jacob Lewis (now at the Francis Crick Institute in London), Dr Lisanne Spenkelink developed a new method that allowed the visualisation of eukaryotic (human-like) DNA replication at the single-molecule level for the first time. Surprisingly, their work revealed that the eukaryotic replisome is quite stable. Proteins within the replisome remain bound within the complex, while duplicating large amounts of DNA. We found a previously unknown interaction that allows these molecular gymnastics.
Dr Spenkelink and colleagues aim to expand their new methods to study how the replisome deals with challenges along its way. Their hope is that this work will contribute to the understanding of disease pathways related to errors made during replication.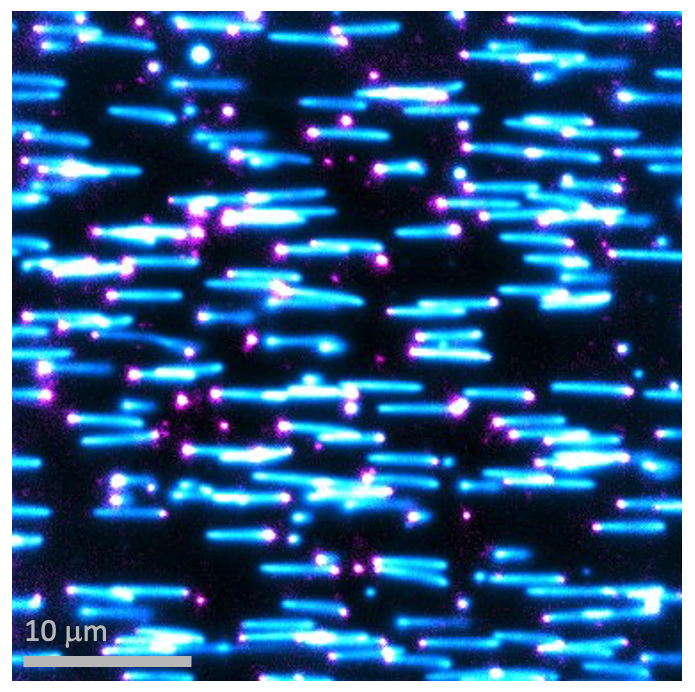 Microscopy image showing individual linear DNA templates undergoing replication (blue). The magenta spots are fluorescently labelled replication proteins. Dr Spenkelink's approach allows the monitoring of DNA replication and the behaviour of individual proteins in real-time.
Published in:
Tunability of DNA Polymerase Stability during Eukaryotic DNA Replication
Jacob S Lewis*, Lisanne M Spenkelink*, Grant D Schauer, Olga Yurieva, Stefan H Mueller, Varsha Natarajan, Gurleen Kaur, Claire Maher, Callum Kay, Michael E O'Donnell, Antoine M van Oijen
Molecular Cell (2020) (* co-first author)