October 21, 2019
Sydney Business School, UOW Hosts the Day of Service for 17 Charities
Engaging stakeholders through a day of volunteering in project management
On Monday 21st October 2019, Sydney Business School, University of Wollongong hosted the Project Management Institute's (PMI) "Day of Service", providing an innovative, problem solving platform for 17 not for profit organisations including:
APRAD
Australian Cancer Research Foundation
Benevolent Society
Canteen
Debra
Eurella
Fair Game
Holdsworth
Mary Ward
Masters Swimming NSW
Metro Assist
The NSW Volunteer Rescue Association
OWN
Royal Rehab
Surf Life Saving
Wesley Mission
Women and Girls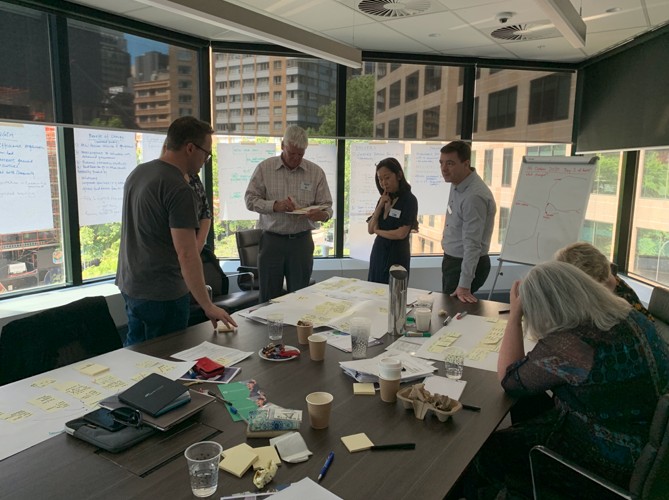 This year's Day of Service was brought together by the Project Management Institute and delivered by 96 professionals in the project management field who volunteered their time and ideas to not-for-profit organisations, free of charge.
These project management volunteers are a part of PMI's professional membership base and are supported by their organisations, all whom are committed to corporate social responsibility.
"We are honoured and proud to have been a part of this great event" said Dr Lee Styger, Academic Director of External Engagement. "It's phenomenal to see how the business community can come together to support this event and not for profits. This event is a great way to show our commitment to our stakeholders and is a tangible example of how we engage outside of the classroom to bring currency into our degrees".
This collaboration and level of corporate social responsibility is perfectly aligned with the Faculty of Business and Sydney Business School at the University of Wollongong as a part of our mission is to promote responsible leadership and sustainable business practice and contribute to a stronger economy and a more just society. This kind of engagement from industry members, and the school has a mutually beneficial outcome that can only lead to positive outcomes in future.