March 27, 2023
How your favourite chocolate can help save the planet – or not – this Easter
The fourth edition of Chocolate Scorecard measures global manufacturers against sustainability, supply chain concerns
When we think chocolate, we don't necessarily think deforestation. But a new report from a team of global researchers and not-for-profit organisations shows that chocolate production is intertwined with environmental destruction.
The fourth edition of the Chocolate Scorecard, launched today (Tuesday 28 March), is shining a light on what, exactly, customers are consuming when they purchase their favourite chocolate.
An initiative spearheaded by an international team of collaborators, including Associate Professor Stephanie Perkiss from the University of Wollongong (UOW), Be Slavery Free, Macquarie University, and Open University, The Chocolate Scorecard aims to transform the cocoa industry and encourage consumers to take a closer look at their favourite chocolate brands.
The Chocolate Scorecard evaluates 72 global chocolate manufacturers, brands and retailers (private labels), which forms approximately 95 per cent of the industry, against six markers: Traceability and Transparency, Living Income, Child and Forced Labour, Deforestation and Climate, Agroforestry, and Agri-Chemical Management.
Associate Professor Stephanie Perkiss. Photo: Paul Jones
Associate Professor Perkiss, who specialises in examining social and environmental issues through an accounting lens, said one of the key sustainability markers in researching and collating the Chocolate Scorecard was deforestation. While deforestation is not front of mind when choosing your favourite chocolate, Associate Professor Perkiss said it is an urgent issue with global impacts.
"To state the obvious, we humans love chocolate. Globally, we consume approximately 7.5 million tonnes of chocolate, a number that grows every year.
"However, the not-so-sweet truth is that to create space for new cocoa farms, the chocolate industry is fuelling deforestation at an alarming rate, hitting the accelerator on climate change, destroying native habitats and leaving a bitter taste in our mouths," Associate Professor Perkiss said.
"Forests are a critical natural resource in the fight against global warming as they both absorb and store carbon. When forests are destroyed, the carbon that was stored within the forest is released into the atmosphere.
"We're not suggesting you need to break up with chocolate (we couldn't if we tried). But with today's technology, there are better ways to make chocolate while meeting increasing consumer demand."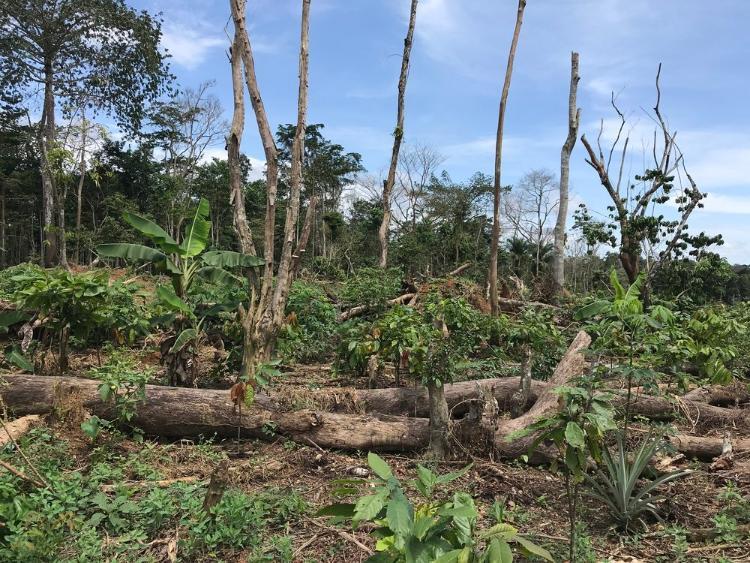 Young cocoa saplings among dead trees in a protected area. Photo: Mighty Earth
The team, led by Australian charity Be Slavery Free, reached out to chocolate manufacturers and brands around the world to contribute to the scorecard through a combination of surveys, interviews and self-reporting.
The best-scoring companies addressing deforestation are Original Beans, Tony's Chocolonely, Beyond Good, HALBA, Ferrero, Nestlé and Mars, who are in the 'green' or top-scoring category. These companies have undertaken efforts to tackle deforestation, which put them at the top of the pack relative to their peers.
West Africa produces three-quarters of the world's cocoa, with Côte d'Ivoire and Ghana being the largest producers. These two countries have lost most of their forest cover in the past 60 years - around 94 per cent and 80 per cent, respectively, with approximately one-third of that forest-loss for growing cocoa. In 2018, these two countries also had the highest rise in primary forest-loss of any tropical country. In 2020, another 47,000 ha of forest was lost in cocoa-growing areas of Côte d'Ivoire.
When forests are destroyed, the carbon that was stored within the forest is released into the atmosphere. When they are destroyed, so too are the habitats of animals and birds. The deforestation in Africa has destroyed much of the natural habitat of great apes, gorillas, chimpanzees, and bonobo.
Sixty-five per cent of the chocolate manufacturers surveyed did not have a target date set for improving deforestation and implementing agroforestry.
Fuzz Kitto, Co-Director of Be Slavery Free, said the Chocolate Scorecard has had a tangible impact on communities and the cocoa supply chain. But there is progress to be made.
"The Chocolate Scorecard is enabling change. Chocolate manufacturers tell us this scorecard is having an impact on their strategic direction," Mr Kitto said. "We are seeing processes being improved, an end to deforestation and the beginning of a switch to sustainable practices, which, ultimately, will improve productivity. But policy is not the same as implementation."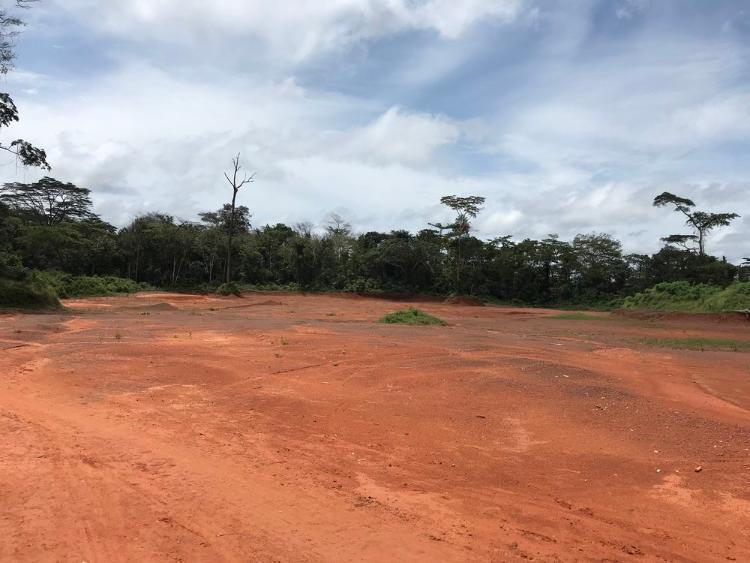 Newly deforested land for cocoa farming. Photo: Mighty Earth
Associate Professor Perkiss said the Chocolate Scorecard is driving change in the industry by shining a spotlight on unsavoury practices and holding global manufacturers to account. But, on a more positive note, it also highlights those who are engaging in good practices and making a significant impact in addressing issues within their manufacturing processes and supply chains.
"Every chocolate purchase matters and sends a message to the chocolate producers that you value the steps they are taking to implement best practice into their farming, manufacturing and supply chain processes.
"While being aware of where your chocolate comes from is really important to keep in mind this Easter, issues of sustainability and slavery are year-round."
The team behind The Chocolate Scorecard includes activists Fuzz Kitto and Carolyn Kitto from Be Slavery Free, Etelle Higonnet, Dr John Dumay from Macquarie University, Associate Professor Perkiss and Dr Cristiana Bernadi from The Open University in the United Kingdom, along with a team of subject matter consultants and civil society groups – a total of 37 organisations. To view the latest Chocolate Scorecard please go to https://www.chocolatescorecard.com