November 22, 2022
UOW students set to train with Tottenham Hotspur in the UK
Students gain global training exposure as part of UOW's Global Football Program
Ten students from the University of Wollongong (UOW) Tottenham Hotspur Global Football Program are set to train with coaches at the Tottenham Hotspur Academy in the UK.
The students are part of the UOW Tottenham Hotspur Global Football Program, a first of its kind program in Australia that is aimed at providing a unique opportunity for students to develop their football skills while pursuing a degree of their choice.
The six-day trip which starts today, Tuesday 22 November, provides an opportunity for students to learn, train and work with the club's academy coaches in London.
Ebony Freeman:
UOW Tottenham Hotspur Global Football Program student Ebony Freeman is in her last year of the Bachelor of Physiological Science and is one of the students travelling to the UK. She has been playing football since she was in primary school.
Originally from Shellharbour, Ebony found the perfect match of balancing studies and fuelling her passion for football at UOW. The close vicinity to the Global Football Program offering was one of the reasons Ebony enrolled at the University.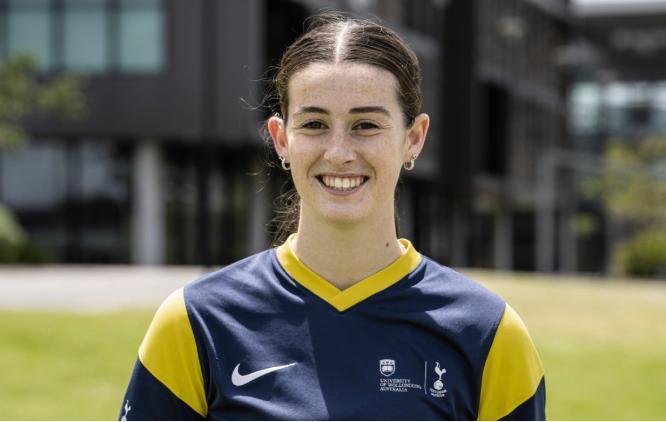 "The standard of the coaching, the training environment that the program offers with coaches from English Premier League has been great, and the people are lovely," Ebony said.
"I have developed technical skills and overall awareness of the game has improved as well. It's heaps of fun."
She is excited to travel to the UK to explore the city and is looking forward to spending quality time training with the coaches.
Ebony has accepted a job offer and will move to Sydney after graduating to kick-start her career.
Emeka Onyike:
Emeka Onyike was born and raised in Gosport, UK, and moved to Australia when he was 13 years old and went to high school in Sydney. He later moved to Canberra where his family is located. During his early childhood, he developed a keen interest in both football and information technology, which later became his passions.
He moved to Wollongong to study IT at UOW and also enrolled in the UOW Tottenham Hotspur Global Football Program to further improve his game.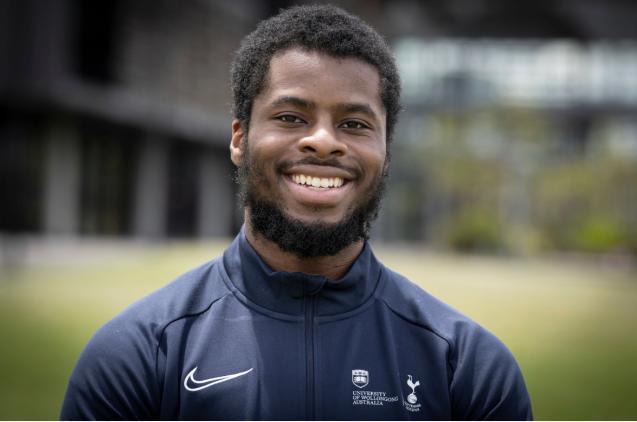 "I have been playing football since I was five years old," Emeka said.
"After moving to Australia, I continued playing for my school, and joined clubs and developed my craft in the National Premier League. I heard about the opportunity to improve my football skills in the Global Football Program, and came in to trial and successfully got in the program.
"The people in the program, and the other students in the University, are nice to you and make you feel welcome.
"I came to Australia as a teenager who was still trying to figure things out mentally; through this program I got emotional growth and maturity that also helped me improve my game. The coaches also helped me understand how to unlock my potential to focus on the game and become successful.
"Through the training I learnt a lot about time management and keeping myself motivated, working hard and setting good habits to achieve the best outcomes."
He also hosts a podcast named 'The Modern Day Man' and makes music on the side that he wishes to continue producing after completing the Global Football Program.
Emeka is looking forward to being in the UK, to simply enjoy the experience, gaining insight from the players, and learning about their journeys to become successful players.
Alicia Meuronen:
Alicia Meuronen from Canberra is currently studying a Bachelor of Sport at UOW and is one of the students travelling to the UK. She is an ardent football player and found the UOW Tottenham Hotspur Global Football Program a unique opportunity that made her move to Wollongong.
"I have been playing football since I was six years old," Alicia said.
"I am passionate about football and when I got to know about the Global Football Program, which is a first-in-kind opportunity in Australia, was a big driver for me to move to Wollongong and take my football skills to next level.
"I have seen an improvement in my game in the last few years, and the program has helped me play one-on-one more confidently."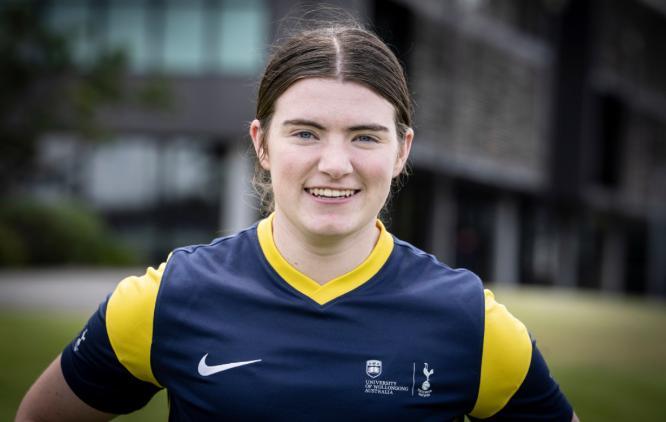 Since moving to Wollongong, Alicia has been playing for the Illawarra Stingrays and applying the skills she's acquired from the program in real world matches.
This is her first international trip since the pandemic hit the world, and she looks forward to gaining experience in the UK.
"I am excited to visit the Academy in London and train under the coaches and take in as much as I can."
Alicia has secured a part time job with the Global Football Program team at UOW, which is aimed at supporting and recruiting students to the program.
After graduating, Alicia will stay in the sports industry to pursue her goals and look for opportunities with the support of Global Football Program networks.
Her success mantra for anyone starting to play the game is to "keep trying new things and putting in the hard work to find the right balance".
In addition to training, students will also visit Tottenham Hotspur Stadium and have a chance to meet current and former players.
More information about the program and can be found on the UOW Tottenham Hotspur Global Football Program website: https://www.uow.edu.au/globalfootball/