A celebration of community, pride and resilience
The inaugural Trans and Friends Festival Illawarra united the local trans and gender diverse community to advance health, wellbeing and human rights
---
Merging self-expression and fun with serious health goals, Illawarra Shoalhaven Gender Alliance (ISGA), in partnership with the University of Wollongong (UOW) Ally Network, launched its first community event at UOW Wollongong campus on Sunday 13th November, coinciding with the start of Trans Awareness Week.
The Trans and Friends Festival Illawarra (TAFFI) saw approximately 1000 trans and gender diverse people (TGD), their friends, families and allies come together to celebrate the richness of this diverse community. The day was filled with performances by local queer and TGD people, health education by multidisciplinary clinicians and market stalls showcasing local businesses and organisations. There were opportunities to learn new skills and create with hands-on activities such as community art and even a dog show.
The scope of education covered was broad – from how to access care and what gender-affirming treatments are available to ways of looking after one's mental health and being a supportive family.
Dr Megan Thomas (they/she), President and co-founder of ISGA and GP academic at UOW Graduate School of Medicine, described TAFFI as a unique event bringing together health education and promotion with community festivities. A celebration of diversity, resilience, and pride, TAFFI aimed to uplift the voices of the TGD community and provide links to care and support.
The Australian trans and gender diverse community is vibrant and resilient, but the experiences of being marginalised have serious health consequences. According to the 2021 Australian survey of LGBTQ+ young people aged 14-21 (created by LGBTIQ+ Health Australia in collaboration with the Australian Bureau of Statistics), 71 per cent of trans respondents had considered suicide in the last 12 months, and 38 per cent of all respondents reported having attempted suicide at some point in their life.
"We should not be losing young trans and gender diverse people to suicide," Dr Thomas said.
"We know that having even one supportive adult in one's life significantly reduces the risk of suicide. It's time for the broader community to step up. We need to show all gender diverse people that they're not alone and that a community of peers and allies is ready to stand with them."
Jacob May (he/him) is ISGA's treasurer and has just completed an honours degree in law and linguistics at UOW. He reports that legal and health issues are often pressing for trans and gender diverse people, but there is much we can all do at a personal level.
"Putting pronouns in an email signature, publicly supporting LGBTQIA+ businesses and events, or simply telling your friends, family and co-workers, 'I'm here for you'. These small, everyday interactions can make all the difference for people who often feel marginalised or vulnerable," Jacob said.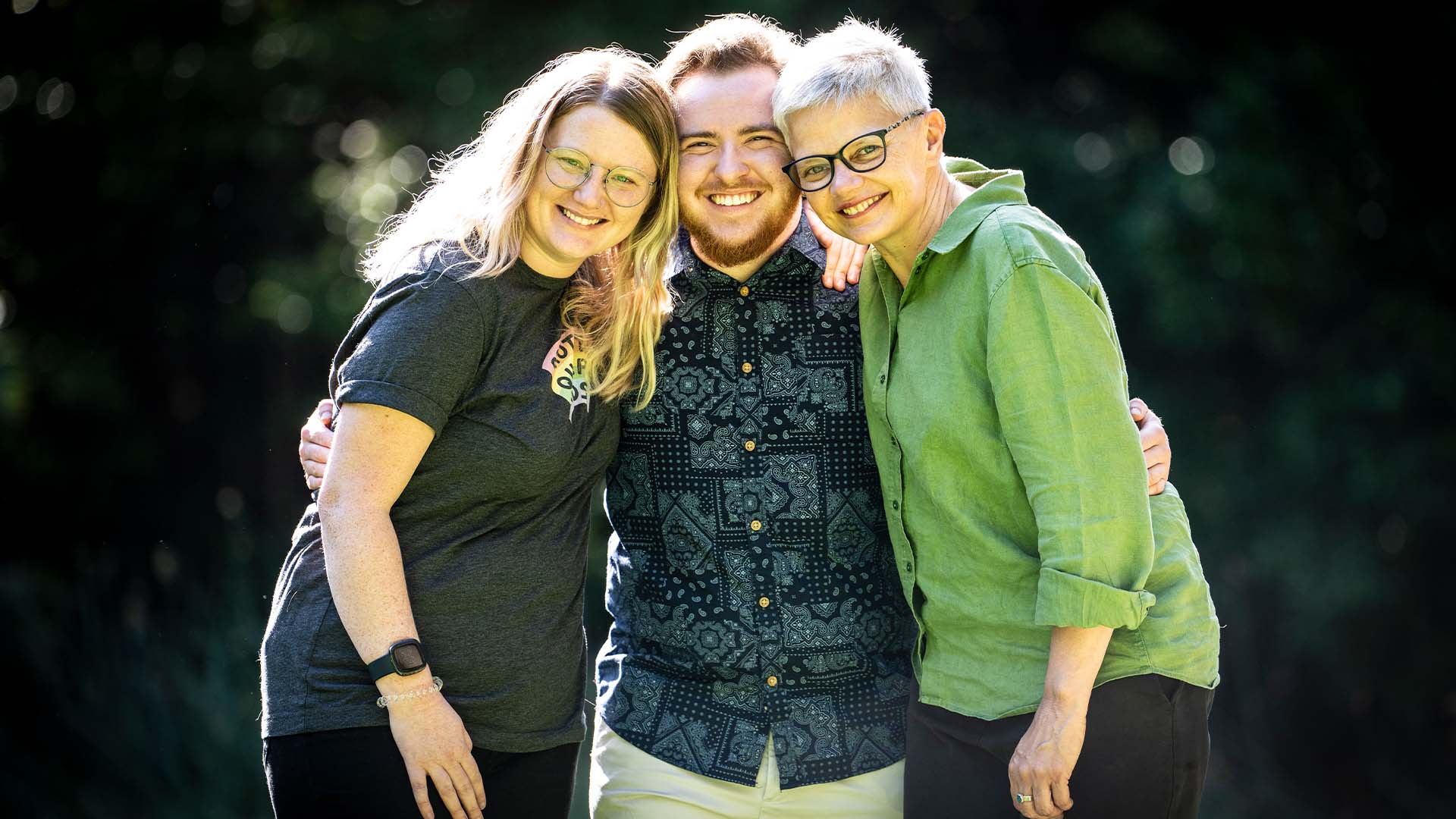 (From left) Dr Megan Thomas, student Jacob May and Dr Alison Rutherford work to help trans and gender diverse communities thrive
Educating other health practitioners was one of the reasons behind starting Illawarra Shoalhaven Gender Alliance (ISGA) in 2021. Dr Alison Rutherford (she/her) is a local sexual health physician, Vice President and co-founder of ISGA. She explained that the transgender and gender diverse community in the Illawarra has limited access to care, and one of the goals of ISGA is to advocate for better funding and services.
"Doctors are under-trained and unsure about how to help their patients. We aim to address this by educating our local health professionals through ISGA's Clinical Network and courses for GPs. ISGA strives to provide a genuine platform for engagement and collaboration between the trans and gender diverse community, health professionals and service providers, allowing culturally safe support, education, training, and advocacy," Dr Rutherford said.
As the TAFFI event was hosted at the University of Wollongong, UOW Vice-Chancellor and President Professor Patricia M. Davidson welcomed all the participants and promised to stay committed to building diverse and inclusive campuses where everyone is safe to be themselves.
"As an equal-opportunity employer and a recognised leader in gender equality, we've always encouraged and welcomed people from diverse backgrounds, including people who identify as LGBTQIA+.
"I am delighted to be a part of this colourful and significant event that celebrates pride, inclusivity and equality," Professor Davidson said.
ISGA's co-founder Dr Thomas identifies as a queer and nonbinary person, and they said their journey to owning this identity at work wasn't easy.
"When I came to work for UOW, I didn't know if it was safe for me to be my authentic self. That was until I saw the Vice-Chancellor had gender pronouns visible in her email signature. It was a seemingly small detail, but I've never felt more seen and validated. I am proud that UOW is a place where our differences are celebrated," Dr Thomas said.
"Having UOW support sends an undeniably strong message to the Illawarra Shoalhaven community that trans and gender diverse people deserve all the support."