UOW program recognised for excellence in rural education
Outreach program implemented along NSW coast to connect with Indigenous high school students
---
The University of Wollongong's (UOW) Koori Aspirations Program has been recognised with the prestigious Australian Rural Education Award (AREA).
The honour was awarded during the National Conference for Regional, Rural and Remote Education.
The Society for the Provision of Education in Rural Australia (SPERA) has bestowed the award annually since 1994 to an organisation that has demonstrated excellence in rural education in Australia.
The award-winning collaboration between UOW's Outreach and Widening Participation Team and Woolyungah Indigenous Centre (WIC) is a mentoring and artwork program designed to enable the post-school aspirations of Aboriginal and Torres Strait Islander high school students in regional areas.
UOW Deputy Vice-Chancellor (Education) Professor Theo Farrell commended the team for their work and for their well-deserved recognition.
"Congratulations to the Outreach team for their work on the Koori Aspirations Program. Receiving the Australian Rural Education Award is a wonderful achievement and highlights the important work the University is doing in connecting with Indigenous high school students in the community," Professor Farrell said.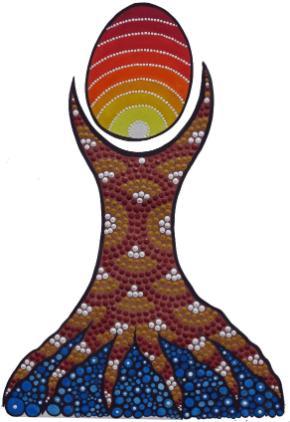 Artwork by Natalie Bateman.
The program featured a number of workshops targeted specifically at Aboriginal and Torres Strait Islander students from Liverpool to Bega, aiming to create a culturally inclusive environment to foster the personal growth of the participants.
Content was co-designed by UOW Outreach staff from Bega, Batemans Bay, SWS and Wollongong and involved a partnership with Yuin Indigenous artist, Natalie Bateman, who created a series of five artworks to support discussion in the workshops. Each workshop concluded with a reflective yarning circle for students to discuss the themes, artwork and their ideas.
Workshops were separated into two age groups in order to target the varying needs of the students.
The years 7 to 10 workshops focused on the inclusion of cultural education elements to foster a positive cultural identity and lead to improved self-esteem.
Artworks by Ms Bateman formed the foundation of the workshops and were the basis of themes discussed by the students.
The year's 11 to 12 webinar, designed in collaboration with WIC, focused on building capacity of senior students to pursue higher education pathways and other post-school options.
The webinar series provided advice on pathway options after school including TAFE, services for Indigenous students such as the UOW Indigenous Admissions Program, and financial assistance, such as Indigenous student scholarships.
The program had significant uptake from schools all over the NSW coast, reaching 339 students across Term 4 of 2020.
In addition to receiving the AREA, the Koori Aspiration Program received positive feedback from students and teachers consistently across the schools which it was implemented, with 85 per cent of attendees indicating they found the information useful.
Main picture: UOW Outreach staff and highschool students in a Yarming Circle as part of the Koori Aspirations Program.