November 29, 2021
High-achieving students thrilled to be New Colombo Plan Scholars
UOW students to study, work in Indo-Pacific region in 2022 under Federal Government initiative
Five outstanding students from the University of Wollongong (UOW) will spend part of next year studying and working in the Indo-Pacific after they were announced recipients of the New Colombo Plan Scholarships.
In a virtual ceremony held today (Monday, 29 November), Thomas Allman, Amelia Frey, Morgan Howard, William Jamieson, and Naomi Poscoliero were named New Colombo Plan Scholars, a Federal Government initiative that enables undergraduate students to undertake study and internships in the Indo-Pacific region.
This is the largest cohort of New Colombo Plan Scholars ever selected from UOW.
The annual program aims to create strong relationships between Australia and Indo-Pacific nations, with a number of high-achieving UOW students taking part since it was launched in 2014.
Professor Patricia M. Davidson, UOW Vice-Chancellor, congratulated the students on their success in the prestigious scholarship program.
"This is a wonderful opportunity for these students to experience life in a different country, to immerse themselves in the culture through their study and work," Professor Davidson said.
"I am thrilled for these very worthy students. I'm sure they will make UOW, and Australia, very proud. Congratulations to Thomas, Amelia, Morgan, William, and Naomi. I wish them every success for their New Colombo Plan adventure."
TJ Allman, Japan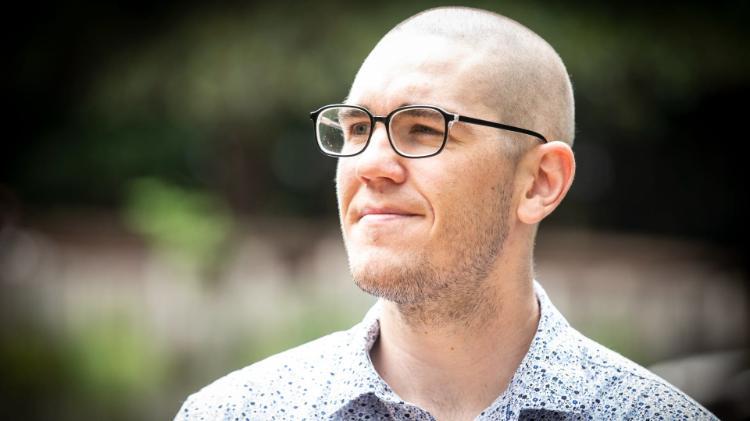 TJ Allman, who is studying a Bachelor of Sustainable Communities, was drawn to Japan for his New Colombo Plan Scholarship as it offered the opportunity to deepen his learning and aligned with his passion for environmental issues.
"Since I was young, I have always liked Japan, with its cultural heritage and rapidly advancing technology, mixed in with a beautiful environment," TJ said.
He will be based in Kyoto, and will study Japanese before undertaking subjects at Doshisha University. TJ is also aiming to seek a mentor from the Graduate School of Global Studies, and to undertake an internship in Kyoto.
An advocate for sustainability and reducing one's impact on the planet, TJ was thrilled to discover that he was a New Colombo Plan Scholar and said he can't wait to seize the opportunity and gain as much as possible from his time in Japan.
"I am looking forward to finishing my degree, overcoming the challenges that lie ahead, and bringing back the experience and knowledge that I will obtain. Just being able to step out of my comfort zone; learn another language and be somewhat isolated from everything I have known. I believe that it is within such spaces, that is where real growth occurs. I am excited about that growth.
"I am also excited to see how different approaches to environmental preservation are being undertaken from a different perspective and setting."
Amelia Frey, Malaysia
Amelia Frey is undertaking a double degree Bachelor of Laws/Bachelor of International Studies. She will be based in Malaysia for her New Colombo Plan Scholarship.
"I chose Malaysia as my host location as it is renowned for global mobility and steeped in a unique and diverse culture," Amelia said. "It has a strong social dynamic predicated on harmonious backgrounds, cultures, religions, and ideologies, which provides scope for positive cultural exposure on a personal and professional level."
Amelia's interest in international relations dovetails with her passion for social issues, in particular justice, education, and health in developing nations. Studying law, she said, will provide the ideal avenue in which to pursue tangible change.
During her time in Malaysia, Amelia will study at the University of Malaysia, which will provide her with an insight into the role of cultural studies on the country's legal system. She will also complete an internship with Zaid Ibrahim Lawyers and the United Nations Development Program, and hopes to take the steps to create a pro-bono network between legal firms in Australia and the Indo-Pacific that will enable greater access to legal support and services for organisations.
"I have described this as an 'Air Tasker' for charities with legal issues, but across an international stage," Amelia said. "I am incredibly excited about undertaking the New Colombo Plan Scholarship and ensuring positive personal and professional development by acting as a pioneer to foster these international goals."
Morgan Howard, Fiji
Morgan Howard is studying a Bachelor of Conservation Biology and was drawn to Fiji for her New Colombo Plan Scholarship due to the country's beauty and biodiversity.
An advocate for the natural environment, conserving species and ecosystems, Morgan has been obsessed with plants and animals since she was little. Being able to combine study with travel, alongside her interests, as part of the New Colombo Plan, is a dream come true.
"I'm passionate about conserving species and ecosystems (particularly in the face of climate change), and have been obsessed with plants and animals since I was little so it made sense to study conservation biology. Fiji is an island ecosystem with huge biodiversity and a high community engagement in conserving the terrestrial and marine environment," Morgan said.
"I am particularly interested in tropical ecology and also want to take subjects in coral reef ecology and climate resilience. I'm hoping I can learn from the local community the significance of their ecosystem, how we can work with the community to protect our environments, and then bring this knowledge and these connections back home.
"I want to learn more in my own field, but also foster friendships and relationships in conservation. I'm excited to improve my language skills and cultural literacy."
During her time in Fiji, Morgan will study at the University of the South Pacific and is also hoping to undertake an internship with….
William Jamieson, Fiji and Kiribati
William Jamieson, who is studying a double degree Bachelor of Laws/Bachelor of Engineering, will travel to Fiji and Kiribati as part of his New Colombo Plan Scholarship.
In Suva, Fiji's capital, William will be based at the University of the South Pacific, where he will undertake subjects as part of his degree, as well as become a mentee to a member of the Fijian legal community. In Tarawa, in Kiribati, he will complete language training and an internship with non-government organisation, KiriCAN, which coordinates water harvesting awareness programs.
Passionate about social justice and environmental issues, William was drawn to the South Pacific due to the imminent threat of climate change.
"The Pacific is one of the most impacted regions by climate change in the world," William said. "My program aims to explore the current challenges the Pacific is facing, how they are being addressed by community members, and the role that Australia should be playing in addressing major issues such as climate change, poverty, and cultural losses.
"I hope to establish strong connections with both nations, deepen an understanding of their culture, develop strong personal relationships, and learn from regional leaders in business, academics, and the community."
Naomi Poscoliero, Samoa
Naomi Poscoliero, who is studying a Bachelor of Pre-Medicine, Science, and Health, has always been interested in medicine and the human body. With a dream of becoming a doctor, Naomi's aim is to work in rural and remote locations, with a particular focus on Indigenous communities. Her New Colombo Plan Scholarship will take her to Samoa, where she will gain valuable knowledge and experience in the field of health.
"Samoa has a number of health problems that are also prevalent in remote areas of Australia, including dengue fever and tuberculosis. I'm hoping to familiarise myself with these clinical presentations," Naomi said.
"I also want to overturn the notion that the Pacific is just a tourist destination. I want to forge a bilateral relationship in which the Samoan perspective and experience, especially in health, is appreciated and incorporated in a way that is culturally sensitive. This will be important when providing care and working with Indigenous Australians."
Naomi will undertake subjects, including language study, at the University of Samoa, based in the country's capital of Apia, and is hoping to intern at the Tupua Tamasese Meaole Hospital.
She was delighted to be named a New Colombo Plan Scholar and can't wait to immerse herself in the culture, people, and language of Samoa.
"I'm really excited to make new friends and to be challenged in developing my Samoan language skills with my fellow students, patients, and other healthcare professionals. Idiosyncrasies and mistakes made when learning a new language always make for a good laugh!
"I am also looking forward to the beautiful, natural environment of the Pacific."