Illawarra business wins at Innovation Districts Challenge
CriticalArc awarded $10,000 NSW Government grant to address the impact of COVID-19
---
After progressing from the University of Wollongong (UOW) hosted Illawarra Innovation Quest to the state-wide Innovation Districts Challenge finals, Illawarra company CriticalArc has received a $10,000 NSW Government grant for successfully pitching an idea aimed at solving Health and Wellbeing challenges caused by COVID-19.
UOW launched the Illawarra Innovation Quest in October inviting businesses around the Illawarra region to address the challenges arising from the COVID-19 pandemic.
After a successful pitch round and receiving assistance from UOW, CriticalArc was named as a state finalists at the Illawarra Innovation Quest, making it eligible to participate in the Innovation Districts Challenge organised by NSW Government.
The Innovation Districts Challenge was designed to accelerate the commercialisation of research products that address the impacts of COVID-19 by businesses in partnership with universities and CSIRO in NSW. The Challenge themes align with the NSW Government 'Respond, Recover and Reform' approach to COVID-19.
The company combined its deep understanding of security systems with a passion for quality software to develop its distributed command and control software service, SafeZone.
SafeZone aims to fundamentally transform the way large organisations handle incident management and risk mitigation across multiple sites by providing a common operating view and enabling proactive responses that positively impact the outcome of any incident.
CriticalArc Sales Manager ANZ Julian Spencer said UOW played a key role in helping the company reach the finals.
"UOW was pivotal in understanding our technology and embracing our vision for peoples' safety and wellbeing," Mr Spencer said.
"Through this partnership UOW assisted in both our video pitch and our written submission. The video pitch especially had a need to bring across a large amount of information and a clear message in a very small amount of time, two minutes.
"Spending time to review and refine the message, insure multiple software features were explained in easy to understand language and suggest succinct points to focus on all added to the end result."
Mr Spencer encouraged local businesses embrace the networking opportunities available through events such as the Innovation Districts Challenge, which could help businesses connect with the right people and gain the tools required to grow the business.
The company plans to utilise the grant by investing in software updates and ensuring timely delivery of the software.
"COVID-19 has brought about many urgent requests that clearly need to be brought to market in the shortest possible timeframe. The $10,000 grant will ensure our developers can spend dedicated time on these features."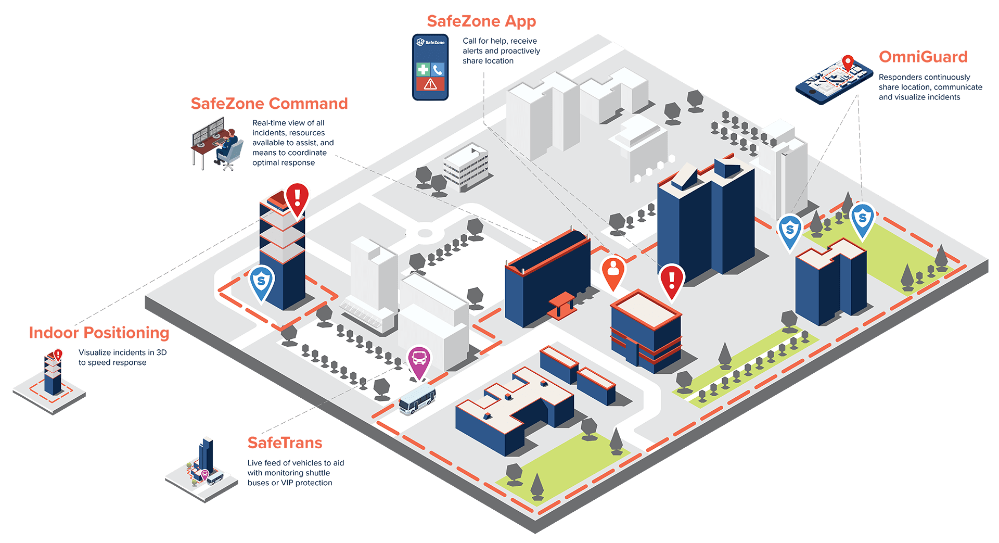 SafeZone Illustration. Credits: CriticalArc