March 5, 2019
UOW hosts first ever AIME Festival of Mentoring
Vice-Chancellor welcomes hundreds of US students to Wollongong
More than 200 students from across the United States were given a glimpse into university life in Australia in Wollongong last month and provided the tools to make a difference in the world.
Coming from all walks of life, and from all corners of the US, the students were at the University of Wollongong as part of AIME's (Australian Indigenous Mentoring Experience) Festival of Mentoring, from February 21 to February 22. It was the very first time the event has been held.
The students – known as Hooded Scholars – were part of a new cohort of AIME mentors who spent five days learning as much as they could before taking their new skills back home to the US and shaking things up in their own backyard.
UOW Vice-Chancellor Professor Paul Wellings CBE welcomed the students, as well as large team of AIME staff and current mentors, to Wollongong last Thursday in a special evening reception at Innovation Campus.
Professor Wellings told the crowd at the Welcome Reception of the long relationship between AIME and UOW, which was only the second university to adopt the groundbreaking mentoring program.
"AIME has been at UOW since 2008, and we are incredibly proud of the partnership we have built in that time," Professor Wellings said.
"We are honoured to be hosting the first AIME Festival of Mentoring and we will continue to support AIME as it builds the program in the US and Africa. We look forward to seeing the exceptional contributions you make to your own communities and campuses when you return home."
Professor Wellings paid tribute to and welcomed to the stage UOW graduate Jake Trindorfer, a Torres Strait Islander who worked tirelessly to bring the program to life on the South Coast.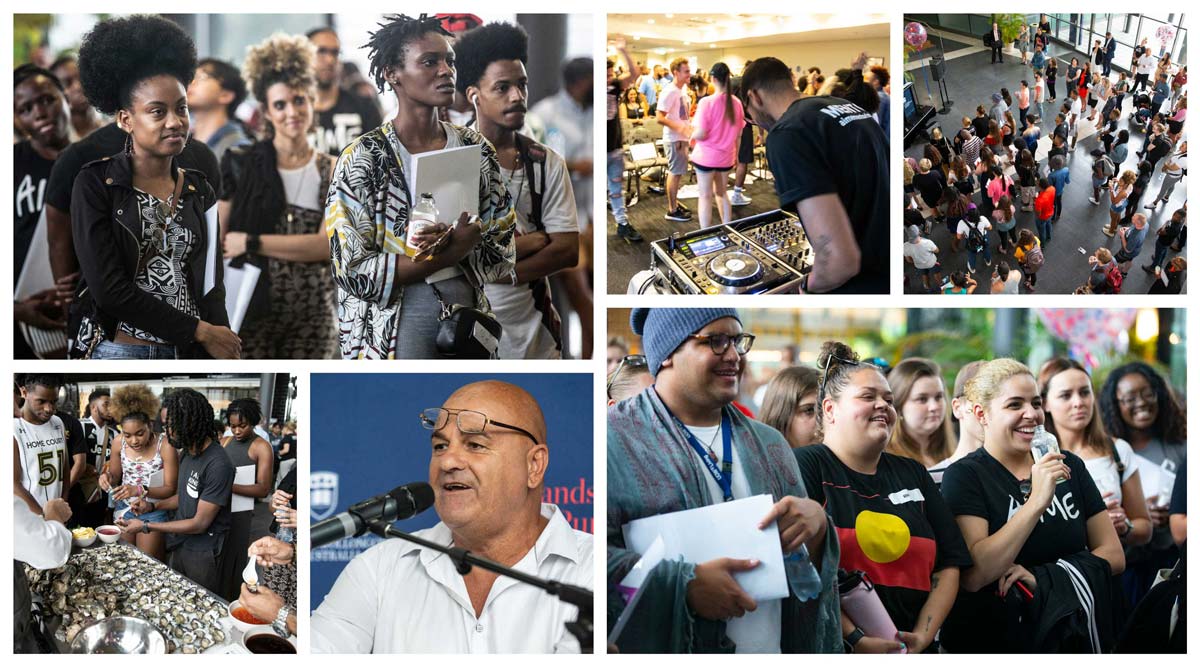 Jake, who spearheaded AIME at UOW, captivated the crowd with his story of how he never thought education was right for him, and instead decided to become a concreter. Yet a chance meeting with a UOW staff member inspired him to study a Bachelor of Primary Education, and become the first in his family to complete his degree.
He was the first staff member of AIME at UOW and has been working for the organisation since he graduated, more than 10 years ago.
Now Program Development and Design Coordinator at AIME, which has seen him travel throughout the world to create videos for the organisation, Jake is thrilled to still be playing a role in helping to tackle educational inequality.
Jake presented Professor Wellings with his own AIME hoodie, as a thanks to UOW for hosting the Festival of Mentoring.
AIME was founded by Jack Manning Bancroft in 2005, to build a bridge between university students and high school students from disadvantaged backgrounds.
Volunteer mentors from university pair with high school students, with the aim of ending inequality and bringing the powerful and powerless together.