December 4, 2019
Shark nets destructive and ineffective, study finds
Increased lifeguard patrols and emergency response a more useful approach to beach safety
A new study that looks at both the effectiveness of shark nets in keeping beachgoers safe and their destructive impact on marine life has concluded that their use should be ended and more focus placed on beach patrols and emergency response instead.
The study, led by Dr Leah Gibbs from the University of Wollongong (UOW) and published in the journal People and Nature, looked at the NSW Shark Meshing (Bather Protection) Program, which was introduced in 1937 and is the world's longest-running lethal shark hazard management program.
The researchers found that shark nets were not effective for keeping people safe. At the same time, they had a significant negative impact on marine life, both on the targeted species and on other species as well, including threatened and protected species.
The vast majority of animals caught in the nets are non-target species (94 per cent in 2018-19, according to the Shark Meshing Program annual report). This includes rays, turtles, dolphins, other harmless fish and sharks including hammerheads and grey nurse sharks.
"We found that shark netting is outdated technology. It is time to move on," Dr Gibbs said.
"We're not alone. The NSW Department of Primary Industries, manager of the Shark Meshing Program, is itself investing strongly in new non-lethal strategies. Our study provides further evidence to support this move."
Dr Gibbs, from UOW's School of Geography and Sustainable Communities, said that while the issue of shark nets often polarised the community, she hoped the study would help to move the conversation on.
"Both research and public debate usually focus on human safety or marine conservation, and frequently the two are pitted against each other," Dr Gibbs said.
"Hopefully our study can help us to move beyond a 'people versus sharks' debate. We brought together expertise from the social sciences, biological sciences and fisheries, to examine the wellbeing of both people and marine life.
"We argue it is possible to improve both human safety and marine life conservation."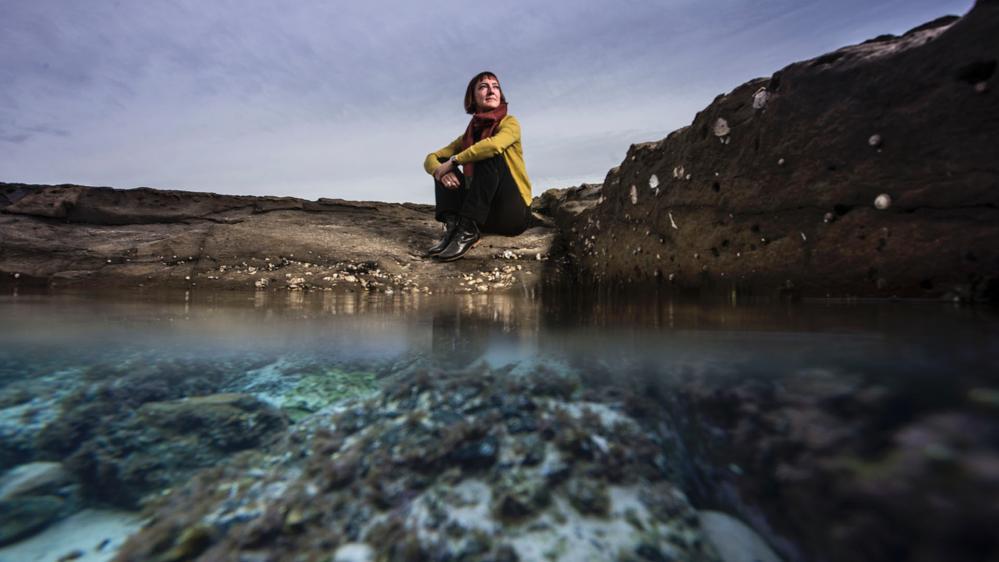 The debate doesn't need to be about 'sharks versus humans', Dr Leah Gibbs says, as it is possible to improve both human safety and marine life conservation. Photo: Paul Jones, UOW
After analysing the total catch data of the Shark Meshing Program for each season between 1950 and 2018, alongside data from the Australian Shark Attack Files on shark bite incidents in NSW over the past 150 years (1868–2017 inclusive), the researchers made three key findings.
Firstly, they found shark numbers have declined, both for species targeted by nets (tiger, white and bull sharks, all of which are threatened or near threatened) and for non-target species also caught in nets.
Secondly, the number of shark bites has also declined over the long term. While numbers go up and down from year to year, over the long-term shark bite incidence relative to population is substantially lower from the mid-20th century onwards than over the decades before.
Thirdly, the impact of beach patrols in preventing shark bite, and emergency response in treating those who had been bitten, is frequently overlooked.
In NSW, 50 of the 51 beaches netted through the Shark Meshing Program are also patrolled beaches. Yet, improved safety is generally attributed to shark meshing and the role of lifeguard beach patrols is largely overlooked. Claims that shark bite has declined at netted beaches might instead be interpreted as decline at patrolled beaches.
Since the mid-20th century, the proportion of shark bites that result in fatality has plummeted. Over this same period, beach patrol and emergency and medical response has improved enormously.
"We found that there is no reliable evidence that lethal shark hazard management strategies are effective," Dr Gibbs said.
"At the same time, many people oppose them, institutions are moving away from them, and threatened species are put at risk as a result of them.
"We argue that investment in beach patrol and emergency and medical response makes good sense. They have none of the negative impacts of lethal strategies, and are very likely responsible for the improved safety we enjoy today at the beach and in the ocean."
About the research
'Effects and effectiveness of lethal shark hazard management: the Shark Meshing (Bather Protection) Program, NSW, Australia' by Leah Gibbs, Lachlan Fetterplace, Matthew Rees and Quentin Hanich is published in People and Nature.
This research was funded by a University of Wollongong Global Challenges Program grant.
Main photo: Tiger sharks (Galeocerdo cuvier) are one of three species listed as either threatened or near threatened and potentially threatening to humans. They are targeted by the Shark Meshing (Bather Protection) Program, NSW, Australia, and other shark hazard management programs around the world. Photo: "File:Tigershark5.jpg" by Albert kok is licensed under CC BY-SA 3.0