September 26, 2019
Researchers win funding to think global, act local
Projects will use Illawarra and South Coast as a test bed to find solutions to global challenges
A project to develop a "blue economy" on the NSW South Coast, and another to promote the responsible use of antibiotics, have been awarded $750,000 in combined funding through the University of Wollongong's Global Challenges Program.
The two projects were announced as Global Challenges Keystone projects. They will see UOW researchers working alongside Illawarra and South Coast communities, government agencies and other organisations to tackle two issues with both local and global significance.
Together, the two projects will draw on the expertise of 50 UOW researchers, with a number of external researchers also contributing.
Executive Director of the Global Challenges Program Professor Chris Gibson said the successful Keystone projects address imminent health, economic and environmental challenges.
"Both projects began with Global Challenges seed funding and have since developed enduring relationships and partnerships with industry and communities," Professor Gibson said.
"Their growth and progression is a testament to their strong collaboration, determination and diversity."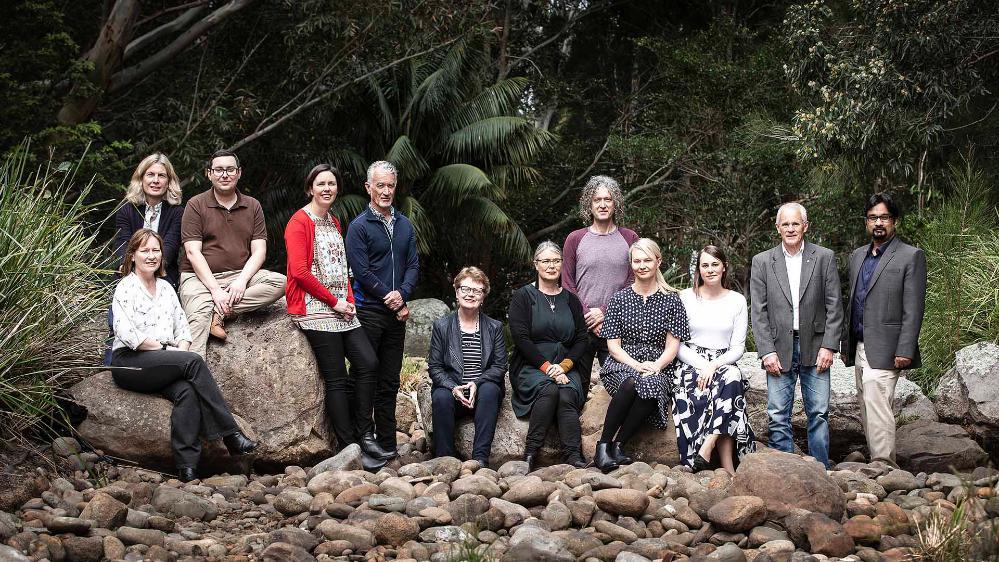 Members of the Blue Futures team (Michelle Voyer is fourth from the left).
Blue Futures: Managing and planning for coastal change
Blue Futures: Managing and planning for coastal change has been awarded $400,000 to position the NSW South Coast as a national leader in the development of blue economies. A blue economy draws on ocean and coastal resources for economic development, but does so in an ecologically and economically sustainable way.
Dr Michelle Voyer, a Research Fellow at the Australian National Centre for Ocean Resources and Security (ANCORS), said the Blue Futures team would explore the economic benefits the ocean could deliver to the Illawarra and South Coast, while protecting the social and cultural values that make the area special.
"This includes exploring how we govern oceans but also how technology can be used to monitor and address threats, and create innovative new opportunities," Dr Voyer said.
"We are also teaming artists with scientists to help visualize what a Blue Future might look like.
"Ultimately we are driven by the global need to develop new economic models that can support our communities but also address the urgent environmental challenges of our time.
"Blue Futures wants to demonstrate an alternative path forward for our economy, one based on sustainability."
The Blue Futures team includes 35 academics from across all five UOW faculties, from artists to IT specialists, engineers to lawyers and natural scientists to geographers.
Partners include the Illawarra Local Aboriginal Land Council, to ensure Indigenous aspirations and cultural values are central to a Blue Future; and the NSW Department of Primary Industries and the Illawarra Shoalhaven Joint Organisation, to ensure the work complements and builds on Government programs.
Wollongong Art Gallery, the University of NSW and University of Technology Sydney are also partners.
The diverse range of skills, expertise and experiences the team brings will help them to think about the future of the ocean from every angle.
"It's huge, but the challenges we face are huge so it requires big thinking and a big response," Dr Voyer said
To be successful, the project also needs coastal communities to get involved.
"Our approach places community aspirations and community wellbeing at its core. For this reason, there will be many opportunities for the community to get involved in this project over the next two years.
"We are really excited about this project and can't wait to develop it with and for the people of the Illawarra and South Coast."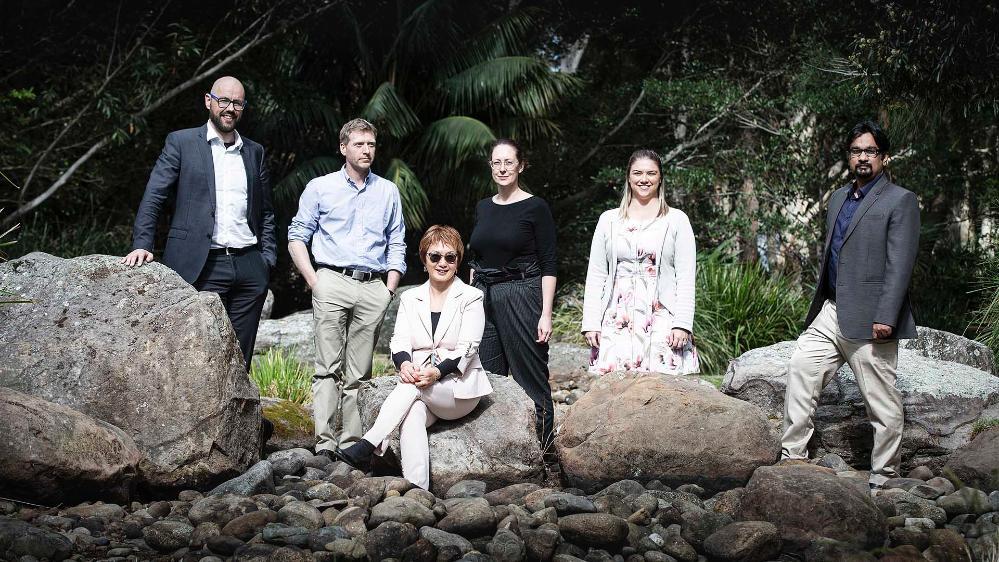 Members of the Responsible use of antibiotics research team.
Influences and barriers to responsible use of antibiotics
The other research project, Influences and barriers to responsible use of antibiotics: The 21st century health challenge, will use its $350,000 funding to inform the development and testing of interventions to stop, or at least slow down, rates of antimicrobial resistance (AMR).
AMR is a looming global health problem. Estimates suggest that deaths attributable to AMR worldwide could grow to 10 million per year by 2050, more than the number caused by cancer or cardiovascular disease.
One of the factors influencing the increase in AMR is the inappropriate use of antibiotics and other antimicrobial treatments.
Professor Mitch Byrne, Associate Dean Education (intoHealth), said the project would use the unique characteristics of the Illawarra Shoalhaven region as a test bed for developing an Australian strategy for interventions to reduce AMR within the general community.
"The research has the underlying theme of targeting the readiness of individuals to make a change to the way they use antibiotics, and will cover three known sectors which contribute to AMR: farming; community prescriptions; and aged care," Professor Byrne said.
"By addressing these drivers of extensive and sometimes indiscriminate antibiotic use across society, we can effect change by developing and implementing sustainable community wide programmes, with the ultimate goal of creating a strategy for halting, or at the very least, slowing down AMR."
The project has been established in collaboration with key stakeholders Warrigal Care, ProAgni, practitioners from the Illawarra Shoalhaven Local Health District, and Illawarra Shoalhaven community pharmacists.
"This research is a truly authentic interdisciplinary team-based approach, integrating academics, health authorities, clinicians, community stakeholders and industry partners to effect change," Professor Byrne said.
"Such an approach allows for the creation of multiple pathways for beneficial impact upon the community, making a difference to the lives of both of consumers and workers."
Professor Mitch Byrne.
About Global Challenges
The Global Challenges Program is a strategic interdisciplinary research initiative developed to encourage research collaboration across disciplines to find holistic solutions to complex global challenges.
This is the second year of keystone funding through the Global Challenges, which has a focus on building collaborative partnerships between researchers, external organisations, government and the community.
The Keystone funding is for the next two years, with co-funding from faculties and external organisations.