University of Wollongong continues global expansion into Malaysia 
UOW acquires KDU higher education business  
---
The University of Wollongong (UOW) has continued its global expansion by acquiring the university colleges of Malaysian private education provider KDU from long-standing Malaysian investment company Paramount Corporation Berhad (PCB). 
Subject to Malaysian Ministry of Education approval, the deal will see UOW wholly-owned subsidiary, UOW Global Enterprises, immediately acquire a substantive majority equity interest in the university colleges in Kuala Lumpur and Penang—including the new campus under construction in Batu Kawan. 
The acquisition expands the University's existing global presence, establishing University of Wollongong Malaysia within UOW Global Enterprises alongside University of Wollongong in Dubai, established in 1993, and UOW College Hong Kong which began with the acquisition of the Community College of Hong Kong's City University in 2015 and was rebranded in November 2017. 
The transaction was formalised with a contract signing in Kuala Lumpur on Monday 19 November attended by Paramount Corporation Chairman and Executive Director, Dato' Teo Chiang Quan, and Group Chief Executive Officer, Jeffrey Chew Sun Teong alongside UOW Global Enterprises Board Member Mr Noel Cornish AM and Group Chief Executive Officer, Ms Marisa Mastroianni.  
KDU's highly respected colleges currently have around 6,000 students, with capacity to expand to 13,000 students and deliver an annual turnover of RM 260m (AUD $80m) over the long term. This positive outlook is backed by a rapidly growing Malaysian private education market, which is currently estimated to be worth RM12.7bn (AUD $4.24bn) but expected to be valued at more than RM 16bn (AUD $5.34bn) in just five years. 
University of Wollongong Vice-Chancellor, Professor Paul Wellings CBE, said the acquisition builds on the University's successful 10-year track record of providing world-class tertiary education to students in Malaysia by enabling UOW to become a direct provider in this vibrant market.  
"Through this acquisition UOW will contribute more significantly to realising the Malaysian Ministry of Education's vision of creating a higher education system that ranks among world leaders and enables Malaysia to compete more effectively in the global economy. 
"UOW's direct presence in the market will strengthen Malaysia's efforts at this exciting time in the nation's history while also benefiting the wider region." 
Professor Wellings said the acquisition is underpinned by natural synergies between the parties. 
"As a pioneer in Malaysian education, KDU shares UOW's spirit of innovation and focus on producing career-ready graduates to meet real-world needs. UOW also shares Paramount's commitment to bringing education and communities together. 
"We look forward to combining UOW's internationally recognised teaching programs and personalised approach to students with KDU's state-of-the-art campuses and vibrant, industry-focused programs," Professor Wellings said. 
Paramount Corporation Group Chief Executive Officer Jeffrey Chew Sun Teong said that Paramount is very pleased that UOW, a globally ranked university with an excellent reputation for quality, will bring new opportunities for KDU staff and students.  
"We are confident that the legacy we have built will continue and be enhanced."  
UOW Global Enterprises Group Chief Executive Officer, Marisa Mastroianni, said the acquisition would enhance UOW's global reputation by delivering international student growth and providing pathways to the University. She also reassured KDU staff and students that the transition would be a smooth one. 
"We intend to be an employer of choice for staff in Malaysia by offering development and career growth opportunities. We are committed to enabling current KDU students to achieve timely, uninterrupted completion of their studies under existing programs." 
Beyond the transition, Ms Mastroianni said UOW would leverage its global profile to introduce new undergraduate and postgraduate programs based on high quality curricula, teaching and assessment standards, with a clear strategy for University of Wollongong Malaysia to eventually become a leading self-accrediting international university. 
"Delivering University of Wollongong programs into the Malaysian market for the last 10 years has demonstrated the strong demand for our University's programs. 
"Our programs and our global network of campuses will offer international mobility opportunities that support strong graduate outcomes. 
 "We will provide a high-quality educational experience that nurtures graduates, inspiring in them the truly international outlook needed to become future global leaders," Ms Mastroianni said.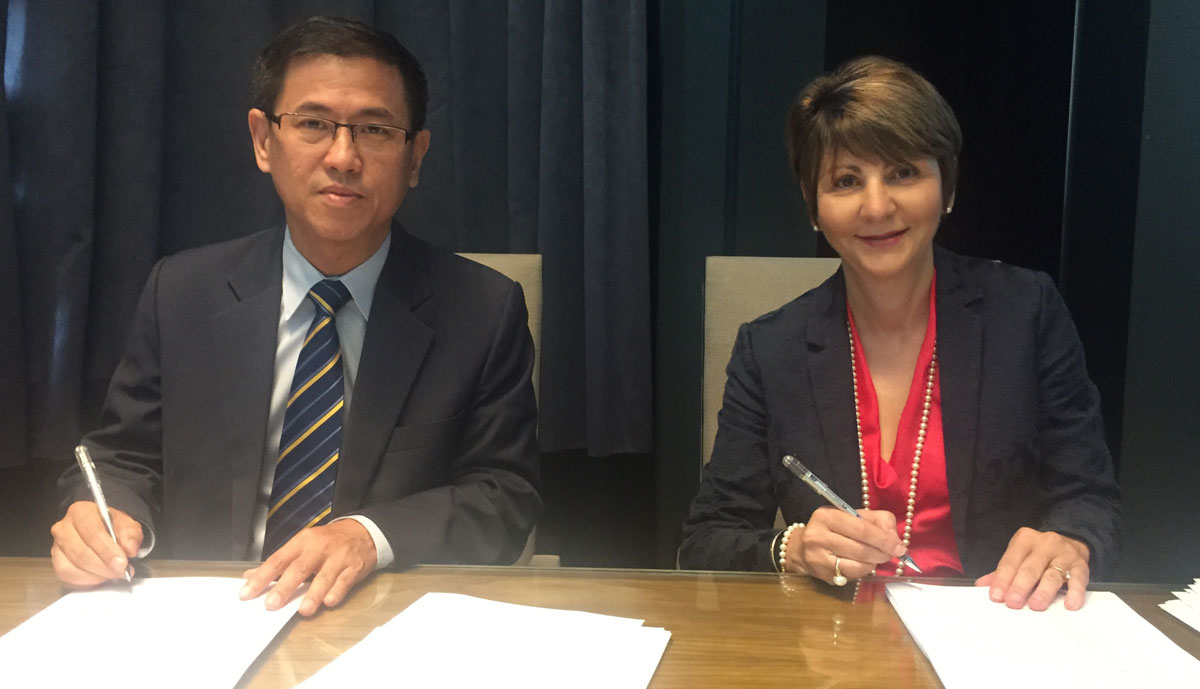 Jeffrey Chew, Group CEO of Paramount, with Marisa Mastroianni, UOW Global Enterprises Managing Director and Group CEO, at the signing in Kuala Lumpur.
About the University of Wollongong 
The University of Wollongong (UOW) is a research-intensive university with campuses in Australia, Dubai and Hong Kong, and teaching and research partnerships across the world.  
UOW enjoys an outstanding reputation for teaching across a broad range of disciplines, with its commitment to students evident in its graduates - widely recognised for their capability, quality and success. UOW's 149,000-strong alumni community spans 179 countries. 
UOW ranked 16th in the world in the QS Top 50 under 50 Rankings 2019; number 1 in New South Wales in the Australian Government's Quality Indicators for Learning and Teaching (QILT) 2018 and is among the top 250 globally ranked universities. UOW received a Spotlight Award in the 2018 Global Teaching Excellence Awards and was the only Australian university shortlisted for the award in two consecutive years. 
About UOW Global Enterprises 
UOW Global Enterprises (UOWGE) is a subsidiary group of the University of Wollongong and is aligned to the University' strategic objectives of international student growth. 
Established in 1988, UOWGE owns and operates the University of Wollongong in Dubai (UOWD), UOW College Australia (UOWC) and UOW College Hong Kong (UOWHK). 
UOWGE is at the forefront of delivering quality higher and vocational education and training on an international scale with our institutions offering over 100 courses including higher education, vocational training, English language and professional development programs to over 13,000 students annually. 
Employing more than 1,100 staff globally, UOWGE has a strong culture of diversity and equity, based on our values, and also advocates the principles of fairness, inclusiveness, and respect.  
About Paramount Corporation  
Paramount Corporation Berhad, listed on the Main Market of Bursa Malaysia Securities Berhad, is one of Malaysia's long-standing investment holding companies. Pursuing its vision of changing lives and enriching communities for a better world, the Group has well-established property development and education services interests under Paramount Property and Paramount Education respectively. 
Paramount's success stems from its unrelenting commitment to value and quality. Paramount's growth strategy focuses on deriving synergies from its two core businesses, with an emphasis on innovation and thought leadership.  
About KDU 
KDU, an institution with over 35 years' history and experience, believes in providing real world education to meet real world needs and has been successful in producing competent graduates and preparing students for top universities all over the world. 
Established in 1983, KDU is a pioneer in Malaysian private education, as one of the nation's first private colleges. KDU College was awarded university college status in 2010, reflecting its quality programs and the growth of its international student population.