Determination, innovation and excellence recognised at annual awards
Service and impact of Fellows and Alumni celebrated
---
Outstanding University of Wollongong (UOW) alumni and distinguished members of the University community were recognised at the 2018 Fellowship and Alumni Awards Dinner on Thursday 11 October, 2018.
Presentation of five alumni awards and a special commendation and admission of four University Fellows formed the centrepiece of a gala dinner held in the University Hall attended by approximately 200 guests including university and community leaders, fellows and alumni.
In his opening address, UOW Vice-Chancellor, Professor Paul Wellings CBE, paid tribute to the University's Alumni Award recipients and newest fellows.
"This is a special occasion to celebrate the contributions of our community of University Fellows, and the excellence of our alumni.
"They are some of the finest role models and ambassadors for our university and are part of a vibrant global community of more than 147,000 alumni.
"Congratulations to all of our award finalists and recipients, and new University Fellows. I am impressed and inspired by your achievements and I look forward to your continued engagement with the University."
University Fellowships 
(Clockwise from top) Professor Wellings and Ms Broadbent with the University Fellowship recipients; Michael Bassingthwaighte; Professor Denis King; Glen Moore; and Associate Professor Robbie Collins.
University Fellowships confer the highest recognition for exceptional service to the University and its communities.
Michael Bassingthwaighte
As the recently retired and much-loved CEO of Peoplecare, Michael Bassingthwaighte has made an indelible mark on regional health policy and the Illawarra business community.
In addition to guiding Peoplecare's significant growth while embedding a culture of empathy and collaboration, Michael's has been a leader within the wider health sector and business community.
He has served on the Board of Directors of the Illawarra Health and Medical Research Institute and the Australian Health Services Research Institute, supported students from UOW's Sydney Business School and Faculty of Science, Medicine and Health, done guest lecturing for several UOW programs in joint initiatives with the Illawarra Business Chamber and participated in the UOW-facilitated Pitch @ the Palace program.
Associate Professor Robbie Collins
Associate Professor Robbie Collins is synonymous with UOW's Shoalhaven campus and with its outstanding success.
As Head of Shoalhaven campus from 2002 up until her retirement in 2017, Associate Professor Collins has been indispensable in nurturing it from its beginnings a 'remote' or 'satellite' campus of the University into today's vibrant regional partner. The campus proudly showcases UOW's world-ranked teaching and learning expertise, and flourishes as a constantly evolving example of both Robbie's and the University's rich engagement with local community.
Despite the heavy demands of her role as Head, Robbie has been a ubiquitous and generous presence around the Shoalhaven campus, offering students advice at open days and careers expos, and one-on-one support throughout their degrees. Scores of students and now, alumni, who would otherwise have believed that university was not within their reach credit Robbie with having given them the confidence that they could succeed at tertiary study.
For someone who has been so deeply invested in the needs and dreams of others, there can perhaps be no more compelling sign of Robbie's own success than these many success stories.
Professor Denis King
For more than forty years, Professor Denis King has provided extraordinary service to medicine as a leading consultant and specialist surgeon, and his career has seen him practice, teach and consult in Australia and overseas.
Professor King's exceptional service to medicine, medical education and to professional organisations was recognised in 2010 with the award of a Medal for the Order of Australia. The following year (in 2011), his extensive clinical experience in the Australian public health system saw him appointed as Chair of the Illawarra & Shoalhaven Local Health District Board. In this role, Denis is overseeing the growth of the region's clinical infrastructure, working to deliver better health care, services, outcomes and experiences, including the expansion of Wollongong Hospital. Although healthcare delivery is a complex, team effort, much of the material improvement in the regions' access to and quality of care has been made possible by Denis' work.
Denis continues to lead community healthcare, improving the delivery of first-class local health services.
Glen Moore
Glen Moore is the founder and was, until 2014, the Director of the University of Wollongong's Science Centre and Planetarium.
Over a remarkable 48 year career spent at UOW, Glen has shared his love of the cosmos and has gifted the Illawarra region with one of Australia's most sophisticated and innovative science spaces.
After a stint as a physicist at BHP, Glen began as a 'lone voice' at UOW in the early 1970s as the first senior lecturer in physics and astronomy. His accessible and captivating lecturing earnt formal recognition through the award of the Australian College of Education Medal in 1991.
After a series of setbacks, Glen's nearly two decades-old passion project to build a planetarium at UOW became a reality in 1989. Modest in its origins, the first incarnation of the Science Centre was housed in a cluster of drab Nissan huts located in Fairy Meadow.
Following extensive damage caused by the devastating floods of 1998, Glen's tireless advocacy saw a collective three million dollar commitment come from the NSW Government, industry and the community to rebuild it. It was re-opened in 2000 by the Nobel Laureate for Chemistry, Professor Alan McDermott of the University of Pennsylvania.
His tenacity rewarded, the Science Centre clocked the milestone of one million visitors in 2012. Recently relaunched as 'Science Space' it is the public face of the UOW Innovation Campus, where much of the university's most exciting and novel research is undertaken.
Alumni awards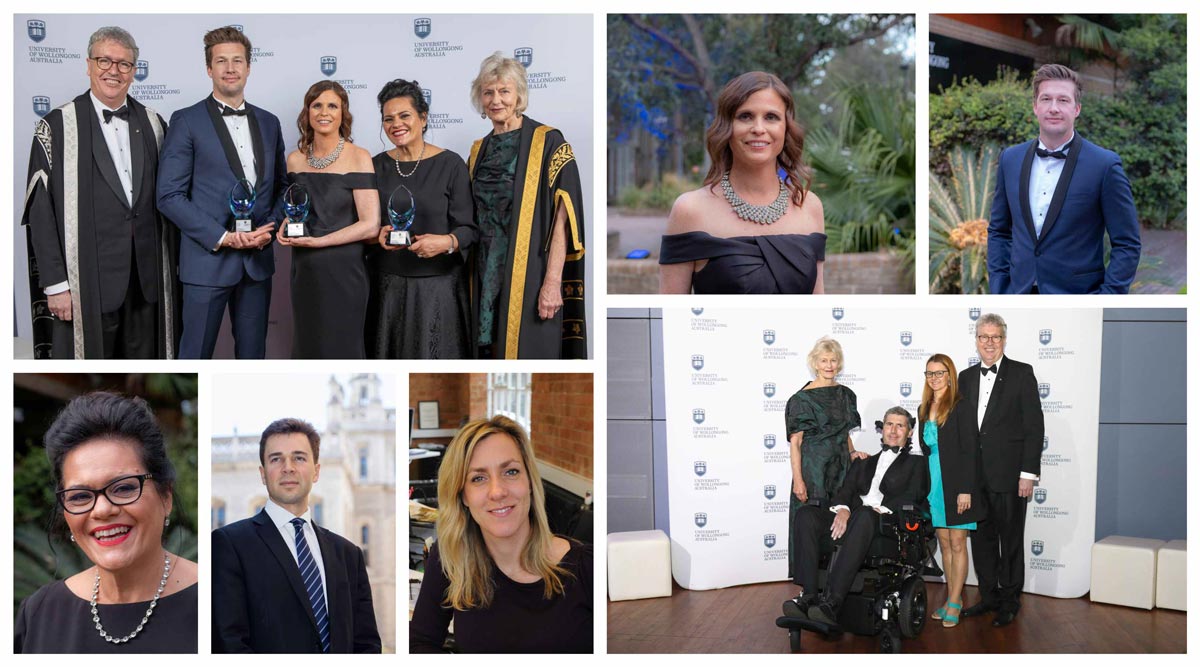 (Clockwise from top) UOW Vice-Chancellor Professor Paul Wellings with Tom Moore, Natalie Chapman, and UOW Chancellor Ms Jillian Broadbent; Natalie Chapman; Tom Moore; Ms Broadbent and Professor Wellings with Dr Justin Yerbury and his wife Rachel Yerbury; Tanya de Hoog; Professor James Goudjamp; and Diane Manns.
Alumni Awards recognise the very best, those leading their industry and those who have set their sights on something bigger than themselves.
Young Alumni Award – Tom Moore
With no commercial experience and a wealth of determination, Tom Moore drew on his own struggle transitioning to civilian life to build a successful business creating rewarding careers for other military veterans.
Tom is co-founder and Global Chief Executive Officer of WithYouWithMe (WYWM), a training and employment organisation that develops and upskills talented military professionals to transition into industry. Offered free of charge to veterans, the innovative model matches mentees to the most appropriate job pathway to translate their military experience into industry skills.
WYWM has expanded rapidly under Tom's leadership and is now an international success story, working with more than 150 employer organisations globally and recently opening an office in Washington DC. The company has also extended its offering to assist other underutilised talent groups, including return-to-work parents, students and professional athletes.
Alumni Award for Professional Excellence - Tanya de Hoog
Tanya de Hoog has forged an exceptional career at the highest levels of structural engineering, making a sustained global contribution to the profession.
She is the Principal and co-founding Director of Thornton Tomasetti in London. She designs complex, fast-track structures, including several award-winning projects across Europe, the Middle East, Southeast Asia and Australia.
Tanya's extensive capabilities in structural engineering have earned her international peer respect, accolades and influential appointments. She is a founding member of the Equilibrium Network and is currently exploring how engineers can extend their contributions at all levels of society while maintaining financial sustainability.
Alumni Award for Social Impact – Diane Manns
Long before domestic violence made the national agenda, Diane Manns was on the frontline as a tireless and vocal campaigner working to raise awareness, shift attitudes and make a difference in the lives of countless families.
Diane has made an indelible contribution to social welfare in her region and beyond throughout her career. She has spent the last 16 years with Sutherland Shire Family Services (SSFS) of which she is Chief Executive Officer. The not-for-profit organisation supports women and children dealing with domestic violence.
A passionate and engaging leader, Diane has taken the conversation to boardrooms, council chambers, police stations and worksites. She has led a wealth of transformative programs taking domestic violence from behind closed doors and into sharp public focus, and counts the ground-breaking Pull Ya Head In film series exposing domestic violence's hidden effects among her proudest achievements.
Alumni Award for Innovation and Entrepreneurship – Natalie Chapman
Leading a revolution in research-industry engagement, Natalie Chapman helps research organisations and innovative businesses to commercialise new knowledge and technologies.
In 2011, she founded consultancy gemaker to take Australian innovations to global markets in renewable energy, biomedicine, mining, nuclear technology, ICT, education, advanced manufacturing and new materials.
Under Natalie's leadership, gemaker has collaborated on a world-leading professional capabilities framework for the tech transfer sector, trained hundreds of university researchers in industry engagement and accelerated international commercialisation of an Australian invention that reduces suffering after catastrophic storms.
It has also supported the transformation of a small exploration company to an investor-ready high-tech materials producer, developed SME engagement strategy with the Defence Department, created the inspiring #AUSinnovates campaign and won over $1 million in grant funding for Australian innovators.
Alumni Award for Research and Scholarship - Professor James Goudkamp
In little more than a decade, Professor James Goudkamp has made a greater contribution to his profession than many others have made in a lifetime, showing proficiency and excellence beyond his years.
An internationally-recognised expert in private law, with a principal interest in torts, Professor Goudkamp's astonishing scholarly output has influenced thinking regarding this notoriously complex area. Since 2017, he has been Professor of the Law of Obligations in the Law Faculty of the prestigious University of Oxford – a coveted position that is the pinnacle of a rapid and impressive career to date.
Professor Goudkamp has demonstrated intellectual mastery and sound legal analysis to bring critical examination and explication to the field of tort law. He has written and co-authored more than 100 publications, several of which have been cited by judges in various jurisdictions.
He has maintained a strong connection with University of Wollongong, principally through offering to support law students considering embarking on postgraduate study.
Special Commendation - Associate Professor Justin Yerbury
Associate Professor Yerbury was enjoying success as a professional basketballer when he discovered that his family suffered from the genetic form of Motor Neurone Disease AKA (MND). From that moment on, he dedicated his life to finding a cure.
He built his own research team at UOW's Illawarra Health and Medical Research Institute and his fresh approach has uncovered seminal observations that have contributed enormously to our understanding of MND, and he has been instrumental in numerous breakthroughs.
Justin has an outstanding publication record and is widely recognised as an international leader in his field.
Diagnosed with MND in 2016, Justin continues to lead a productive research group and draws global attention to the pressing need for research and awareness.