May 10, 2017
Bruce Gordon Scholarship for Journalism awarded to aspiring journo
Hannah Laxton-Koonce receives work integrated learning scholarship.
The WIN Network and The University of Wollongong today (Wednesday 10 May) announced the inaugural Bruce Gordon Scholarship for Journalism has been awarded to Hannah Laxton-Koonce, a 21-year-old journalism student at the University of Wollongong.
The scholarship is designed to relieve the financial burden often placed on students as well as giving them valuable intern experience with the WIN Network.
Hannah will commence her placement with WIN News Illawarra in June and will work alongside some of the most trusted and experienced journalists in the region.
The placement at WIN will mark Hannah's first foray into a television newsroom and she is "excited for the new experience."
"This scholarship and the work-placement with WIN is an incredible opportunity and I plan to make the most of it," she said.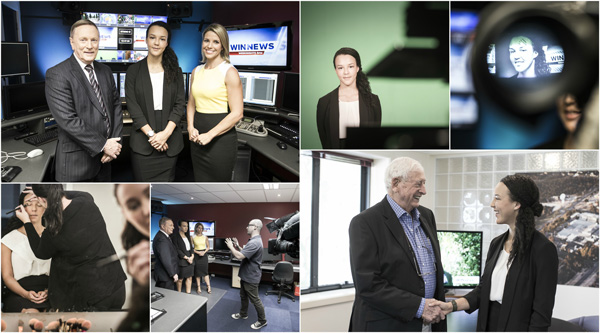 The annual scholarship, offered to University of Wollongong students in their third year of a Journalism degree, reflects Mr Gordon's passion for regional news and support for a new generation of journalists.
WIN's Network News Director Stella Lauri said, "The network is always looking to the future and understands the importance of investing in journalism and giving students practical experience that prepares them for the day-to-day rigours of the job.
"Bruce Gordon has always maintained that the heart of regional journalism is telling great stories and we hope to give Hannah the right narrative skills early in her career."
The Bruce Gordon Scholarship is a Work Integrated Learning Scholarship which is open to Bachelor of Journalism students who have achieved a credit average at the University of Wollongong. Scholarship recipients receive $10,000 for one year and a work placement with the WIN Network.