November 11, 2015
Business student wins 2016 Bradman Foundation Scholarship
Cricketing legend Adam Gilchrist AM presented the 2016 UOW Bradman Foundation Scholarship to Ajay Dalal.
Gilchrist VisitAired: 11/11/15Reporter: Tim Robinson

Posted by WIN News Illawarra on Wednesday, 11 November 2015
The scholarship is named in honour of the world's greatest-ever cricketer, Sir Donald Bradman, and was launched by Gilchrist in India in 2012.
It is awarded annually and enables an Indian student - male or female - who has completed secondary school and demonstrates strong academic, sporting, personal and social skills as well as strong participation in cricket, to study at UOW with a 50 per cent tuition fee reduction.
Ajay, who comes from Naguran (Jind) within the state of Haryana in northern India, is a Master of Business student at the UOW Sydney Business School. He completed a Bachelor of Technology in 2009 from Kurukshetra University.
He is a medium pace bowler and before coming to UOW, pursued a professional career in cricket. He played with Leaders in Cricket Club & Academy, Chandigarh, from 2009 onwards and in 2010 represented Chandigarh Cricket Association in the Punjab Inter State Tournament.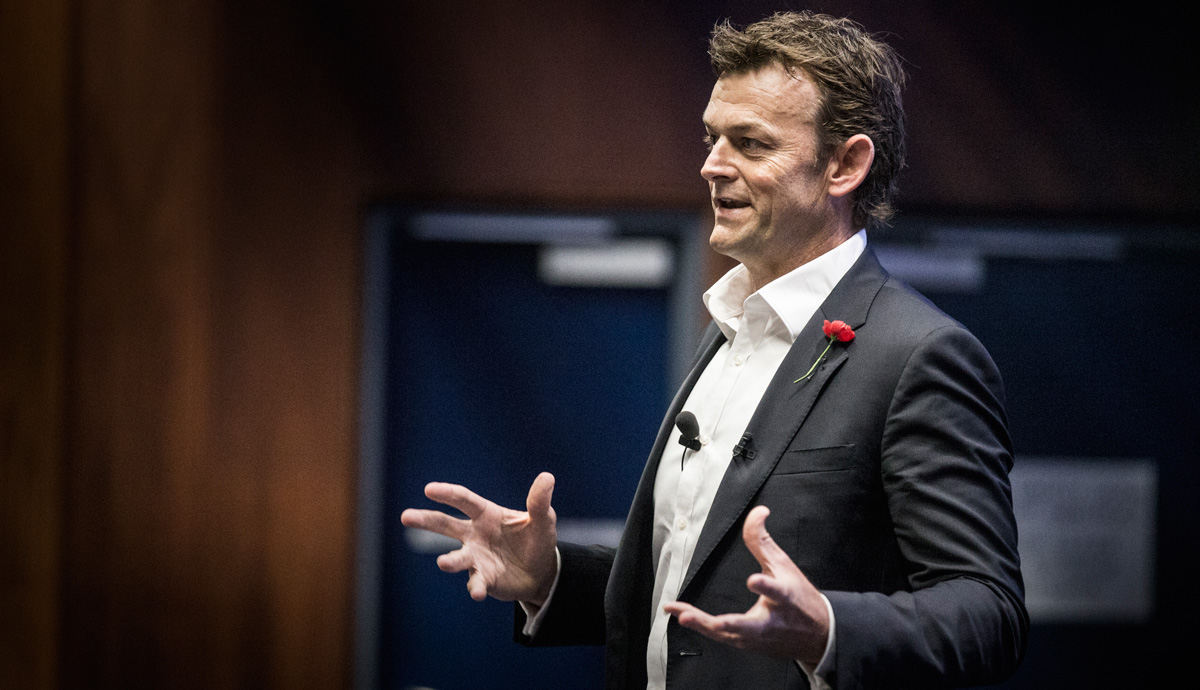 "Sir Donald Bradman often spoke about encouraging our younger generations through education and sport as being very dear to his heart and it's something very dear to my heart." - Adam Gilchrist AM
From 2010 to 2013, Ajay participated in the KXIP CUP, which was regulated by Indian premier League team Kings XI Punjab, which was followed with him representing the Chandigarh Cricket Association in 2014.
Ajay said he chose to study at UOW Sydney Business School because it was highly regarded, reflected in its international and national rankings, as well as providing an education that was relevant to the demands of the business world.
He said he was thrilled to meet Gilchrist hopes to pursue a career in management in sports after his completing his Masters degree.
"Because someone wanted to help me, I will give more than 100 per cent, I know," he said. "I've won various things in cricket but this [scholarship] is the biggest."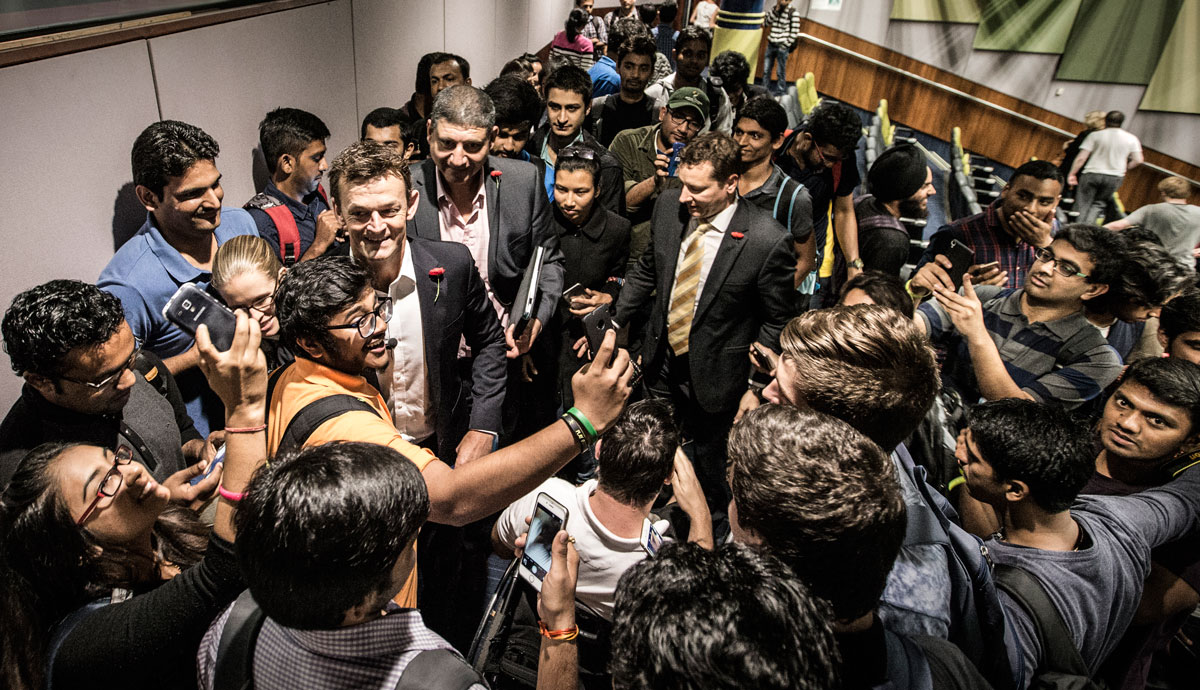 Adam Gilchrist continues to play a vital role in helping UOW educate, inspire and develop young people.
UOW combined as education partner with the Bradman Foundation, a charitable trust established in 1987 with the blessing of Sir Donald Bradman to promote cricket as a cultural and sporting force, to establish the scholarship.
It is part of a wider partnership agreement between UOW and the Bradman Foundation to educate, inspire and develop young people.
Gilchrist has been UOW's Brand Ambassador since 2008, assisting the University to develop in particular its international links and to help achieve UOW's goal of ranking in the top one per cent of universities in the world.
He said the Chandigarh region, where Ajay is from, was very dear to his heart, having played three years for the Indian Premier League team Kings XI Punjab, and he wished Ajay well in his studies at UOW.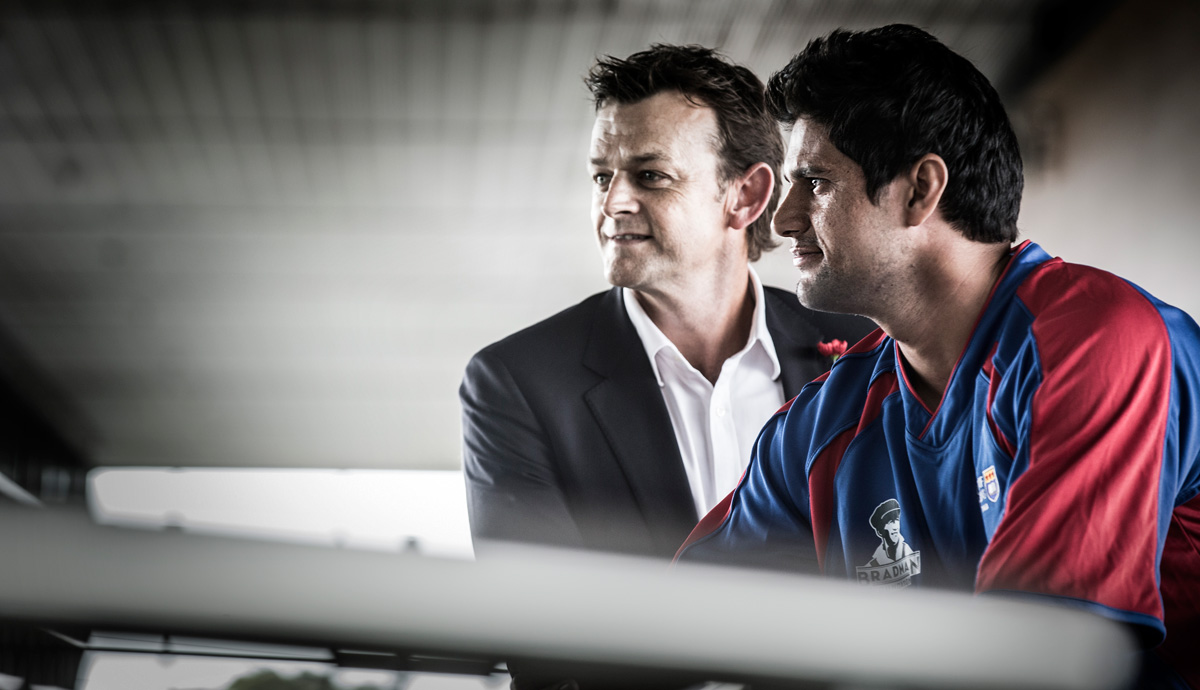 "I've won various things in cricket but this scholarship is the biggest." - Ajay Dalal, 2016 UOW Bradman Foundation Scholarship winner.
"Ajay now has the opportunity to undertake a business degree at the UOW Sydney Business School and get the opportunity to play high level cricket here," Gilchrist said.
"In reflecting on Sir Donald Bradman's comments, he often spoke about encouraging our younger generations through education and sport. Combining the two together is something that was very dear to Sir Donald Bradman's heart and something that is very dear to my heart.
"It's wonderful this scholarships allows people like Ajay to combine his interests in education and sport in a way that will see him benefit."
UOW has been the University of choice for many Indian students and this scholarship combines, quality education and the love of cricket across both countries and cultures.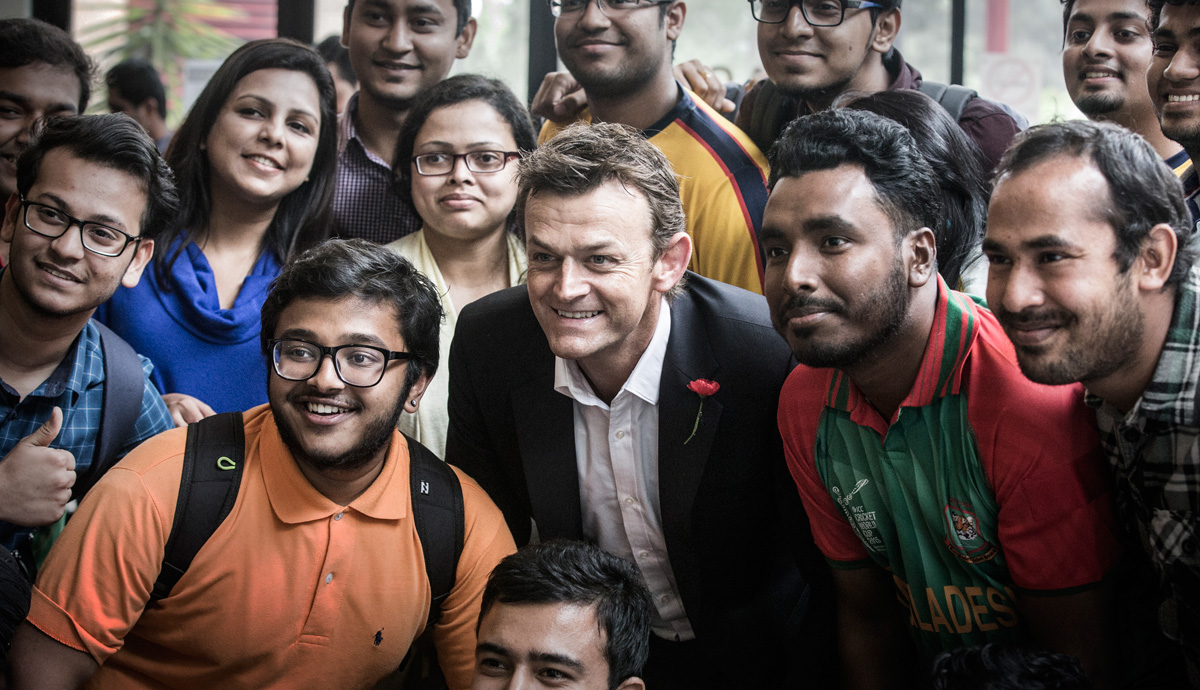 Adam Gilchrist meets international students during his visit to UOW.
Vice-Chancellor Professor Paul Wellings CBE said: "This scholarship gives us a chance to help fulfil Sir Donald's vision for the advancement of youth and cricket while also offering a great opportunity for an Indian student to come to Australia to study at our university and become involved in the Bradman Foundation.
"We believe this is a wonderful opportunity for a young person from India who is passionate about cricket and passionate about learning."
The Bradman Foundation Scholarship presentation came after Gilchrist had visited the Sustainable Building Research Centre (SBRC), the Australian Institute for Innovative Materials (AIIM) and met with Innovation Campus researchers and business tenants.
Following the presentation and media conference, the gifted motivational speaker and father of four met domestic and international students on the Main Campus to encourage them to pursue excellence before visiting the recently opened Early Start Facility, which houses the Early Start Research Institute and the Early Start Discovery Space.
Previous Bradman Scholarship recipients
2014: Mahammed Shuja Ahmed Khan (inaugural winner), from Hyderabad, Bachelor of Civil Engineering 
2015: Alankrit Jangid, from Bangalore, Bachelor of Business
2016: Ajay Dalal, from Naguran, Master of Business
About the Bradman Foundation
The Bradman Foundation is based in Bowral, in New South Wales, Australia. It owns and operates the Bradman Museum and International Cricket Hall of Fame and manages Bradman Oval where the young Don Bradman first learned to play the game. The Bradman Foundation, a non-profit charitable trust, was established in 1987 with the full support of Sir Donald Bradman AC to promote cricket as a valuable cultural and sporting force within the community.