December 4, 2014
UOW accommodation PPP transaction closes
Student accommodation at the University of Wollongong (UOW) will undergo a major expansion and transformation in a circa $250M dollar public private partnership transaction announced today (4 December).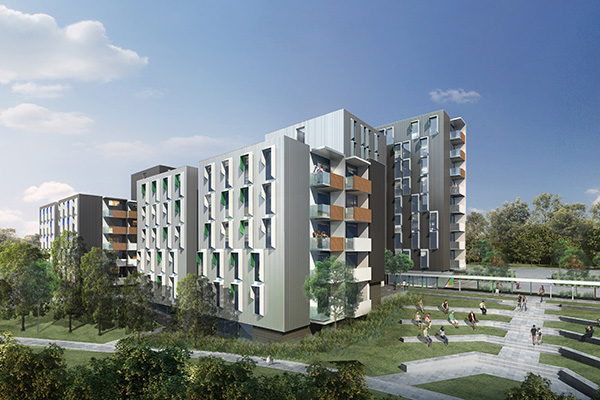 UOW has agreed to grant a long-term licence of its entire student accommodation portfolio to a private sector infrastructure consortium. The partnership is the first deal of its kind in Australia and will include an additional 1,000 beds in two new on-campus residences (comprising four towers), taking the total number of UOW beds available for students to more than 2,650.
Under the PPP structure, UOW retains responsibility for the day-to-day operation of the student accommodation, including the nine existing facilities, plus the new components to be constructed.
The Living + Learning Partners (L+LP) consortium - whose lead partner is the UK listed Balfour Beatty plc, has been granted a 39-year licence of the new and existing accommodation portfolio.
L+LP will design and build two new, high-quality student accommodation facilities on the Wollongong campus. Construction is expected to commence in July 2015 and be completed by 2018 and is anticipated to create more than 300 jobs each year.
The capital released from the transaction will be redeployed by UOW towards core teaching and research infrastructure. The transaction comprises a key element in UOW's wider funding strategy to ensure it maintains and builds on its world-class teaching and research status.
In previous financing innovations, on the back of its AA credit rating assigned in 2007 by Standard and Poor's, UOW successfully raised [$62.5M] in two separate bond raisings from the domestic debt capital markets.
Professor Paul Wellings, UOW Vice-Chancellor, said: "We are very excited about this opportunity to work with a world-class public infrastructure partner and to increase the capacity and quality of our student accommodation. The project will continue our efforts to create a vibrant campus and also allow us to recycle funds for vital teaching and research infrastructure and resources."
In order to secure UOW's future appeal to students for an attractive study away from home experience, a key focus in the selection of the preferred partner has been on the quality and amenity of the accommodation to be constructed, and the agreed refurbishment program for the existing accommodation. 
The parties to the transaction believe that the agreed designs will deliver this outcome for students and UOW throughout the concession period.
Rob Drake, Head of Balfour Beatty Investments Australia, said: "We are absolutely delighted to be working with the University and applying our capabilities to assist UOW in achieving its ambitions.
"Balfour Beatty Investments takes a global approach to the higher education sector, with its university accommodation team in Sydney working with their colleagues in the UK and the United States, collaborating on the latest, best in class designs, as well as the best service delivery and the optimal financial structure."
The partnership comes after the University sought expressions of interest from private partners in late 2013, in response to increasing demand for accommodation from domestic and international students.
Notes to media:
The new accommodation will be built on two locations on the Wollongong campus – at the eastern end of Northfields Ave and at the Kooloobong precinct at the western end of Northfields Ave.
Artists' impressions are available here: http://goo.gl/g9mXZI 
Media contact: 
Zoë Taylor, UOW Media and PR Manager, 02 4221 5081, 0405 014 028, ztaylor@uow.edu.au or Rob Drake L+LP, 02 9272 5255, 0416 278 562, rob.drake@balfourbeatty.com.