November 17, 2014
Strengthening research collaborations with China
A delegation spearheaded by Vice-Chancellor Professor Paul Wellings, CBE, to China over the past week will lead to a strengthening of research collaborations with prestigious higher education institutions as well as China's largest steel manufacturer, Baosteel.

MOU signing ceremony with University of Science and Technology China (USTC), an university affiliated to Chinese Academy of Science (CAS).
The UOW delegation met representatives of Baosteel Research Institute - the second-largest steel producer in the world - in Shanghai. Baosteel has been undertaking research and development work with UOW researchers since 2007.
Delegates explored further research collaboration opportunities and the future plan for the Baosteel-Australia Joint Research and Development Centre (BAJC), a $25 million five-year venture, involving UOW and three other Australian universities (Queensland, Monash and UNSW). UOW has so far secured six research projects under the BAJC.
The UOW delegates also visited Beihang University in Beijing to establish a Joint Research Centre between the two institutions. The Centre will bring together existing research collaboration of UOW's Australian Institute of Innovative Materials and Beihang's School of Chemistry and Environment.
"This centre is critical for research exchange, joint research programs, PhD student training and joint application of research grants," Professor Wellings said.
Professor Lei Jiang, an Academician of the China Academy of Science and Dean of School of Chemistry and Environment of Beihang, was appointed as an Honorary Professor of UOW in 2012. In 2013, Professor Lei Jiang has successfully secured funding from the 111 Project on Research Base of Intelligent Bionic Interface Science and Technology. The Director of UOW's Institute for Superconducting and Electronic Materials, Professor Shi Xue Dou participated as an Overseas Academic Expert on this 111 program.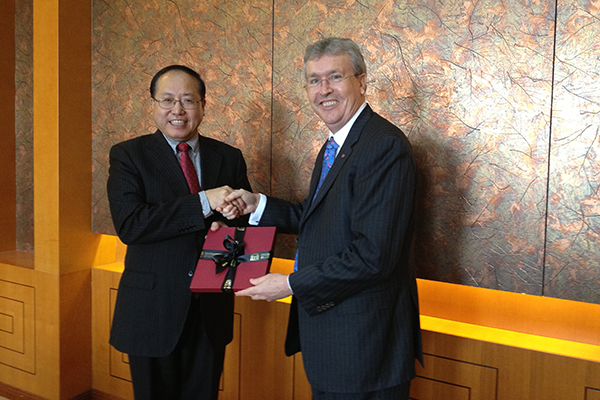 VC with Professor Zhang, President of University of Science and Technology Beijing (USTB).
A joint symposium of Advanced Materials has been developed between Beihang and UOW since last year. The next symposium will be held at UOW in December 2014.
A meeting was also held with representatives of the Chinese Academy of Science (CAS), in Beijing, which involved discussion on future collaboration including a joint PhD program between UOW and the Academy and delegates also renewed a Memorandum of Understanding with the University of Science and Technology in Beijing (USTB).
The collaboration with USTB dates back more than a decade, focussing on research from metallurgy to broader engineering areas. In 2010, a MOU was signed between the two universities for the Chinese government sponsored PhD students' scheme, which further strengthened the partnership. The renewed MOU will remain the focus on research collaborations but also extend to teaching collaborations including articulation arrangements. 
Media contact: Bernie Goldie, Media Consultant, UOW, +61 2 4221 5942, +61 412 454 124 or bgoldie@uow.edu.au.