December 10, 2014
'Safe Places' on campus fly the rainbow flag of equality
An extra thirteen 'Safe Places' dedicated to supporting sexual diversity and equality have been established at UOW since September.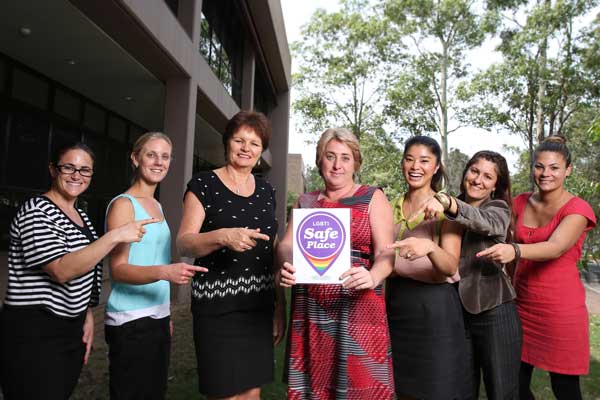 Julie Croft, Director of the Employment Equity and Diversity Unit, said the Safe Place initiative was first established by ACON in 1991 as an anti-violence strategy to support the Lesbian, Gay, Bisexual, Transgender and Intersex (LGBTI) community. 
"Safe Places are places where allies of LBGTI people, celebrate difference and welcome everyone." 
"In safe places, people who identify as LGBTI can feel safe to be themselves. Safe Places don't just include universities, you can find them in shops, cafés, and other businesses which are welcoming, supportive and actively engaged with the LGBTI community," she said. 
Registered Safe Places on campus include the Wellbeing Centre, Weerona College and Student Support Advisor offices across four faculties and four campuses. Safe Places are identifiable by the Safe Place logo that is clearly displayed in each area. 
"By registering an area as a safe place you are asserting what your values are, showing that we respect diversity and we respect people," Ms Croft said.
 She believes that by having Safe Places on campus, it allows staff, students and the general public know that they can feel comfortable to be themselves, which will help people thrive at UOW. 
"All people have the right to be treated fairly and with respect, and to be comfortable to be themselves. If people feel that way, we know that they can be better placed to achieve their best." 
Jasmin Wilcox, 2014 Queer Collective Representative says that it's important for students who identify as LGBTI to know they will be supported on campus if they experience queerphobia. 
"Safe Places convey a message to the student body that UOW has a policy of inclusivity. Having the stickers about lets any students or staff members who may be intolerant know that should they discriminate, it would likely be frowned upon by the university," Jasmin said. 
To find out more, or register a Safe Place, visit acon.org.au/safeplace.