November 18, 2014
Meeting with Prime Minister of the Netherlands
Two UOW academics of Dutch heritage were among guests who met the Prime Minister of the Netherlands Mark Rutte during his recent visit to Australia hosted by Australian PM, Tony Abbott.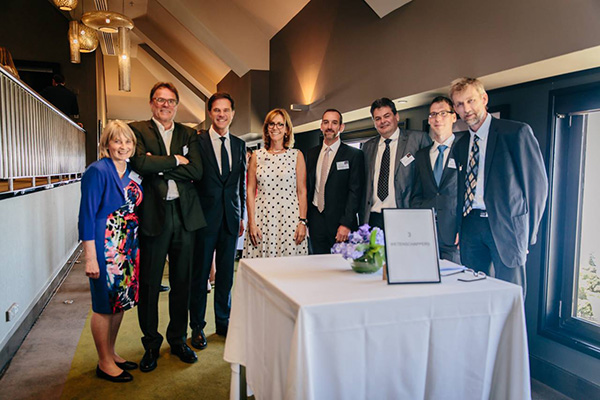 Dutch Prime Minister Mark Rutte (3rd left) pictured with academic Dutch representatives from several universities, including Dr Yoke Berry (1st left) and Associate Professor Marc in het Panhuis (5th left) from UOW. 
During his visit to Sydney, Mr Rutte met Dutch representatives from industry, culture and academia which included from UOW Associate Professor Marc in het Panhuis who is the Associate Dean (International) of the Faculty of Science, Medicine and Health and Dr Yoke Berry from the School of Management, Operations and Marketing.
Four other academics from the Universities of Sydney and Melbourne and Royal North Hospital were among the invited guests at the luncheon.
Professor in het Panhuis' invitation was as a result of his links with the Dutch Consul-General Willem Cosijn when he visited UOW and the pair discussed strengthening links between the Netherlands and Australia.
Professor in het Panhuis is particularly keen to develop stronger links with the University of Maastricht which is a highly internationally ranked university.
The Dutch PM was informed about a proposed dual degree concept with the University of Maastricht centred on an International Master of Science degree in the area of Biotechnology.
"He was positive and enthusiastic about the idea and thought it was good to pursue," according to Professor in het Panhuis who is making his second trip to the University of Maastricht this year.
Both Professor in het Panhuis and Dr Berry said they had a great day and were honoured to be among the select group of guests to meet the visiting PM.
The main purpose behind Mr Rutte's visit to Australia was to hold discussions with Mr Abbott about the downing of flight MH17 in which 196 of the 296 victims were Dutch.