Leading the way in early childhood research and education
Highly regarded academics add to UOW's growing reputation as national leader in child development.
---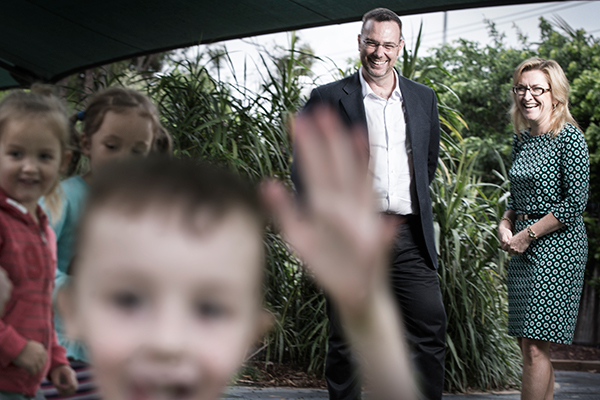 Early childhood experts Professor Marc de Rosnay and Dr Cathrine Neilsen-Hewett have recently joined UOW. 
Three highly regarded early childhood researchers and educators have recently joined UOW, adding to its growing reputation as a national leader in child development research and education. 
Professor Marc de Rosnay, Dr Cathrine Neilsen-Hewett and Dr Rute Santos are experts in emotional and social development and physical activity during early childhood.
Childhood emotional development expert Professor de Rosnay has been appointed the Academic Head of Early Start, leading UOW's flagship $44million transformational project, which aims to create and enrich life opportunities for young Australians from birth to 12 years.
Professor de Rosnay joins UOW from the University of Sydney's School of Psychology. He has also previously worked in a therapeutic unit (within a NSW Juvenile Justice centre) for children and adolescents with severe behavioural disturbances.
Professor de Rosnay's research focuses on emotional development in early childhood, with particular emphasis on the ways that young children understand emotions (in themselves and others) and the inter-play between such understanding and their emotional experiences.
His research also examines the long-term influence of early relationships and parenting practices on children's emotional development.
Dr Neilsen-Hewett has recently taken on the role of Senior Lecturer and Convenor of Early Years Education at UOW, where she will develop and guide the Early Years education curriculum.  She is also a member UOW's Early Start Research Institute.  
Dr Neilsen-Hewett was previously the Director of Learning and Teaching at Macquarie University's Institute of Early Childhood. Her research focuses on young children's social relationships and early childhood bullying, as well as children's socio-emotional adjustment to child-care environments and school.
As a mother of three children, understanding child development and promoting positive approaches to parenting has become both a passion and a career for Dr Neilsen-Hewett.
Dr Santos will be joining UOW's Early Start Research Institute in 2015 as the recipient of a highly prestigious Australian Research Council DECRA Award. Dr Santos was previously the Director of the Research Centre in Sport and Physical Activity at the Maia Institute of Higher Education, in Portugal.
She is an expert on sedentary behaviour in children and will contribute to the Institute's established research program in this area, which recently found that children in NSW childcare centres spend half their day sitting — and that doesn't even include nap time.
Media contact: Elise Pitt, Media & PR Officer, UOW, +61 2 4221 3079, +61 422 959 953, epitt@uow.edu.au.