Law student's commitment to social justice recognised with Goldring Scholarship
Law student Nathan Johnston is already making a name as a protector of the vulnerable.
---

Law student Nathan Johnston is spending his summer break in London working with global firm Linklaters
With a full year of study still to go, law student Nathan Johnston is already making tangible contributions to a self-proclaimed goal to be an advocate of social justice, a protector of the vulnerable.
Nathan's commitment to the principles of fairness, paired with his academic achievements, has earned him the privilege of being named this year's recipient of the $10,000 Jack Goldring Memorial Scholarship.
Since arriving at UOW from Smith's Hill High School, Nathan has made a distinct effort to gain experience inside and outside the classroom. As President of the UOW Law Students' Society, Nathan has led initiatives to promote mental health and wellbeing among UOW law students and contributed to introducing a Women in Law Luncheon. He has undertaken public advocacy and litigation training through the Public Interest Advocacy Centre, has worked with the Strategic Community Assistance for Refugee Families (SCARF) group and is a mentor and tutor for Australian Indigenous Mentoring Experience (AIME).
"I often find that I am most focussed on, and the strongest advocate for, social justice issues that I have worked in probably because I have had an opportunity to speak to those affected by the issue and gain a greater understanding of the nuances of the matter. The education of Australia's First People, and the welfare of refugees particularly as they transition into new lives in Australia, are just two of the issues I have worked with that I am passionate about.
"There are some incredibly gifted and committed people working within our local organisations on both of these issues (AIME, and SCARF in particular) and I owe an incredible amount of my passion to them. They have taken the time to talk to me and round out my understanding of the issues, motivating me to continue to work in these fields."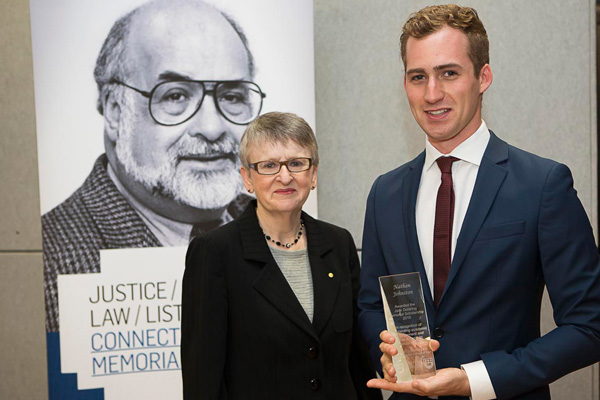 Nathan Johnston (right) was announced at the scholarship recipient at the 2014 Goldring Memorial Lecture, which was delivered by Justice Virginia Bell.
Nathan's next educational endeavour is taking him overseas to the London office of global law firm Linklaters where he has been offered a clerkship position.
"Linklaters has an excellent sense of social responsibility, a very important aspect in any decision I make to work with and for others ... I believe that working within the corporate world need not be divorced from social justice work," he said.
Upon graduation, Nathan hopes to obtain a judicial associateship or tipstaff position in either the High Court of Australia or the New South Wales Supreme Court.
"Such a position would give me an incredible vantage point at which to study advocacy and the law in action and learn from the leading legal minds in the country."
It would also be an ideal position from which to launch into the career path Nathan has already determined for himself.
"By working within the law I want to be able to pursue fairness for the vulnerable in society. Ultimately, I hope to serve as a judicial officer one day."