Innovative new treatment more deadly on cancer, less toxic for patient
A safer, more effective way to treat cancer in sight thanks to a revolutionary research project.
---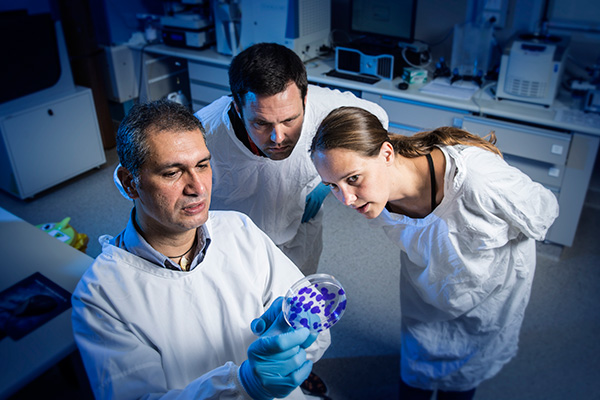 Dr Moeava Tehei (left) with Master of Science student Lee Taylor and PhD student Kathrin Bogusz.
A safer, more effective way to treat some of the most stubborn types of cancer may be in sight thanks to a revolutionary research project underway at UOW. 
The project, which is being led by biophysicist Dr Moeava Tehei at the Illawarra Health and Medical Research Institute and UOW's School of Physics, aims to develop intelligent drugs that attach to malignant tumours like magnets.
These powerful, next-generation chemotherapy drugs will seek out cancerous cells, allowing physicians to see exactly where tumours lie. Nano-particles inside the drugs then switch on upon contact with X-ray radiation beams. 
Dr Tehei said this new method, which can diagnose, deliver targeted therapy and monitor the response to therapy all at the same time, would reduce the amount of radiation needed to kill cancer cells. 
"We hope this unique combination will increase the efficiency of treatment, while decreasing the toxicity to the patient at the same time," Dr Tehei said.
The researchers will initially focus on cancers that do not respond to traditional radiotherapy techniques, such as certain brain tumours, but hope the therapy can be adapted for several different cancers, including breast and prostate cancers.
Dr Tehei, who leads the Targeted Nano-Therapies Research Group at UOW, said the sophisticated new technique is a step toward more personalised cancer therapies.
"We are now moving beyond a one-size fits all era for cancer therapy," he added.
 "Our intelligent drug will allow an image guided radiotherapy session, meaning doctors will be able to assess and refine treatment in real-time."
This $514,000 National Health and Medical Research Centre funded collaborative project brings together researchers from UOW's Institute for Superconducting and Electronic Materials, Centre for Medical Radiation Physics, Centre for Medical and Molecular Bioscience and the Prince of Wales Hospital.
Media contact: Elise Pitt, Media & PR Officer, UOW, +61 2 4221 3079, +61 422 959 953 or epitt@uow.edu.au.