December 8, 2014
'Game-changer' technology to boost physical activity in kids
Quest to accurately monitor pre-schooler physical activity and decrease childhood obesity.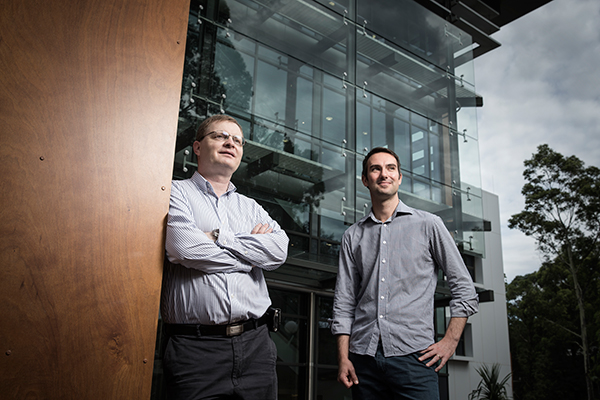 Associate Professor Markus Hagenbuchner (left) and Dr Dylan Cliff in front of the Early Start Discovery Space, which is expected to open at UOW next year. 

Researchers at UOW are developing a computer program that will accurately monitor pre-schooler physical activity and help form strategies to boost physical activity and decrease childhood obesity.
The three-year $286,000 Australian Research Council funded project will pair experts in preschool physical activity with experts in computer science engineers to develop a machine-learning program that will be able to recognise and make accurate use of different physical activity patterns.
Associate Professor Markus Hagenbuchner, from UOW's School of Computer Science and Software Engineering, will lead the project. He said the program would be the first to distinguish whether a child is running or shooting hoops and will learn to recognise these patterns.
"Current accelerometers deliver more than 30 data points per second. It's a huge amount of data because we get people to wear them for about a week," Professor Hagenbuchner said.
"At the moment, we don't really know what to do with all this data. We don't know how to use it effectively. That's why we are designing a new program that can recognise patterns – recognise whether a child is running, walking or playing hopscotch. From there we'll have much more accurate estimates of how active they are."
Dr Dylan Cliff, from the Early Start Research Institute and the Faculty of Social Sciences at UOW will also play a major role in the project. He said with recent national figures showing that only six per cent of pre-schoolers meet physical activity guidelines and one in five are overweight or obese, it is crucial to know just how much energy our kids are burning.
"We have reasonable evidence that physical activity is important for many areas of development and health in young children, so it's essential we know how much they are playing actively and whether it is enough."
From the program, the researchers will be able to develop better interventions to increase physical activity in children.
However, the program will also lend itself to use in almost any research that uses a physical activity monitor, which is now the gold standard of physical activity research.
"It's definitely considered the next big game-changer," Dr Cliff said.
The project involves researchers from UOW as well as the Queensland University of Technology.
Media contact: Elise Pitt, Media & PR Officer, UOW, +61 2 4221 3079, +61 422 959 953 or epitt@uow.edu.au.
About Early Start:
From the simple premise, "every child deserves the best possible start to life" we are developing the most sophisticated teaching, research and community engagement initiative in higher education. Early Start is a $44million transformational project that aims to create and enrich life opportunities for young Australians from birth – 12 years. 
It consists of building a world-class Children's Discovery Space (Australia's only example of a USA-styled 'children's museum' promoting learning through play and the importance of life-long learning); an international hub for multidisciplinary research tackling issues as varied as early cognitive development, healthy lifestyles and inspiring creativity in our young; cutting-edge early childhood courses; and a network of preschools across New South Wales which act as test beds for putting pioneering research into practise.