December 12, 2014
Australian startup holds the largest full participation Online Video Meeting
University of Wollongong (UOW) backed startup iSee™ has set a record for the largest full featured synchronous video meeting, with 67 people gathering simultaneously in an online, full participation video meeting environment.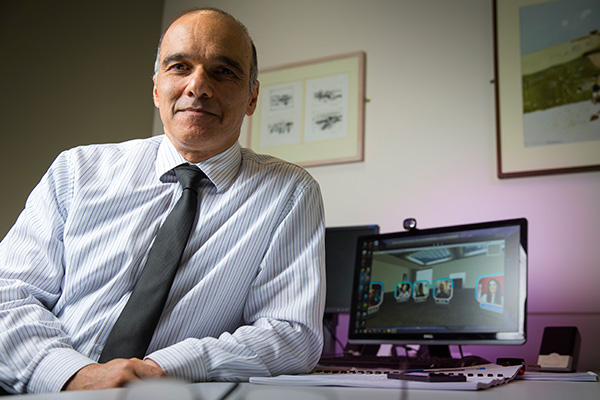 Creator of iSee's technology, UOW Professor Farzad Safaei (pictured above), said that while this capability was a major breakthrough, the really compelling aspect of the technology was the heightened user experience enabled by freeing users from the fixed position and participation restrictions most other video meeting applications impose on large meetings.
"Unlike traditional video conferencing technology, iSee is a video meeting solution that enables many-to-many crowd collaboration, merging video conferencing with interactive, virtual spaces," Professor Safaei said.
"Participants video and audio is streamed in real time via personal webcams into an immersive setting where they can move around freely, form groups, talk and share content just as they would in the real world."
The iSee technology enables large video meetings to take place using an order of magnitude less bandwidth with a higher level of engagement than existing video conferencing systems. These bandwidth savings enable participation in large video meetings by people with limited bandwidth capacity.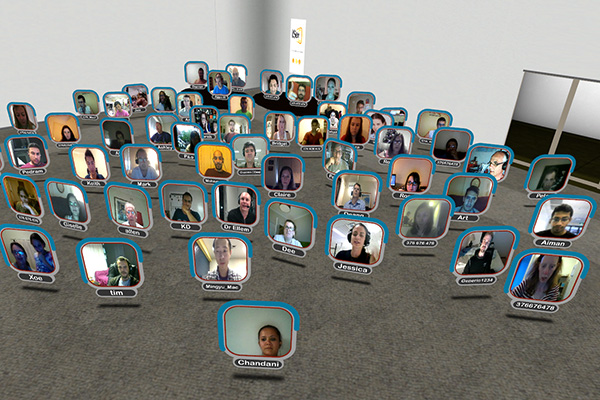 The iSee online video meeting environment creates a more life-like user experience.
Sophisticated technology such as directional audio further supports the illusion of a real-world setting by allowing multiple users to interact in the same space and hold simultaneous conversations, yet hear only those people within earshot, just as in the real world.
"iSee is designed to mimic natural conversations and the real life act of mingling. By humanising the web we support a new approach to online meeting engagement," Professor Safaei said. 
iSee Client Innovation Leader Jessica Sullivan said the success with large video meetings was an important step in readying the technology for application in the education sector.
"This technology has the ability to engage students, particularly those in regional and remote areas, or students with limited bandwidth. iSee is ideally positioned to address a variety of challenges for Universities including support for flipped classrooms, improved delivery of online learning and enhanced group work scenarios," Ms Sullivan said.
iSee is already undertaking pilot studies with clients in education K-12, Department of Education and Communities, TAFE Open Training Education Network and major Australian universities.
iSee's innovation in video conferencing has been developed by Australian researchers from the University of Wollongong (UOW) in partnership with the Smart Services CRC and now through the spin-off company, iSee VC Pty Limited.
Note to media
A media kit containing video highlights of the iSee 2014 record and a photo gallery can be downloaded here. 
A teaser of the largest full participation online video meeting can be viewed on the iSee YouTube channel.
Read social media coverage on Storify.
Media contact
Jessica Sullivan +61 407 758 080 (Australia) or jessica@iseevc.com; Professor Farzad Safaei +61 409 836 007 or farzad@iseevc.com (Currently in NYC, United States).