---
International Open Access Week runs from 23 to 29 October 2023. This year's theme is Community over Commercialisation, opening the conversation about which approaches to open scholarship prioritise the best interests of the public and the academic community.
The award's criteria for current ECRs and enrolled on-time HDRs included number of claimed publications in Elements with an open access status, the quality of the publications and journals, and citation and alternative metrics for the publications.
Open Access Week Panel Discussion
UOW Library's Clare McKenzie, Associate Director Research & Learning, chaired a panel of UOW academics to discuss their research as it relates to open access and working with communities. Our esteemed panel included:
Our panel for this discussion was:
Dr Chris Comerford – School of the Arts, English and Media, ASSH
Professor Jun Shen – School of Computing and Information Technology, EIS
Makrita Solitei – Associate Research Fellow, ANCORS.
There was a lively and engaging discussion, ranging from online gaming during the pandemic and open peer review to Indigenous Community-led research and co-authorship.
The panel brought diverse perspectives to the discussion, with Makrita, a self-proclaimed VECR (very early career researcher), speaking about the value of learning from supervisors and communities. Chris spoke about blogging and how he engaged with gaming communities for review of his works prior to publication. Jun brought his experiences of open peer review, refining the knowledge you create by sharing it others, and his perspectives on open access as a journal editor to the discussion.
The event was attended by over 50 people, including UOW students and academics, UOW Library staff as well as community members.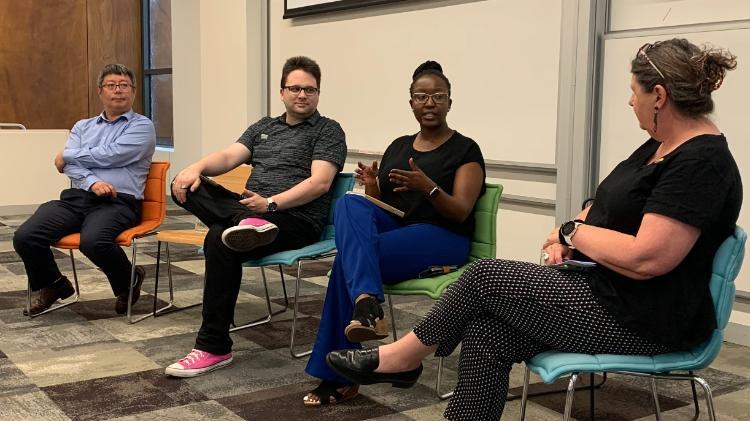 International Open Access Week panel left to right: Professor Jun Shen, Dr Chris Comerford, Makrita Solitei and Clare McKenzie.
UOW's inaugural Open Access Week Awards
UOW Library and the Research and Sustainable Futures Division have co-sponsored the inaugural Open Access Week award, for Early Career Researchers and Higher Degree Researchers. This award raises awareness of the benefits of open access publishing and recognises the University of Wollongong's commitment to open access publishing.
Congratulations to the winners of UOW's Open Access Week Awards:
Zubair Ahmed Ratan (ASSH) – Higher Degree Researcher

Kelly Lambert (SMAH) – Early Career Researcher.
Congratulations also to our highly commended award recipients:
Ana Gracanin (SMAH), Lihai Tan (EIS), Umme Hani (BAL) and Gideon Meyerowitz-Katz (ASSH) - Higher Degree Researchers

Gina Hawkes (ASSH), Nana Wang (AIIM), Bianca Haas (BAL), Rebekkah Middleton (SMAH) and Hui Wu (EIS) – Early Career Researchers.
The winners each received a trophy, a UniShop voucher and a certificate.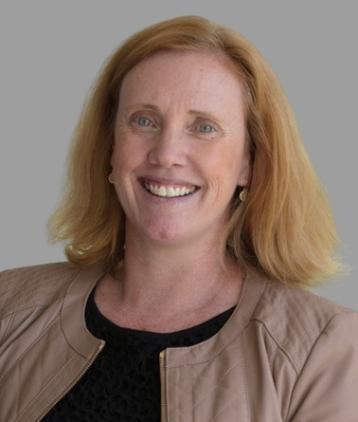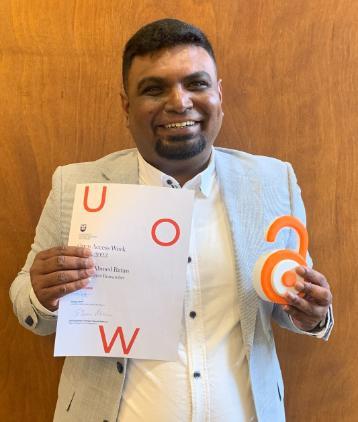 International Open Access Week Award winners Left: Kelly Lambert (SMAH). Right: Zubair Ahmed Ratan (ASSH)
International Open Access Week Award winners. Back row left to right - Distinguished Professor Sharon Robinson, Laura Walker, Margie Jantti. Front row left to right - Samantha Hutchinson, Dr Nana Wang, Dr Bianca Haas, Dr Rebekkah Middleton, Dr Gina Hawkes, Zubair Ratan, Umme Hani, Dr Hui Wu.
Thank you to the judging panel:
Margie Jantti, Director, Library Services
Professor Peter Kelly, ASSH ADR
Dr Anthony McKnight, Senior Lecturer, Curriculum Transformation Lead, Indigenous Strategy Unit
Lia Sherwood, Research Development and Impact Manager
Professor Danielle Skropeta, SMAH ADHDR.
Thank you to James Cook University Library for the inspiration for this award and generously sharing their award criteria.