In July, Global Challenges hosted a media seminar for its research teams. The event was delivered by research scientist and Associate Professor in Medicine at University of NSW, Professor Darren Saunders.
---
Saunders is a regular commentator on television and radio, resident scientist on ABC TV's The Drum and Channel 7's Daily Edition. His written work covers everything from cancer, to science policy, masculinity and gender equity.
He spoke about the barriers preventing academics from using social media and traditional media. He says there is a common perception among the research community that while there is so much pressure on publishing in journals and applying for grants, there is lack incentive, time and resources for social media use.
The current research landscape, however, is changing, with more importance being placed on tracking research 'impact', with media and social media channels, like Twitter, are now being taken into consideration when tracking this impact on society.
While it seems there may be a lack of incentive to spend time conversing and connecting with Twitter followers, Professor Saunders suggests that we also develop many useful research skills by participating in public communications activities.
"Building awareness of your research on Twitter and other social media platforms can help with grant funding and can lead to higher citation rates for publications. It's also a valuable way to get feedback on your research, collaborate with others and generate new ideas.
"The great thing about Twitter is that it breaks down hierarchical barriers and helps build collaboration with the people being effected by your research and can actively influence policy and decision making. Moreover, we have a responsibility as researchers to report back to the community about what we do with the money we receive."
Social media's immediacy means it's an excellent way to receive targeted and relevant news, in comparison to many other mediums like print. News on Twitter is broadcast as soon as it happens, or even while it's happening.
Here are some helpful tips from Professor Saunders:

Know your audience
Don't discount media publications that aren't scientific or factual, think about the audience size of that publication and who will find your research valuable or interesting. For example, a story on vaccination might be more relevant to a publication with a large readership of women.


Ask yourself why anyone would be interested
When you're releasing information via media and social media, it's important to know whether it's news. Breakthroughs, discoveries or revelations are news. In addition to this, if your research is topical and all of a sudden people are talking about your area of expertise, don't be afraid to jump into the conversation.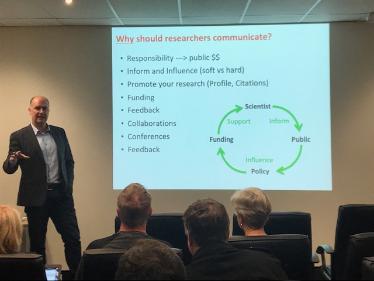 Use it as a conversational tool, not a broadcasting tool
Many people make the mistake of broadcasting information and walking away from the conversation. Use empathy in conversation, try not to broadcast information, but use it as a conversational tool instead. Listen to: 'Clear and Vivid' Podcast by Alan Alda.

Don't be afraid
There is understandable fear among academics about social media and media in general. This fear is a common barrier, usually caused by the inability to control the message once it's out into the public and the conversations that take place as a result.
Whatever you are releasing out into the world, ask yourself whether it's controversial. Where people are discussing topics that polarise people, it's often important to have an experts voice. If we vacate the space, someone else will fill it and it won't necessarily come from an expert perspective, which can in turn lead to a one-sided debate full of myth, and can be quite dangerous. So don't be afraid of controversial topics.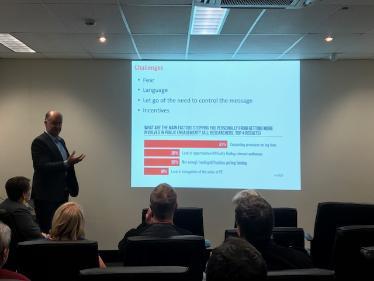 Get on the front foot
Be proactive in the messaging. It's easier to start the conversation about a topic yourself than try to refute the information being brought out by someone else who is incorrect. Rather than talking about the myth that's circulating, just focus on the facts, this prevents giving the myth more airtime.

Stick to your values
As academics, we do have a duty to be responsible and we can't be reckless. Universities have values and guidelines that all staff and researchers should abide by. Read them.

Our point of difference as researchers
How can you add value to a space that is already very crowded? As researchers, we can demystify science and other research areas. That's our point of difference. We can also show people that we are human.

Tools and resources
Bitly – As Tweets have a character limit of 280, you need to save as many characters as you can! This online tool shortens your URLs so they don't take up so much space. You can also remove the 'http://' from the Bitly link to reduce the characters even more.
TweetDeck – An easy way to manage your account – this is just like looking at your Twitter account with a different interface that makes it easier to manage. You can use this interface to send direct messages to people, filter particular search terms or to schedule tweets in advance (great for scheduling overnight or in different time zones). Visit the link below and log in using your twitter username and password.