The Travel Scholarships Video Challenge enables current students undertaking a research degree at UOW to travel to a destination of their choice to support their research. Students are asked to describe the 'big picture' problem their PhD is addressing and how it aligns with one of the Global Challenges.
---
Being heard above the din of our social media echo chambers is getting harder. Despite all the benefits for community connectivity provided by the internet and our capacity to travel and learn about the people and places in the world, we seem to have less tolerance for other voices and ways of being.
My PhD research explores how app-based locative audio walks can cultivate place literacy and empathy among participants toward the places and the people and cultures which occupy them. In particular, I am developing a theory of how spatial sound design strategies can enhance the sense of immersion and affect for audio walk audiences by deepening place-based engagements.
To evaluate the state-of-play in locative audio walk design, I travelled to Europe, the UK, Canada and the US between March and May 2019, where I collected data and conducted case studies on the design of locative audio walks and audio augmented reality projects for my PhD research. The Global Challenges Travel Scholarship provided funding which supported my nine-week trip.
App-based audio walks allow communities to share stories with themselves and visitors by locating audio virtually over a place. Often this uses a mobile phone's inbuilt GPS services. Participants move through a site, listening closely via headphones to narrative and other aural representations that can draw out multiple dimensions of a place, including the environmental, historical, social and emotional.
Communities can reclaim places that may have been lost to them in this way, augmenting the present-day reality of places with their stories. As 'smart tourism' tools, Germann Molz writes, they can "connect the embodied tourist to the place… through an immersive sensibility" (2012, p.47). My research shows that little attention has been given to the specific role sound design plays in generating this immersivity and further, how immersion and affect can enhance place literacy.
The only way to investigate the interaction of place and audio in these media artefacts is to put on your walking shoes. I estimate that I walked 125km and evaluated 25 audio walks in nine cities.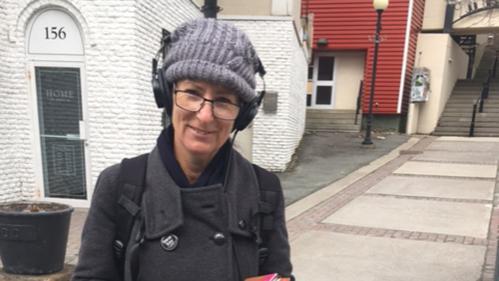 Photo: Jeanti St Clair reviewing Consent St Johns Canada
This study tour provided me with the opportunity to evaluate several audio walks which have been foundational to the design, style and aesthetic of walks being produced more recently. In particular, the London and New York walks of Canadian artist, Janet Cardiff; Riot!1831 in Bristol, which was the first app-based locational audio play, had been relaunched on a new app, and walks produced in New York by the Soundwalk Collective. The sound design aesthetic and user experience design of these walks were hugely influential on the design of Detour app-based walks.
More recent audio walks in the UK suggested other engagement and immersion strategies. I was particularly impressed by A Hollow Body, produced for the Museum of London, as a cinematic experience for two people through London's Spitalfields. The walk sends you and your companion on a journey as the main characters in a filmic narrative where London's streets and alleys become your cinematic backdrop. It was actually excellent fun as well.
While in Bristol at the Pervasive Media Lab, I met Hollow Body contributor, Duncan Speakman, who provided me with access to two of his audio walk projects, Only Expansion and It Must Have Been Dark By Then (IMHBDBT). IMHBDBT is a work of ambient literature, a "book and audio experience that uses a mixture of evocative music, narration and field recording to bring you stories of changing environments, from the swamplands of Louisiana, to empty Latvian villages and the edge of the Tunisian Sahara". With IMHBDBT, you follow no set path but make your own route by following a set of directions to locate meaningful objects in your world. Months on, I can still recall the sense of loss and sadness provoked by the text and its broody and emotional soundtrack.
Aside from the audio walk evaluations, I undertook case studies of three audio practitioners who have moved into the locative audio walk platform. I was particularly interested in seeing what each brought to audio walks from their main area of audio practice. Canadian Chris Brookes is an independent radio producer making documentaries and creative sound design, and I examined his 'landscape journalism' audio walk, Consent. Lewes Castle audio guide producer, Joseph Young has a background in theatre and sound design in the UK, and Andrew Roth, who has been making audio walks for Detour and SFMOMA, comes from designing sound for installations and film. The interviews with them were revealing and contained at least two 'Eureka moments'. I am currently working through the data and evaluations.
This study tour, however, wasn't all walking. I did get to sit down for a few days at conferences. First up, I threw myself in the deep end at an audio engineering conference on immersive and interactive audio at the University of York in England. I wanted to see how my thinking on spatial sound design fitted with where immersive and interactive audio technology was going. I also presented different elements of my emergent theory at a UNITWIN UNESCO Conference on Heritage and Tourism in Leuven, Belgium, and at the HearSay Audio Arts Festival in Kilfinane, Ireland, where I gave workshops on audio walk design.
The HearSay workshops were well attended and I found that among the podcasters, radio makers and audio artists there was much enthusiasm for place-based audio storytelling. Many business cards were exchanged. They led to a meeting with BBC R&D which has a renewed interest in place-based and interactive audio walks, and to me developing a workshop on audio walk design for national park implementation. I was also introduced at HearSay to many thoughtful methodologies which used audio for storytelling and performance to engage communities on major issues including climate change, globalisation and mass migration. These gave me much food for thought in terms of my own sound design and narrative strategies.
The findings from the contextual reviews and case studies will be applied to proposing, within a critical theoretical framework, a set of sound design strategies that enhance immersion and affect for audiences in the audio walk medium. From there, I will apply the strategies to an audio walk production, testing my proposals for place literacy development with a number of design experiments.
Thanks again to Global Challenges for supporting this study tour.
The UOW Global Challenges video challenge runs annually. Entries open in October.