Alison Haynes is a PhD candidate at the University of Wollongong. She is a recipient of a Global Challenges PhD Travel Scholarship and writes about her research and experience in Spain.
---
When your research focusses on the urban ecosystem, it's extra special to be given the opportunity to travel to cities overseas. I study how moss survives the stresses of city life and was thrilled to receive a Global Challenges Travel Scholarship from the UOW Global Challenges Program that enabled me to attend two conferences in Spain last year: the Society for Experimental Biology (SEB) conference in Seville and in Madrid, a conference jointly run by the International Association of Bryologists (IAB) and the International Molecular Moss Science Society (iMOSS).
I presented research at both conferences and decided to cover two different areas of my PhD because, although it's hard work to prepare talks and posters, it's also a fabulous opportunity to sort out your thinking on a piece of research; while communicating it to others opens up discussions about concepts, methods and even collaborations.
The SEB conference attracted around 800 delegates. It covered both plant and animal science and I was offered a Pecha Kucha talk, with a maximum of two slides, like a sales pitch, to encourage people to visit my poster. I gave some initial findings on a year-long experiment I'd been running in private gardens in Wollongong thanks to my 'moss hosts' who have been babysitting panels made of 16 textured concrete tiles to test the drivers of moss establishment in urban areas.
At the IAB conference, a smaller affair of 200, hosted at the Royal Botanical Gardens, I presented a poster on the first paper from my PhD which found that, compared to leaves from a native tree, roadside moss cushions capture more particulate matter (PM) when considered on a dry weight basis. We also showed moss became more stressed with increasing urbanisation. This attracted much attention as PM is considered one of the worst pollutants for human health and could also have impacts on biodiversity. A bryologist from the Natural History Museum of London, for instance, told me they were investigating why moss growth on London street trees seems to be increasing with PM concentration.
I was primarily in Spain for science, but everybody needs to eat! It can be a bit of a challenge when traveling on a student budget, but being flexible brings its own adventures. I enjoyed snails and salty beans at a cheap local tapas bar near my hotel in Seville (see below, 'eating out'), but balanced my vegetable intake after exploring a nearby supermarket another night ('eating in').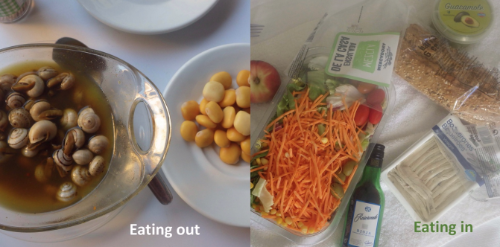 Climate change, and how plants and animals are responding, is a common theme at biological conferences. Species have predictable choices: relocate, acclimate, adapt or go extinct. Of course extinction gets a lot of air play, so it bolsters my optimism to hear of research into some of the ways species might avoid this drastic course. For instance, some species can switch on different traits in response to the environment (something that's called phenotypic plasticity), which might give them a buffer in terms of time to evolve (which means actually having different genes).
Given my research area, it's no surprise that when traveling I'm on the look out for the city plants - both spontaneous vegetation and planned urban greenery. Madrid had a splendid green wall at the Caixa Forum but I also enjoyed spotting the pavement flora in Seville (see the plucky, persistent moss in the image below). Moss tourism - looking down, as well as up - is a must for the urban bryologist!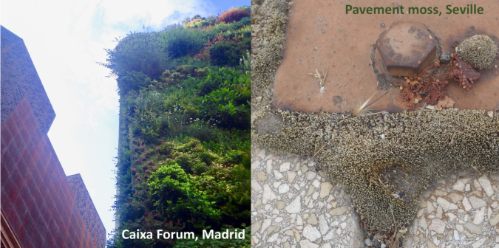 The other kind of tourism was mainly squeezed into one free day in each city. Having spent five days sitting listening to talks I was eager to stretch my legs in Seville and a full day's walking took in the cathedral, the Metropol Parasol, the fine arts museum as well as the handsome river walk and Torre del Oro. In Madrid I set myself the goal of visiting the three main art galleries which, happily, were near where I was staying, also near the conference venue. I am not exaggerating when I say it is worth visiting Madrid just to see these galleries. Highlights in the first, The Prado, included Goya's 3rd May, which moved me to tears. I'd always imagined it a small painting, but its figures - held at gunpoint in a moment of war - seem almost life size. At the Reina Sofia museum, which is dedicated to Spanish art, the most famous painting must be Picasso's Guernica, while the Thyssen had many treasures, from bright green fields of Auvers by Van Gogh to abstract stillness in green by Rothko.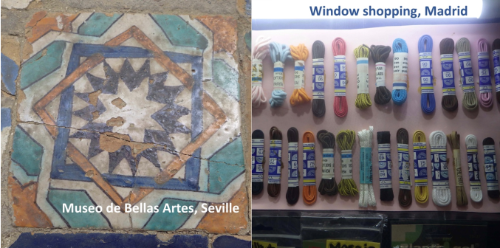 As scientists we face many global challenges. My research contributes to understanding some of them: how to mitigate species loss with urbanisation, and how to ensure cities are healthy places for both nature and people. My Spanish trip enabled me to hear how other biologists are learning about the ways living species are coping around the world. And the adventures in art, tourism and food was a welcome refresher. Thank you Global Challenges for this opportunity!
Visit our funding opportunities page to find out more about the PhD Travel Scholarship or watch Alison's video entry online.