In the lead up to International Women's Day on March 8, each day the Global Challenges Program is profiling one of the many brilliant women we work with to celebrate their contribution to knowledge, and to celebrate all women who have contributed to creating a better, more equal world.
---
Dr Natalia Hanley, Caring for the Incarcerated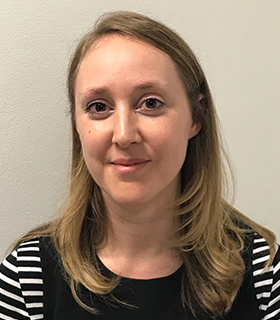 Dr Natalia Hanley is a senior lecturer in Criminology in the school of health and society. She is a criminologist with expertise inexperiences of justice, and is the lead criminologist on the Caring for the Incarcerated project, which looks at the historical drivers for change in the delivery of health care for those in prison.


What does it mean to you to be a female academic, and as part of the Global Challenges Program?
It is only shockingly recently that women have occupied a significant presence in the research world, both in terms of the proportion of female researchers, and in receiving proper recognition for their work. I'm proud to contribute to what I hope is an increasing normalisation of women's perspectives in research. That said, there is still much work to be done to ensure there are research spaces for everyone. It's important to recognise, for example, that as a white woman I often have greater access to research space than women from cultural and linguistically diverse backgrounds.
My research discipline, criminology, was founded on the premise that different disciplinary perspectives can contribute to a greater understanding of crime, justice and the social world. However, it's easy to become siloed, only talking to people who share your approach, methods and disciplinary mores. One of the great strengths of the Global Challenges program is the opportunity to work with people who bring a genuinely new way of looking at a research problem.


Why are more women needed in this space and why should more women become researchers?
While we have substantially improved the proportion of women working in research, women remain less likely to occupy senior positions, and commonly experience gender-based harassment in the workplace. In these ways we harm women, and we prevent women's voices from being heard at a strategic level. Increasing the numbers of women researchers demonstrates universities' commitments to walking the talk of gender equity.


What does "Each for Equal" mean to you? What do you think needs to be done to ensure this?
One of the areas of research I am involved in is domestic and family violence (DFV). DFV is overwhelmingly experienced by women, has long term impacts and is correlated with inequitable gender attitudes. I am working with many fantastic colleagues to understand at a local level what those attitudes are, and how we can address them to prevent gender-based violence. We need to tackle the social and cultural foundations of gender based violence to ensure that women are safe.


What makes you passionate about your area of research?
Crime is deeply harmful. For victim-survivors there can be severe and long term health, financial and social impacts. These impacts extend to non-human species too, I am exploring this in my work on wildlife crime. Simultaneously, criminal justice involved people commonly have experienced crime and continue to feel the effects of that trauma. The justice system too often delivers new forms of harm to everyone involved in its processes and punishments. Broadly speaking crime and justice are not evenly felt, the most marginalised and vulnerable people (and animals, and environments) are disproportionately affected. For me, it's a matter of equity and social justice to undertake work to understand the causes and impacts of crimes such as DFV and wildlife crime and to use that knowledge to prevent and reduce future harm.