In the lead up to International Women's Day on March 8, each day the Global Challenges Program is profiling one of the many brilliant women we work with to celebrate their contribution to knowledge, and to celebrate all women who have contributed to creating a better, more equal world.
---
Dr Jo Law, Energy Efficient Art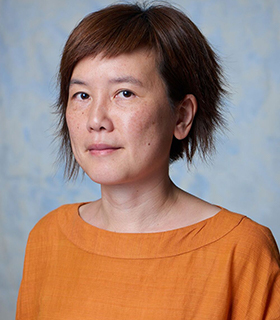 Dr Jo Law is an artist and senior lecturer in the School of Arts, English and Media (LHA). As an early career researcher, she investigates the transformative potential of art, science and technology.
She is interested in the relationship between creative practice and changing sociocultural and political environments, and her art has been included in exhibitions in Hong Kong, New York and Sydney.
As the co-lead investigator on the Energy Efficient Art project, Jo is producing artworks that incorporate energy-efficient elements and slow textile methods to communicate the need to adopt effective sustainable energy strategies in gallery and museum contexts. The collection was presented through the Spinning World exhibition at the Museum of Applied Arts and Sciences at Sydney's Powerhouse Museum, where more than 25,000 people attended.


What does it mean to you to be a female academic, and as a part of the Global Challenges Program?
The best part about being a female researcher/academic at UOW is that there are so many exceptional senior women researchers here, who are generous with their time, knowledge, and experiences. The Global Challenges Program provides access to researchers at different stages of their careers from across the university. The Program's encouragement of collaborative culture is key for researchers to grow.


Why are more women needed in this space and why should more women become researchers?
We need mentorship, generosity and openness in developing great research; we need a research culture that is built on collaboration (with perhaps a healthy dose of competition). As women we need each other, not only to build our own research career, but a research culture that we share and promote. While everyone works in their own unique ways – that are not necessarily moulded by their gender, in cultures where women tend to assume caring roles, their life experiences shape the ways they interact and work with each other. This may include understanding that sometimes things take time, and there are other things in life that are also important – the concept of slow scholarship.


What makes you passionate about your research area?
Because, I am passionate about making and I am passionate about knowledge.


What does "Each for Equal" mean to you? What do you think needs to be done to ensure this?
My current research focuses on interdisciplinary research methodologies that draw together STEM and the creative arts. Having been the only female teaching academics in my programs (media arts) for many years, I am an advocate for the need to include women in the creative technology space (e.g. from filmmaking, electronics media, to programming etc). One of my current research projects (collaborating with Agnieszka Golda) which is part of the Global Challenges keystone project Future Makers aims to bring the A (Art) into STEM through craft. One aspect is looking a gender equality and accessibility in technologies. Access to knowledge for everyone!


Do you have an achievement in your career that you are most proud of?
It gives me the most joy when my works bring people surprise and delight. This includes my collaborative exhibition with Agnieszka Golda, Spinning World – the exhibition at the Sydney's Powerhouse in 2018 – 19, and the exhibition of The Illustrated Alamance of the Illawarra and Beyond.


Who inspires you?
Maya Lin, American architect and artist and Jane Bennett, political theorist and philosopher.