In the lead up to International Women's Day on March 8, each day the Global Challenges Program is profiling one of the many brilliant women we work with to celebrate their contribution to knowledge, and to celebrate all women who have contributed to creating a better, more equal world.
---
Dr Belinda Gibbons, Global Goals, Local Level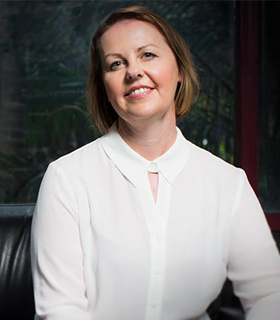 Dr Belinda Gibbons is passionate about the UN's Sustainable Development Goals. She is the Australia and New Zealand Chapter Coordinator for Principles of Responsible Management Education (PRME), and sits on the UN PRME Advisory Committee, which focuses on the integration of the SDGs in higher education.
Dr Gibbons' is lead researcher on the Global Challenges' Global Goals, Local Level project and is on the program's Advisory Committee representing Early Career Researchers. Her PhD and research areas were around systematic thinking and a holistic approach to responsible education, and she has since implemented the SDGs into the business faculty's curriculum.


What does it mean to you to be a female academic, and as a part of the Global Challenges Program?
I don't see myself as a female researcher/academic – I am a researcher/academic that is extremely passionate about using the UN Sustainable Development Goals to take a holistic approach to crack critical global issues.
Being a woman means that I have to remind myself that I can do it! Everyday!
I am so privileged to be part of the Global Challenges Program. Global Challenges has enabled me to conduct exciting research and provided opportunities that cut across disciplines and sectors, irrespective of gender and title. The Global Challenge team are always open to listen to ideas, to push boundaries and have supported me in whole of institution endeavours.


Why are more women needed in this space and why should more women become researchers?
After the devastating fires and floods we have just experienced, alongside a global virus threat, we are living in unknown territory. The world is looking to science and research to dig deep, to interconnect, to respect country and nature, to have bigger conversations and to ensure we evolve. Women have to be included in these conversations to enhance knowledge outcomes. Not only is it the right thing to do but will lead to smarter, more creative and new discoveries.
Women have different skills that need to combine in equal numbers to gain a collective intelligence. Women need to research. Women have unique perspectives, voices and opinions that is crucial in seeking new knowledge. We live in a time where we need to rethink everything we do and the way we do it. All genders need to stand strong together, equal if we are going to combat the crisis that this decade will present.


What makes you passionate about your research area?
I am so passionate about using the UN Sustainable Development Goals as a holistic approach to crack critical global issues. The SDGs provide us with a common lens through which we can have global conversations. They bring us together within and between goals and as we expand our understanding of their targets and indictors there is exciting opportunities to walk unexplored terrain, to find new collaborations and to view our research in a completely different way. The window of opportunity to address our global risks is closing and we need to bring our collective intelligence together - the SDGs provide a frame for that.


What does "Each for Equal" mean to you? What do you think needs to be done to ensure this?
We hear the saying 'We have come so far' in terms of gender equality. It's 2020 and 'so far' is not good enough. We need rapid progress on deep underlying structural issues. We are seeing gender-responsive budgeting policy introduction but this needs to be ramped up – financing for gender equality and women's empowerment can strengthen economic growth but finance and quotas alone will not fix this issue.
We need public action to eliminate gender-bias in the home and in the workplace. We need to invest in policies and programmes that work for women and girls. For example, more public transport benefits women who rely on public transportation more than men do. We need more and better data to know if the actions being taken are working. We need greater accountability for all commitments made and those not met. We need to act local for global impact. Just because girls have access to education in Australia does not mean we can ignore the 15 million girls that will never get the chance to read or write.
IWD is important because it ensures the conversation about gender equality is not forgotten. IWD highlights the amazing work that is being done and provides us an opportunity to change the decisions we make tomorrow. And we need to change our decisions and start to have these tough conversations at home and in the workplace so we are more aware. The current statistics are horrific; In 18 countries, husbands can legally prevent their wives from working, 12 million girls under the age of 18 are forced into marriage every year, less than 13 per cent of agriculture landowners are women, the gender pay gap is 23 per cent today (14 in Australia)…
The world simply cannot achieve the 17 United Nations Sustainable Development Goals without also achieving gender equality and the empowerment of women and girls.


Do you have an achievement in your career that you are most proud of?
Completing my PhD seems such a long time ago but it is my most memorable achievement that enabled me to move 'off the reserve bench' in academia and 'pick up a bat'! I was so proud. I was a single mother of two, was working full time and completing my PhD full time. I have since then presented to the United Nations within the UN Headquarters in New York, I was a witness in the Federal Government SDG Senate Enquiry, I have worked with the National Education Standards Authority on curriculum development and I have collaborated with some incredible colleagues, but for me nothing surpasses the feeling of successfully completing my thesis.


Who inspires you?
I am so fortunate to have many amazing women that inspire me personally and professionally. At home, my amazing mum, who always ensured we put education at the top of our agenda. My motivating younger sisters who protect me and my two beautiful and inspirational daughters who I treasure with all my soul.
Professionally I am inspired by Malala Yousafzai – to fight and overcome the deepest of fear to receive an education reminds me, every class, how lucky we are to be here on campus. Gro Harlem-Brundtland, for defining and continuing to fight for global sustainable development and gender equality. Without Gro's determination, SDG 5 would not be in the 17 SDGs.