With all the unprecedented changes inflicted on all of us by the Covid-19 pandemic, UOW researchers Dr Law and Dr Golda created an online e-hyperbolic crochet workshop in the UOW Makerspace.
---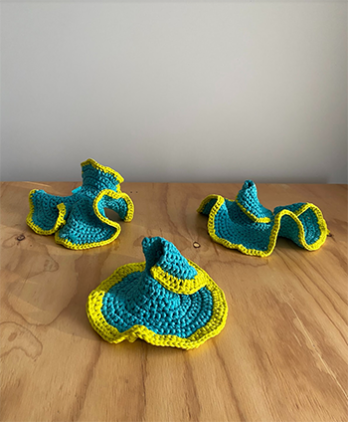 Dr Jo Law and Dr Agnieszka Golda were inspired to explore online delivery of their textiles workshop. They developed a virtual e-hyperbolic crochet workshop in the UOW Makerspace located at the Innovation Campus, which they are now preparing to be delivered again in a face-to-face workshop at the Makerspace.
Dr Golda was born in Poland and lives in Mount Keira. Dr Golda holds a Bachelor of Arts in Textile Design, Master of Visual Arts (Research), and a PhD in Creative Practice.
Dr Law was born in Hong Kong and lives in Austinmer. Jo completed her schooling in the United Kingdom and holds a Bachelor of Fine Arts (First class Honours), Master of Fine Arts (Research) and a PhD.
"We became involved in the UOW Makerspace through the Global Challenges Future Makers Keystone Project which investigates how makerspaces can impact and contribute to the local economy and STEM (Science, Technology, Engineering, and Mathematics) education."
"We joined the Future Makers team with our project called Eco-Makers, which is inspired by our previous research, exhibitions and teaching projects focusing on collaborations between art and science as well as between textile and electronic arts."
As an artist Dr Golda has been involved in a number of art studios that resemble a 'makerspace' model and was an artist in residence at the JamFactory in Adelaide which is a unique not-for-profit organisation that promotes and supports innovation and the value of craft and design in daily life.
Dr Golda accessed the shibori facilities and workshops at Suzusan Lab in Arimatsu, Japan to research Japanese techniques of resist dyeing which produce patterns on fabric.
"More recently Jo and I designed an e-felted mushroom workshop for UOW Discovery Day at the textile's studio. The workshop proved to be very popular, so we opened it up for the public with the results exhibited at the UOW library."


Due to COVID-19 the workshop went global through live streaming for the Virtual Maker Faire 2020, which is usually held in physical maker spaces in the San Francisco Bay Area, Northern California.
Dr Law had not previously been involved in similar spaces like the UOW Makerspace up until 2018 where she taught electronic media arts within the School of the Arts, English and Media.
The curriculum involved analogue forms of making such as construction and digital electronics like programming which benefit by the increase in makerspaces.
Dr Law and Dr Golda wanted to extend the approaches explored in the e-felted mushroom workshop by combining art and science with textiles and electronic arts to bring ecologically sustainable and mindful practices to their community, with the end result being the virtual e-hyperbolic crochet workshop at the UOW Makerspace.
The e-hyperbolic crochet workshop used 100 per cent cotton recycled t-shirt yarn, bamboo crochet hooks, and electronics.
Dr Law and Dr Golda were inspired by the medicinal properties of fungi and the significant role fungi play in fighting climate change, acting as climate warriors.
"It's motivated by 'creative slow making' involving hand-made textiles and electronics, and how these making processes can respond to current dual global crises facing us today: mental well-being and climate change."
Dr Law and Dr Golda learned through tactile exploration of recycled soft materials and slow crafting of old and new technologies; they have the ability to insert them into STEM.
The academics say they are interested in making science knowledge more tangible whilst deploying environmentally responsible practices.
"We are interested in testing and sharing how art and science knowledges can be interlinked through 'maker-space' models – face to face and virtual... and we're keen to see what kind of connections emerge from making within our communities."


Dr Golda and Dr Law have also developed an e-hand-embroidered speaker workshop through which sounds, or music can be played. In addition to that they are a collaborating on a project titled 'Next generation sustainable crafting', which will be exhibited in May 2021.
"We're in the process of creating a large-scale multisensory installation, comprising sculptural and e-textile design works that integrate eco-friendly graphene screen printing paste, DIY sewable electronics, and biodegradable fabrics."
The UOW Makerspace has assisted Dr Law and Dr Golda in providing a space for their project meetings, acting as a space to film and prepare practical aspects of their project, and deliver the workshop via zoom including audio and visual equipment.
"The best feature is the layout, multiple rooms, and equipment, which reflects gender inclusiveness. It's a co-working space that can be used for craft circles, or as a fab-lab, makerspace, hackerspace, or an innovation hub."

Alchemical Worlds exhibition by UOW artist-researchers Dr Agnieszka Golda and Dr Jo Law in collaboration with artist Martin Johnson is at Wollongong Art Gallery from 22 May – 15 August 2021. To be officially launched by Mr Robyn Williams AO (The Science Show, ABC Radio National) on Saturday 29 May, 6:30pm-8:30pm. Alchemical Worlds brings together fields of art, design, materials science, paleoclimatology and filmmaking with philosophies of alchemy and materials transformation to explore the interconnectedness of Earth's ecosystems.