How a background in science and art drew Rachelle Balez to the University of Wollongong's Makerspace.
---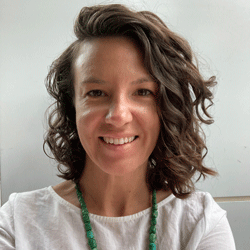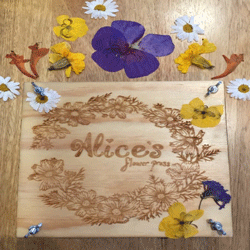 University of Wollongong PhD Student Rachelle Balez utilised the UOW Makerspace's laser-cutter technology to create a flower press to give as gifts to one of her friend's younger daughters.
Rachelle holds a Bachelor of Creative Arts and a Bachelor of Science and is currently studying her PhD at UOW in molecular biology and neuroscience.
Rachelle initially got involved with the UOW Makerspace located at the innovation campus by conducting a talk at UOW about the importance of science."
"I met Jessica who works at the Makerspace, and she heard about my creative arts background which can often be a bit rare in science, and she invited me over to come and see what's happening at the Makerspace."
Having previously been involved in other creative spaces with self-directed work and studios, the Makerspace was the first time where Rachelle had powerful equipment at her disposal.
"You don't really get access to things like laser-cutters and 3D printers very often so being able to be trained on those sort of tools and be able to have the freedom to create whatever you wanted is really appealing."
Rachelle took inspiration from her childhood to create her flower press which was gifted to her friends' daughters.
"I remember when I was a little girl I absolutely loved using my flower press, so I designed a logo with their name and their birth flowers and had that etched into wood by a laser printer."
Creating flower presses not only acted as a creative outlet for Rachelle during the social isolation caused by COVID-19, it also gave her the opportunity to reconnect with nature.
Rachelle was pleased with the availability of resources at the Makerspace, being supplied with woods, materials and the woodcutter which helped bring her creation to life by allowing her to etch designs into the wood.
Rachelle felt she was given lots of support and guidance to configure her digital drawings into a format that could be worked with the machinery. It then became clear to Rachelle the Makerspace's ability to suit each individual's needs and wants.
"What I like about the Makerspace is that it allows you to move at your own pace, so you can engage with workshops and upskill yourself and get ideas, but you can also work independently which I think is fantastic."
Rachelle also attended a workshop to make laser-cut bird feeders following the 2019 – 2020 bushfire season.
If you'd like to learn more about Rachelle's flower press and the process she took to create it then head on over to her Instagram story.