How Adrian used the UOW Makerspace to teach his student statistics in a creative and memorable way.
---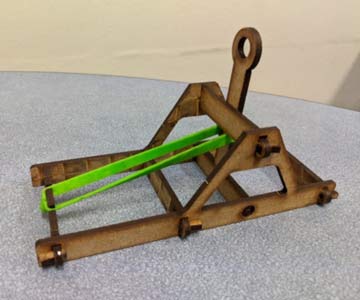 Adrian Tootell grew up in Gilgai which is in north-western New South Wales and now lives in Mount Keira.
Adrian finished his PhD a few years ago on university-industry collaborations and holds a Materials Engineering Degree.
"I think that making things now and in the future is really important especially with what's happening with the Australian economy and a lot of things being made offshore."
"There's going to come a time when there's going be a real interest for people to be able to make things domestically."
A connection with the UOW Makerspace located on the Innovation Campus inspired Adrian to be creative with his teaching.
"In one of my subjects we teach design of experiments."
Adrian created a catapult model to help his students remember some of the statistics and data concepts they were taught instead of the traditional approach of PowerPoint presentations.
"I was trying to give them a fun experience that they can remember in the exam and what they had learnt through those lessons rather than trying to rely on a scholastic approach."
Adrian found the UOW Makerspace to be a supportive environment to create his catapult model, having someone there with him to talk and contribute to the makings of his project.
"It's a lot fun and satisfying when you're making something with other people and being able to get to the end of the project and go, 'yeah wow, that's how we wanted it to look', and be able to do some testing on it and see that it was working okay was a good experience."
Although Adrian felt proud of his achievements making his laser-cut catapult, his favourite part of the Makerspace was attending a Christmas workshop with his daughters.
"Kids these days are spending a lot of time with lots of gadgets and not necessarily a lot of time making things themselves, so it was just a great opportunity to see how the kids would react to having a go at making things."
The workshop enabled participants to use a heat press to melt recycled plastic into flat sheets that they could then create shapes out of using the laser cutter and drill holes using the drill press to make an ornament.
"The best part was seeing my daughters use the drill press for the first time, it was good to see them using some of the equipment."
They've made cards before, but it was great to actually make something where you can change the shape and interact with some of the equipment."
"It was good to see them be able to do something creative and something they're able to use."