A Wollongong local, Jessica Grozdanov grew up with a strong interest in how things around her worked, frequently pulling them apart to figure out what made them tick.
---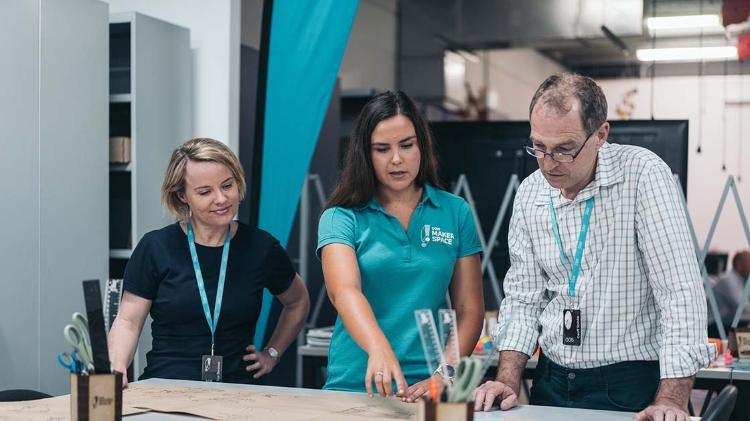 With her passion for STEM, Jess successfully completed a Bachelor of Materials Engineering at UOW. After completing her final year thesis with Professor Geoffrey Spinks, Jess continued to work with UOW as a Research Officer for the Global Challenges program. Jess assisted with making the UOW Makerspace at the Innovation Campus a reality, becoming its first manager.
"I was always interested in science and maths, not just learning the principles, but actually applying them hands on and getting to have fun with it. There's just something special about being able to physically make something and apply your STEM knowledge."
As the Makerspace's manager, Jess was involved in developing almost every part of the space into what it is today. Organizing equipment, machines and their maintenance, developing the space's organisational systems, overseeing planning for public workshops, and hiring new staff to keep things running smoothly; these are all things Jess has had a hand in.
"What I loved about the role, was that I could make it my own. I didn't know a lot to begin with, but I had a good network that supported me to learn, and the freedom to see where things took us."
To Jess, the most rewarding part of being the Makerspace's manager was working with the variety of makers that came into the space. Many people looking to create something in the space would come in with half-formed project ideas. Jess enjoyed working with makers to develop and iterate their projects until they were happy with them. With all the different people and projects coming through the space, Jess needed to tailor the training and making process to suit each individual. She learnt something new from every project she helped bring to reality.
"A lot of people or groups came in with no experience and were really apprehensive or nervous at first, but we helped them build the confidence and competence to give it a go. It was really amazing and rewarding to see peoples progress and enjoyment in making."


Jess couldn't pick a favourite specific project that had been created in the Makerspace. Instead, her favourite "project" was actually the overall creative environment cultivated within the space.
"Some of my favourite times were when there were several groups in the space all working on their own projects. There was just this great atmosphere - makers were helping others out on their projects, learning new things, breaking new things. It was just an amazing environment to be in and I feel so privileged to be able to have experienced it."
Jess has recently retired from her position as the Makerspace's manager, and is moving on to exciting new endeavours. In recognition of all her hard work for the space, the Makerspace team have decided to name our new "The Groz" Maker of the Year Award after her. Of course, Jess is also the inaugural winner of The Groz.
"I was not expecting it at all and was a bit overwhelmed when I heard about the award. There are so many people that work together to make a place like this work, and I feel so privileged to be given an opportunity to be so involved and experience a space like this. It really is an honour."


New makers coming in to the space may no longer be meeting Jess on their creative journeys, but their experiences will still be shaped by everything Jess accomplished and built with the space. She has certainly left her mark on the space, as long-time makers can attest. Just as the Makerspace wishes Jess all the best in her future endeavours, Jess will be continuing to support us and our maker community.
"To me the Makerspace was far more than a place where people can come in and 'make stuff'. Yes that is the overall purpose of the place, but it really is such a special, welcoming and fun space. Spaces and environments like these are so valuable and important, so I would encourage anyone to go there and give it a go. I am a lifelong maker and can't wait to see all the future makers and award winners! I will be paying close attention to all the makers, projects and stories to come!"