Boosting treatment options might come down to a brisk walk in the park.
---
University of Wollongong Honours student, Jasmine Matthews, admits to having had a few jitters early this year after she decided to research a common global mood disorder among pregnant women.
Her focus was to assess at a molecular level the efficacy of exercise as an optional treatment to drugs for the 10-15 per cent of pregnant women in Australia who suffer from antenatal depression.
"I was initially a bit apprehensive, especially when I looked at previous students' work and realised there was a lot to cover," says Jasmine, a medical health science graduate.
But the aspiring neuroscientist soon understood the significance of the work when she learned that left untreated, antenatal depression could have negative knock-on effects for years including bonding issues between mother and baby and, in the worst-case scenario, suicide. From there, Jasmine buckled down for what would become a challenging yet defining academic year.
One of the high points came midway through her research when she and her supervisor, Professor Kelly Newell, a leader in molecular discovery, were named among the six joint recipients of the Tynan Family Molecular Horizons Honours Scholarship for outstanding work.
It provided $2000 to support Honours students and $4000 for their primary research supervisor to help cover the student's project costs.
"Antenatal depression is the highest risk factor for subsequent post-natal depression, so the sooner it's managed, the better it is for mother and child," says Jasmine.
"While there's lots of evidence supporting the benefits of exercise for mental health including depression, there has been little research to determine if these benefits extend to pregnancy.
"The scholarship allowed our team to begin to explore the long-term impact of exercise during pregnancy on the maternal brain."
They showed voluntary exercise during pregnancy in a rodent model of depression, was able to increase brain molecules called neurotrophins, which have previously been shown to be associated with anti-depressant efficacy.
These effects were seen well into the postnatal period and were associated with improvements in anxiety-like behaviours in the rodents, which the research team including PhD scholar Noor Jarbou, had previously shown.
The team is currently using this rodent model to assess the impact of anti-depressant medications on the maternal brain, and hope to use this model to trial novel treatments for antenatal depression.
It could lead to partnerships with exercise physiologists and associated professionals to pilot this work within a clinical setting.
"It's been a massive year, which has increased my appreciation for science and my understanding of how much work goes into scientific discovery," says Jasmine.
"The scholarship helped financially, but it also gave me a huge confidence boost, that I was worthy of recognition in my academic efforts."
Professor Newell was equally proud and says the award shone light on a strong theme in her laboratory that seeks to understand sex differences in the biology and treatment of depression and schizophrenia.
"We've found differences in brain tissue from males and females who suffered depression during their life, which we propose might inform different approaches to treatment."
Jasmine acknowledged Professor Newell's commitment and support during the year.
"I don't think I would have achieved what I have academically this year without Kelly," she says.
"She didn't weigh us down with unnecessary assignments, but she ensured we covered the essentials, and covered them well. I remember all the times I handed in thesis drafts and she would say 'well done, Jasmine', but she'd always offer constructive ways I could improve the work.
"I think she encouraged us students to work harder where it counted."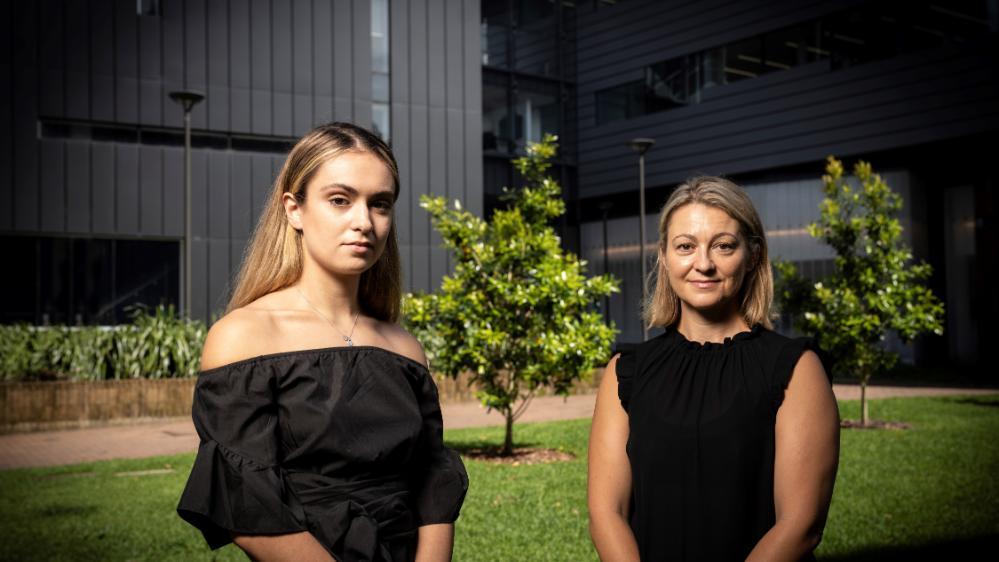 Another influence in Jasmine's life has been her younger sister, Aurora, 17, who has a rare genetic disorder known as CDKL5, which has robbed her of the ability to walk and talk, and it causes many seizures.
"Aurora was partly the reason I chose to study the molecular underpinnings of neurobiology disorders. My parents and I are her carers, and we try to give her the best life we can," says Jasmine.
"We know she's happy because she smiles a lot and loves being with people and listening to music."
Jasmine has also managed to devote some of her time this year to Army Reserves training, and she works part time in hospitality.
Her efforts during the past two difficult years to maintain a healthy balance of academic life and personal commitments mirror the Tynan Family Scholarship theme of resilience.
"The pandemic has had a tremendous impact on the lives of people in our communities, including our young students who are often juggling study with multiple jobs while moving out of home for the first time, often to a new city," Madeline Tynan told a fundraising lunch earlier this year.
"The Tynan family has been a strong supporter of well-being and mental health over the years…this year we have supported the theme of resilience in our scholarships."
Professor Newell says she quickly learned in more than 15 years of Honours supervision that protecting the mental health of her students is just as important as academic goals.
"An Honours research year can be extremely challenging, but it can also be highly rewarding," she says.
"But it's important to consider students are often also dealing with various other responsibilities and challenges, including health and financial issues.
"Scholarships like the Michael Tynan Molecular Horizons Scholarships are not only prestigious, they can also help to ease some of those issues that students may face."
--
You can support students like Jasmine by donating to our scholarships and education fund.