Living on a student budget is hard for most, but when you must also contend with a disability and the expenses that may involve, it becomes even tougher.
---
And although Jarred Austin has never let his disability stand in the way of his own dreams and aspirations, especially when he started his double degree at the University of Wollongong, he said the support he now receives from the Movement Disorder Foundation Scholarship is invaluable.
Jarred is a recipient of the scholarship which continues the legacy of the Movement Disorder Foundation and the person who inspired it – cerebal palsy sufferer, Peter Hains.
The Movement Disorder Foundation began its association with the University in 2014 when it funded scholarships for students studying engineering or medicine.
The scholarship was then expanded to benefit students from all disciplines, with a physical disability and now five scholarships to the value of $7000 per annum are offered biennially.
For Jarred, the scholarship means he can live more independently than he may otherwise be able.
"The first two payments I received from the scholarship helped with purchases I needed to get for university like textbooks, and novels and it also let me upgrade my computer and extend that further," he said.
That IT enhancement was essential for Jarred who is completing both a Bachelor of Creative Arts and a Bachelor of Computer Science.
"Both my degrees are dependent on technology and the scholarship helps me ensure that I have working technology," he said.
"But it also helps me in other areas, like my day-to-day living expenses."
Jarred was born with a condition known as Arthrogryposis which affects both his muscles and joints and causes multiple joint contractures throughout his body.
He also has severe scoliosis and throughout his primary school years had multiple surgeries, including a spinal fusion, to try and increase his range of movement. He now relies on a wheelchair to get around and has restricted movement in his arms.
Jarred knew from primary school that he wanted to go to university.
But as a student with a disability, he wasn't sure how he would be able to manage that physically, but financially as well.
He relies on a wheelchair for mobility and due to the contraction of his joints because of his condition, has limited movement in his shoulders.
"This causes me to struggle in certain daily tasks that would otherwise be simple for those who are able-bodied," he said.
"I have difficulty when it comes to grabbing objects that may be on a higher than eye-level shelf. I also lack the ability to put my own shoes on as both my hips and knees have contractures; stopping me from being able to reach my feet."
The scholarship has meant Jarred doesn't have to compromise either his study or his health and is able to focus on his ambitions to one day write a novel.
"I'd like to write something about my own experience as a person with a physical disability to try and change people's perception about what it's like," he said.
He'd also like to be able to use his computer science studies to build his own company in either cyber security or video game development.
The financial support that the scholarship has offered is just one of its benefits, said Jarred.
It has also allowed him to meet other students with disabilities on campus.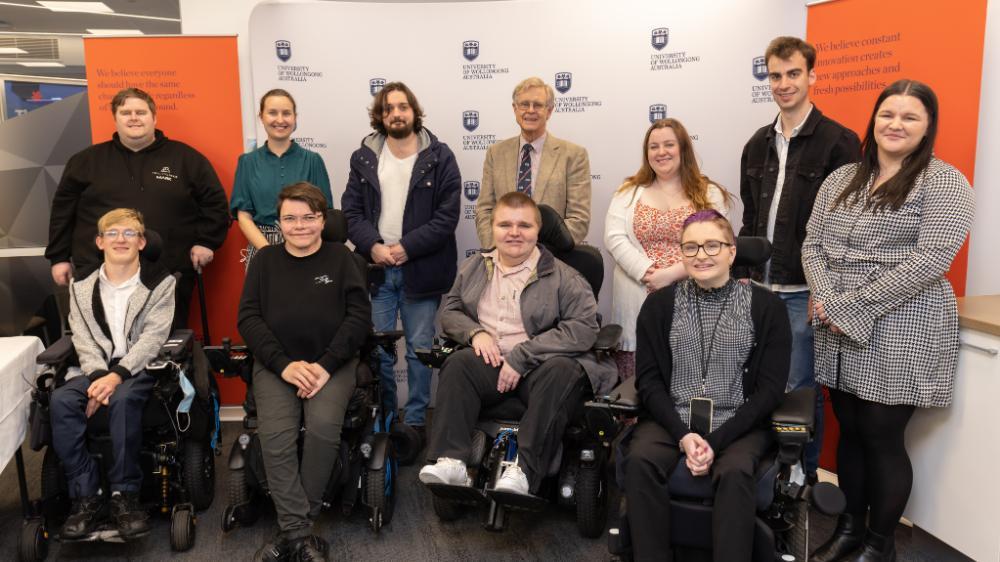 Image: Jarred and his MDF scholar peers
"Before being awarded the scholarship, not many other students realised that there was support like this for students with a disability, and I've been able to educate other students in my courses about what it's like [being a student with a disability]," he said.
"It brings attention to the fact that there are many people with disabilities at the university, a fact I wasn't really aware of until I received the scholarship and was able to meet other students who are also living with disabilities through networking events like lunches.
"I am passionate about giving people with physical disabilities a voice so that their struggles are not left unnoticed. With this scholarship I have assistance in completing my degrees, allowing me to reach for my career goals and make them possible."