---
Whether it's helping pay for textbooks, accommodation, or groceries, student scholarships can change the lives of future leaders. They give students opportunities that they may never have, relieving financial stresses and allowing for a focus on learning.
For University of Wollongong (UOW) recent graduate, Nicholas Marin, a recipient of the Honorary Chapter Scholarship and Transforming Future Scholarship , financial support meant he didn't have to make the choice to stop studying or pursue his passions through community work.
"When I found out I was awarded financial support, I felt a genuine relief and confidence in what I was doing. I was going to have to cut something to make ends meet but thanks to the generosity of donors, I was able to dedicate time to my workload and excel in my studies."
Nicholas, who completed a Bachelor of Law and a Bachelor of Politics, Philosophy and Economics at UOW, comes from a Chilean migrant family but grew up locally in Wollongong. From aged 16, he joined local community organisations that support the cultural and linguistic barriers faced by immigrant families. Nicholas said that he was concerned about his finances before receiving the scholarships.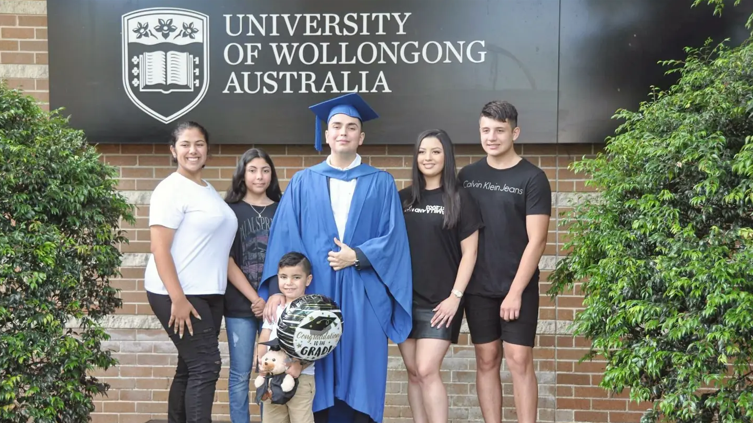 Image: Nicholas and family at graduation

"In law, you have to work unpaid to be able to graduate and I didn't want to stop supporting the community work I was doing."
As the first of his five siblings to go to university, receiving his UOW graduation certificate was a huge achievement for Nicholas.
"I had my entire family there to celebrate with me, which was so important. I think people see graduation as the end, but for me, I see it as a beginning. I'm so excited for what comes next because my time at UOW taught me that the sky's the limit. "
Nicholas is now working as a Graduate at ANZ Bank doing a rotation program in banking, finance, and law. He said that he wants to continue community work alongside his full-time job.
"Supporting the multicultural future of Australia is a big passion of mine. I want to make a difference in the lives of others."
Nicholas said that he'd encourage future UOW students to take up every opportunity available.
"There's so much available at UOW that you may not be aware of – support that will help you develop as a person and in your future career."
"And to anyone thinking about donating to student scholarships at UOW, please know that your help goes a long way. You may not see the impact that you do, but it's life-changing.
"Thank you for believing in the power of students, believing in our capacity to make a real difference, and making our dreams a reality.
" We can't do what we do without donors and there's no amount of support that's too small because at the end of the day, we aim and aspire to make your dedication to the university community worth it."
Michaela Judge, recipient of the Westpac Young Technologists Scholarship, said that she felt amazed, excited and relived when she walked across the stage at her graduation ceremony.
"As a country girl from Goulburn, a scholarship took the financial stress away from moving out of home and to a new town."
Michaela graduated from UOW with a Bachelor of Computer Sciences. She said, "I discovered a love of computing and programming in high school, and I knew that it was want I wanted to do with my life.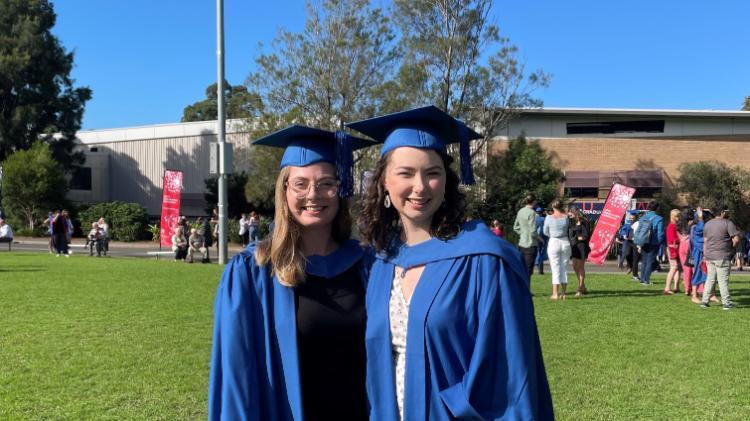 Image: Michaela (right) and friend at graduation

"The Westpac Young Technologists Scholarship didn't just help me financially, it also connected me with an alumni group of scholars who had been awarded the same scholarship. This meant that I had access to a cohort of people that I could immediately interact with, develop new relationships, and share similar experiences. I'm still in touch with them today."
Michaela is now working as an Associate Technical Consultant at DXC Technology and said that thinking back on her university journey, it wouldn't have been as valuable without the scholarship.
"Anyone who gives money to a student scholarship should know that their donation is making a life-long impact on a student's life and that student will be eternally grateful."
To help make a difference in the lives of UOW students, please donate today. One hundred per cent of funds donated will go directly to supporting students like Nicholas and Michaela. Every dollar counts and no donation is too small.