Nicole Russo shoots her love of learning to new levels
---
At 21, University of Wollongong med-science student, Nicole Russo, has a role model five times her age and who continues to this day to inspire her.
Within five minutes of discussing her research into the intricacies of memory, Russo confides her choice of topic was partly influenced by her admiration for the 104-year-old British scientist, Professor Brenda Milner, who helped pioneer the field of neuropsychology and behavioral neuroscience in the 1950s.
"She has done some ground-breaking work on memory throughout her career, and she's still working now, which I think is so cool," says Russo.
For The Illawarra Grammar School (TIGS) student, who studied 13 units in the HSC, anything to do with pushing knowledge boundaries is cool.
It was this sort of enthusiasm and commitment to learning which earned Russo the 2022 Rotary Club of West Wollongong John Chaplin Memorial Scholarship, which offers $3000 per annum financial support over two years.
Since 1964, the scholarship has donated $38,000 and supported more than 12 students.
"I chose that scholarship because it's aimed at students who want to pursue research, and I also believe Rotary is an organisation that demonstrates values that I would want to uphold and represent," says Russo.
Her research is on implicit learning, a process involved in the formation of procedural memory. While episodic memory involves the conscious recall of information, procedural memory uses past experiences to remember how to do things without thinking about them. Examples include driving, playing the piano, riding a bike, ice-skating and walking up stairs.
"We use procedural memory daily," says Russo. "We can be driving home from work thinking about what happened that day and then all of a sudden we're pulling into the driveway realising we've been on auto-pilot."
Procedural memory also comes into play at higher levels when people do activities like singing for audiences while playing a complex musical arrangement.
Russo is fascinated by the complexity and fragility of memory:
"It takes a variety of forms in the brain, and there are still many knowledge gaps to fill, so it's a brilliant subject for exploration," she says.
Russo's research project, which she started early this year, is aimed at further understanding the mechanisms involved in procedural memory and the influence of attention on our ability to learn and implement motor skills.
"I hope to expand knowledge involving the role of attention in motor learning and how cognitive attention may impact the development of motor skills for activities involving multi-tasking," she says.
"To investigate this in the lab, I use a dual-task paradigm. In this paradigm, I wanted to know if performance in a reaching task, where participants learned to hit targets as accurately as possible, is impaired when they divide attention to a secondary task.
"Deterioration or even facilitation of reaching performance due to the concurrent secondary task can inform whether and how attentional resources contribute to formation of procedural memory during learning."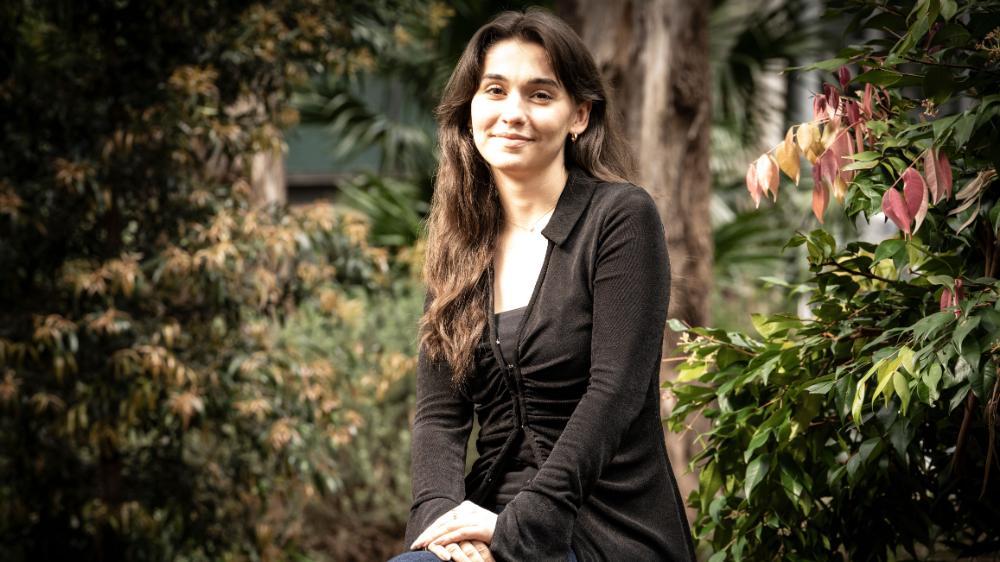 Settings in which this knowledge could potentially be used is diverse and includes rehabilitation of stroke victims and pilot training.
Russo is loving university life.
"I got my first taste while doing extension science in the HSC in which part of the practical study was done at UOW's Centre for Medical Radiation Physics," she recalls.
"It was such an awesome experience that when I enrolled in uni the following year, I started a Bachelor of Medical and Radiation Physics. I loved it, but I wanted to branch out a little, so this year I switched to Medical and Health Science.
"My research supervisors, Dr Eugene Poh and Dr Jon Shemmell, have been very supportive. Most of my meetings have been on Zoom and WebEx, but they have always been readily accessible when I've had research queries to discuss. And they never seem to tire of my random questions (laughs).
"The atmosphere in the Neuromotor Adaption Laboratory is awesome. It's all on wheels and pretty insane when you first see it. It looks sort of chaotic with all its cords and screens, but it's actually a very efficient, flexible set up," says Russo.
The budding researcher says she has grown as a person throughout the past two years and realises she has a voracious appetite for learning.
"Until university, I always thought I was indecisive because I was always interested in so many things and couldn't really narrow it down," she says.
"I believed it even when I chose 13 HSC units when the limit was 12. It created a lot of pressure to study everything from music to physics, but I don't regret it because it gave me a broad knowledge base, which has helped me decide my career choice."
Russo's vision is to focus on post-graduate study for the foreseeable future, which is why she was so thankful to win the scholarship.
"I work part time in fashion retail, so I'm using most of my scholarship money as an investment in my academic future to allow me to focus for the next few years on my research," she says.
At this stage, Russo sees a world of exploration ahead of her. And, and if she's lucky she will still be in a lab at 104, and probably with Prof Milner's feisty attitude, which the centenarian recently displayed when questioned about retirement.
"I'm still nosey, you know, curious," she said.