The response to the monster bushfires that tore through the NSW South Coast and Southern Highlands last summer displayed the exceptional generosity of UOW staff and the vital importance of our research.
---
As 2019 drew to a close and the world prepared to usher in the new year, communities across NSW faced raging bushfires on multiple fronts. And, as the people of Batemans Bay sought shelter, Learning Development Lecturer and Administrative Assistant Nicky Bath turned UOW's Batemans Bay Campus into a safe haven for hundreds of people across the region.
"It was black outside… like the middle of the night. The grounds of the campus were filling with people," Bath recalls.
"People were just sitting out the front on fold-up chairs. I kept inviting people in; I couldn't leave them outside. It was too full at the evacuation centre across the road."
People felt safe and cared for and respected, and that was the most important thing to me.
With no power or internet, Bath coordinated logistics and solved problems on the fly, helped only by her teenage son, Samuel, and a handful of UOW students. By evening they had welcomed more than 300 staff, students and community members and countless animals, raiding the kitchens for tea, coffee and biscuits and scouring nursing labs for masks. All of this while her husband and eldest son were left battling the flames encircling their Catalina home.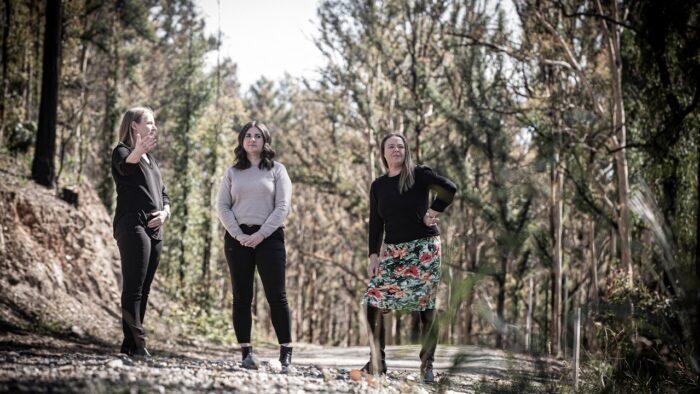 L – R: Nicky Bath, Jaimey Facchin and Samantha Avitaia
A few short days later, the South Coast was again in the fire's path. Nicky Bath took up the baton again, this time with the help of some University-procured groceries and support from the NSW Disaster Welfare team.
"It was exhausting but I was running on adrenaline," Bath says. "People felt safe and cared for and respected, and that was the most important thing to me."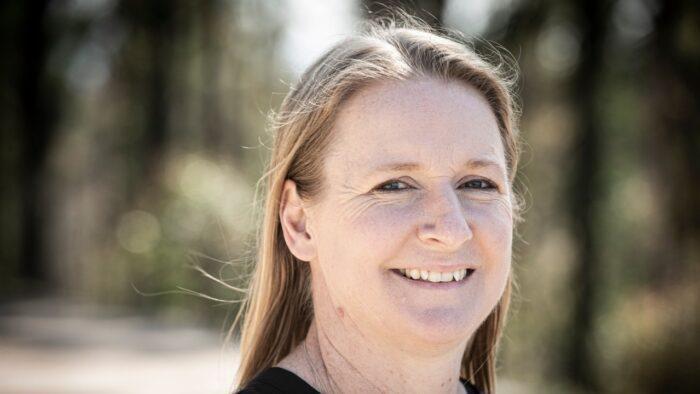 Nicky Bath
Meanwhile, her big-hearted community spirit was being echoed 150km to the south at UOW's Bega Campus. As fire again threatened a community reeling from the loss of lives and homes just days earlier, campus manager, Sam Avitaia, opened the doors to terrified locals, their families and friends over several days. The campus also became a communications hub and respite centre for emergency services and council staff.
"There was so little news and power was down all around the region, so many couldn't find out what was happening with the fires and with the emergency services. We were able to help them with things like charging phones and getting in contact with loved ones," says Avitaia.
"They really appreciated having people from the University reach out and offer support."
With a long connection to the local communities fostered through UOW campuses along the South Coast, compassionate staff from across the University clamoured to help. In a single month, 466 staff donated $82,975 to aid the NSW Rural Fires Service through UOW Cares Bushfire Appeal staff giving program.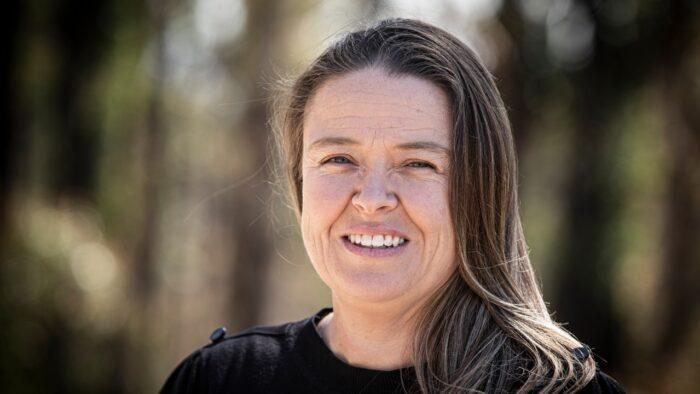 Samantha Avitaia
"The Vice-Chancellor invited staff to contribute, agreeing that the University would dollar-match all funds raised," explains Monique Harper-Richardson, Director of Advancement at UOW.
"It was the most successful workplace giving appeal we've ever seen, and brought the total amount donated by the University to $165,950. Later, in a second appeal, our staff also supported the bushfire recovery efforts of St Vincent de Paul's South Coast Operations and the NSW Wildlife Information, Rescue and Education Service."
Our UOW staff have made a difference in so many other ways, including free workplaces for displaced local businesses, food and water stations for fauna and strategic bushfire recovery planning advice. They also supported mental health and wellbeing through UOW's Shoalhaven Campus-based MIND the GaP (Mental Illness in Nowra District: Goals and Prevention) program.
Counting the cost, preparing for the future
In the weeks following the devastation of the Currowan fire, with the charred land still smouldering, a team of UOW students and researchers carefully began to assess the impact on its wildlife.
Led by PhD student Bridget Roberts and Dr Owen Price, Director of the UOW Centre for Environmental Risk Management of Bushfires, more than 30 students – from a range of disciplines, driven to help in any way they could – combed bushland, mapping the extent of the loss, particularly on the reptiles that play a crucial role in the ecosystem.
Dr Price says that we still have a much to learn about how Australia's wildlife detects and responds to bushfires.
"Being able to get out into the fire ground and systematically comb through the bushland is important to understanding this," he explains. "Filling in the knowledge gaps might lead to new ways of helping wildlife adapt to our rapidly warming and changing world."
UOW has long been a forerunner in bushfire research, counting many of the world's thought-leaders in the field among its ranks. In the overture to our Black Summer, researchers at the NSW Bushfire Research Hub – a UOW-led research partnership between foremost universities and the NSW Government – had already been working to understand how we can better manage fire to reduce its devastating impacts.
Research in the Hub focuses on six separate but interconnected themes: mapping fire regimes and fuel, flammability and carbon dynamics, emissions and air quality, threatened species, Indigenous cultural burning and wellbeing, and cost-effective risk mitigation strategies.
The inaugural Hub Director and leading fire ecologist, Emeritus Professor Ross Bradstock, says research across all these areas will feed into an integrated framework, enabling land managers to choose cost-effective strategies that mitigate risks across the board.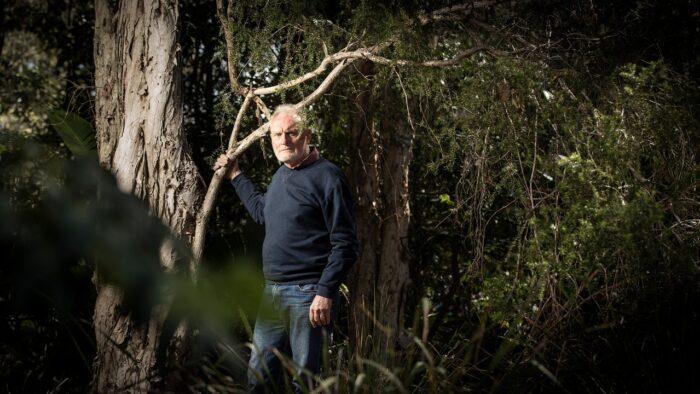 Professor Ross Bradstock
"Everything is underpinned by the perspective of continual shifts through climate change. Much of the Hub's work connects with other UOW research projects, including understanding house loss and community resilience to bushfire," Professor Bradstock explains.
The Hub's experts played a substantial role in understanding the risk factors that fuelled last summer's bushfires and influenced many of the NSW Bushfire Inquiry recommendations later adopted wholesale by the NSW Government. Working in collaboration with academic, government and industry partners across Australia, the Hub is advancing an astounding array of research, including the ability to better predict dryness.
"We can monitor dryness in the past and present, but we can't yet forecast with any level of certainty those critical levels of dryness linked with major fires," Professor Bradstock says.
"This research will deliver fundamental capacity to predict future dryness through better understanding how plants use water, enabling more effective assessment of long-range risk. It also represents a complete overhaul of how we use satellite technology for remote sensing and mapping of moisture."
The potential to transform our understanding and more effective mitigation of fire risks into the future will have enduring benefit for humankind, infrastructure and the environment.
While the support of government and industry is fundamental to UOW achieving its bushfire research objectives, Ms Harper-Richardson says that the generosity of the University's alumni, friends and staff has long played a vital role. As the threat of climate change looms ever larger, this will only grow.
"The support of our donor community has a remarkable effect on what our researchers and students can achieve as they strive together to solve the toughest challenges our society faces," Ms Harper-Richardson says.
"By amplifying the capacity and pace of this important research, the impact on communities here and around the world could be truly extraordinary."