Alumnus Dr George Wang pledges his support for future civil engineers
---
A dedicated scholar, turned academic leader – UOW alumnus, Dr George Wang, is a living example of how supporting an educational dream, can be the springboard to a prosperous and rewarding career.
After receiving a scholarship to study his doctorate at UOW in 1989, he is now paying it forward to the next generation of scholars. As a long-time US resident, he has made a substantial gift to the UOW USA Foundation to establish an ongoing scholarship that will support students who want to study civil engineering.
Growing up with an impoverished childhood in Tianjin, China, during difficult economic times, life wasn't easy for Dr Wang. At the age of 17, he left for inner Mongolia to live in a rural environment and learn farm and construction work, which was required of all high school students at the time.
Despite some early life challenges, his enthusiasm for education never waned. His thirst for knowledge has been a constant throughout his life, and his passion for studying and teaching civil engineering grew out of his first job in the construction industry.
After completing his undergraduate and graduate degrees at Tongji University in Shanghai, Dr Wang returned to his home town to teach civil engineering at Tianjin University.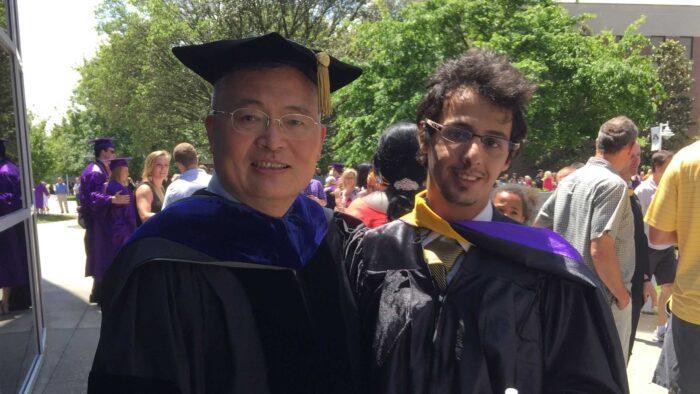 Dr Wang attending graduation with one of his students
It was during this period he was doing slag-related research [a by-product from steelmaking] that he came across UOW academic Dr Denis Montgomery's publications on the topic. He wrote a letter to Dr Montgomery asking to join UOW's graduate study program, which he was accepted into with the support of an industry scholarship, sponsored by BHP and ASMS (Australian Steel Mill Services), and Dr Montgomery as his supervisor.
In early 1989, with just US$200 in his pocket, and inspired by the University being close to the steelworks, Dr Wang moved to Australia to complete his PhD in civil engineering at UOW.
"A faculty member (Dr Y.W. Wong) came to Sydney airport picked me up, dropped me to Hotel Illawarra, said: "in Australia, everyone is very independent…" that's what I still remember," Dr Wang recalls.
"He told me the Department would rent a room for me in the hotel, I could stay one week, then I needed to find a place to stay…then he left. When I came to the lobby, I found the rate was almost $100 per night! That was six times my monthly salary as a university lecturer in China! I was shocked and felt uncomfortable staying in the hotel room.
"The next morning, I bought a local newspaper (Illawarra Mercury) to look for a flat for rent. I made phone calls using a payphone, and called any Chinese restaurant I could to get a part-time weekend job.
"Dr Montgomery told me the scholarship was forthcoming, and there was no need to work in the Chinese restaurant on Fridays and weekends, which enabled me to stop working," Dr Wang says. "I want to thank him for making this opportunity possible for me all those years ago."
Dr Wang was the first recipient of a number of local industry-sponsored scholarships established by Dr Montgomery for his students.
"The fact that George was such a mature and successful student went a long way in convincing industry partners to provide financial backing for other overseas students. George had extensive knowledge in his chosen subject and always exhibited an enquiring mind and hard work during his time at UOW," the now retired Dr Montgomery recalls.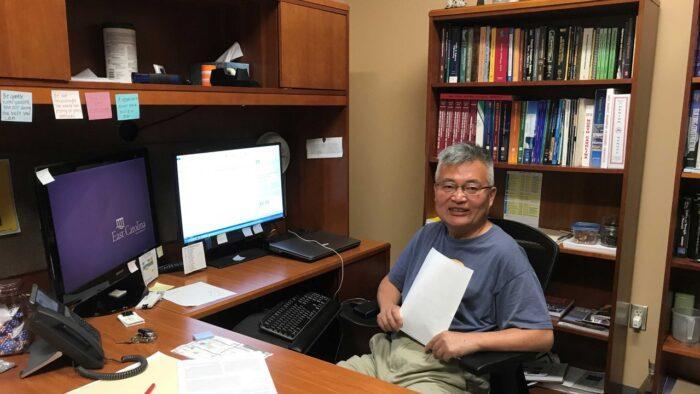 Dr Wang working at East Carolina University
Deeply committed to the educational journey, Dr Wang also worked as a teaching assistant whilst completing his PhD from 1989 to 1992. After graduating with his PhD from UOW in 1993, he went on to complete his postdoctoral studies in Toronto, followed by 12 years working as a project manager and principal engineer in private industry. Then he returned to academia for 14 years as an academic at East Carolina University (ECU) in Greenville, North Carolina on the US east coast. After an impressive academic career, and the author of many published journals, he was recently appointed as Chair of the Department of Construction Management at ECU.
Knowing firsthand the struggle many students face to receive an education, Dr Wang has generously chosen to give back to UOW, establishing the Wang Family Scholarship in Civil Engineering.
Valued at $10,000 per annum, the scholarship will support a student (domestic or international) who has declared a major of Civil Engineering, in their second year (and above) of a Bachelor of Engineering degree.
"I feel it is the time for me to and I should give back to my alma mater, UOW and the department, which made the critical turning point in my life in many ways. I love the place where I spent one of my most important life journeys. Here [UOW]," Dr Wang says.
His former supervisor says the gift of this new scholarship is reflective of Dr Wang's generous character demonstrated many years earlier.
"I think that it is very admirable that George has established the scholarship and, again, I am not surprised as this is typical of his generosity, especially towards students who may be in a situation similar to he was all those years ago," Dr Montgomery comments.
Dr Wang says he hopes students will value their education and make the most of career opportunities that come to them as they transition into the professional environment.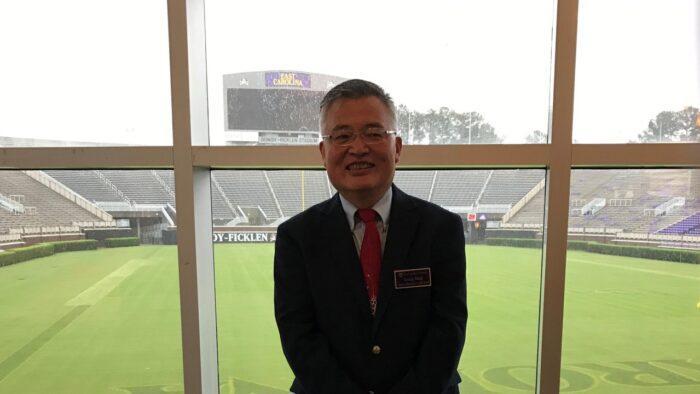 Dr Wang at sporting event in East Carolina
"I would encourage students to work hard during their time at UOW. I hope the students cherish the time at this prestigious University, and be well prepared to enter professional fields after graduation.
"Be a proud alumni of UOW, you are starting out your engineering career, and the real-world learning begins. You are going to enter a continual state of learning with all the changes that are occurring in the world. The new norm for all professionals is continuing education. Learn from training and self-study and be always humble to ask and learn from your supervisors and colleagues. Learn the rapidly developed new technologies. Learn professional leadership skills. Uphold honesty, integrity, professionalism and true value.
"I hope alumni, especially the overseas students, support this great and reputable university – after all, it provided us with a great launch pad for our professional career," Dr Wang says.
A testament to his love for the University and his time living here, Dr Wang maintains a strong affinity with Wollongong and is still in contact with his PhD supervisor, Dr Denis Montgomery.
"I wish to visit Wollongong after the pandemic. I didn't travel much in Australia due to a busy study schedule during my PhD time, but I hope to do it in the future."