Preserving the memory of a promising UOW medical student
---
Gabrielle and Bernie Zweerman swell with pride when they talk about their son Christopher.
At 26, he was clever, active, creative, caring, and adventurous – all traits which led him from his home in Canada all the way to the University of Wollongong's Graduate School of Medicine in Nowra.
"There was no question that he was fully engaged with his new life in Nowra," his father says, remembering the "wonderful time" the family spent together in Australia in January 2010.
"He loved the natural beauty and uniqueness of the areas he explored, the gigantic trees, the birds, the flowers, the Bull Ants, the remarkable transitions from rain forest to bush and, of course, the kangaroos."
"He thoroughly enjoyed the company of his schoolmates, practiced Tai Chi, was associated with an 'Aussie Rules' football club and was an active participant in student affairs on campus."
He had held dreams of becoming a medical doctor for some time before he arrived in Australia and talked of volunteering for Doctors Without Borders.
"Without doubt, he would have been an excellent physician," Gabrielle says.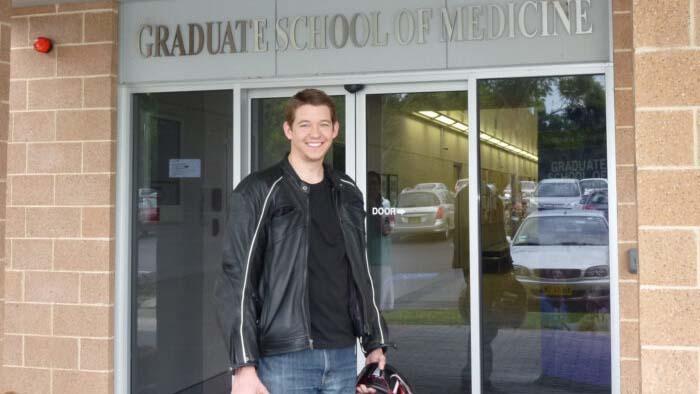 Tragically, this life full of promise was cut short in November 2010, when Christopher was thrown off his beloved motorcycle after he had been in Canberra visiting his younger brother.
"Christopher loved motorcycles – he completely rebuilt an 80s era Honda motorcycle from the frame up. He drove it for years and sold it prior to venturing to Australia, and purchased one in Australia as his means of transportation," Bernie says.
"His visits to his brother in Canberra made it possible for him to experience the natural beauty of his new home and he looked forward to those rides through the valleys."
"He was on the Hume Highway outside of Goulburn heading towards Nowra, when, for reasons never fully determined, he lost control of his motorcycle, crashed it, and died of his injuries later that day in the hospital in Goulburn."
So far away, but aware of the special bonds Christopher had formed during his time in Nowra, the Zweerman family wanted to "create something positive from the circumstances of significant loss," Gabrielle says.
With the University of Wollongong's assistance, and an establishing donation from major donor Stephen Andersen, the Christopher Zweerman Memorial Scholarship was created in 2011.
The Zweerman family started donating in 2012 and have given over $17,000 to date.
"The scholarship honours the memory of Christopher and represents a legacy, the intent of which is to support a University of Wollongong medical student with the continuation of his/her studies," Gabrielle says.
"It gives us joy to know that good is coming out of loss and trust that the recipient is aware of our hopes for their success!"
"During our return to Australia to bring Christopher back home to Canada we met many incredible people who had impacted his life in one way or another.
"He had many friends and was even "adopted" by a lovely couple who made sure he had good meals.
"We can never repay the kindness and generosity to all of those people we met who knew Christopher, and showed us their love, but he made an impact while he was there, and we wanted to continue that as well."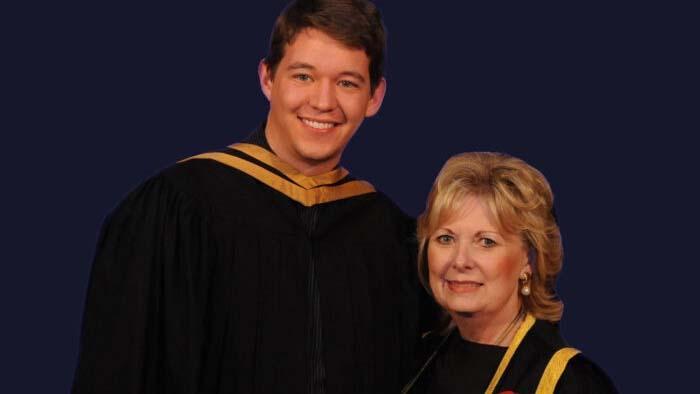 In 10 years, the scholarship has been awarded to other students who – just like Christopher – were involved and dedicated members of the Graduate Medicine student body and who have made a lasting impression on those they knew.
Dr John Cherry was awarded the scholarship in 2013 and says it provided him invaluable support after he left a full-time professional career to start his post graduate medical studies.
"The scholarship provided me with the opportunity to undertake additional training in critical care medicine which supported my transition towards becoming a capable and competent junior medical officer," he says.
While the two men never met, there are many similarities between them.
Those that stand out are a love of adventure and the natural environment. For instance, where Christopher dreamed of working in far flung places for Doctors Without Borders, Dr Cherry is this year working as the medical practitioner at Davis Station in Antarctica.
Likewise, both were driven by a thirst for scientific knowledge, and a strong desire to help people no matter where they were in the world.
Christopher's tragic accident occurred before Dr Cherry arrived at UOW, however he had the opportunity to meet and work with many of his friends, colleagues, and tutors and says he was struck by the lasting way Christopher was remembered.
"He clearly left a positive impact on those around him and the community more broadly," Dr Cherry said.
On the 10th anniversary of the scholarship's establishment, Gabrielle and Bernie say the knowledge that the fund is there helping other young people to achieve the types of dreams that her son held, links her family back to Australia – where Christopher made such a big impact in a short time.
"There is absolutely no doubt that thoughts of the scholarship transport us virtually back to Sydney, to Wollongong, to Nowra, to the multitude of beautiful vistas and places we experienced during our time in Australia and we cherish them all, especially the memories that have Christopher woven into them," they said.
"Knowing that the scholarship is our active connection to the very good things that are happening at University of Wollongong just makes those memories that much sweeter!"
"We hope that those chosen will benefit from the financial portion but also to continue doing good works in their personal and professional lives as Christopher would have done."